By Rick Bairett
I just got to watch a bunch of first-timers, and a few more-experienced drivers, having the time of their lives on a road course!


As noted previously in Utah Motor News, if you're passionate about driving and want to improve your skills behind the wheel, you should check out the High Performance Driver Event (HPDE) training offered by NASA (National Auto Sport Association) Utah.
NASA Utah reserves a Utah Motorsports Campus (UMC) road course one weekend per month for time trial and club racing competition. Each weekend also includes HPDE, using drivers' personal cars. (Most vehicles can be used for HPDE, although some convertibles may require additional roll protection.)
First-timers start with the entry-level HPDE1, which alternates classroom sessions with one-on-one coaching on the track.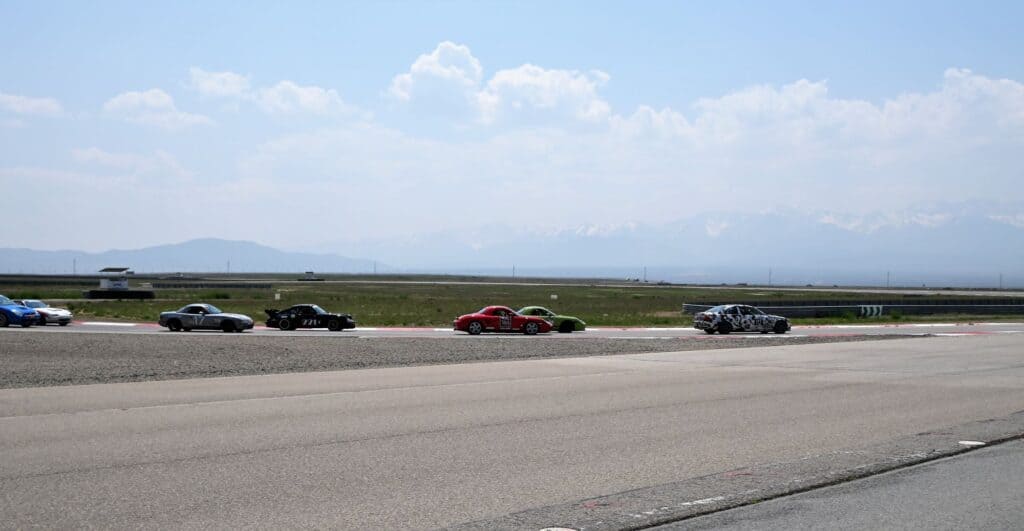 Your First Day at the Track
A typical NASA Utah weekend is Friday—primarily a practice day—through Sunday. HPDE1 is typically only offered on Saturdays and Sundays. It's important to register for the ($289) class in advance since they tend to fill up.
So what does a day of introductory track training look like? First, drivers check in with NASA Utah's office in UMC's Tenant Garage 1, get their driver's wristband and magnetic numbers for their car. HPDE1 then kicks off relatively early in the classroom. The class meets at the end of a Day Garage and right next to the track entry "grid."
The day is divided into four classroom sessions, each followed by a 20-minute track session with a NASA instructor. There is also break time between sessions to process what you are learning, get to know fellow students, and talk to the various race communities that participate in NASA events.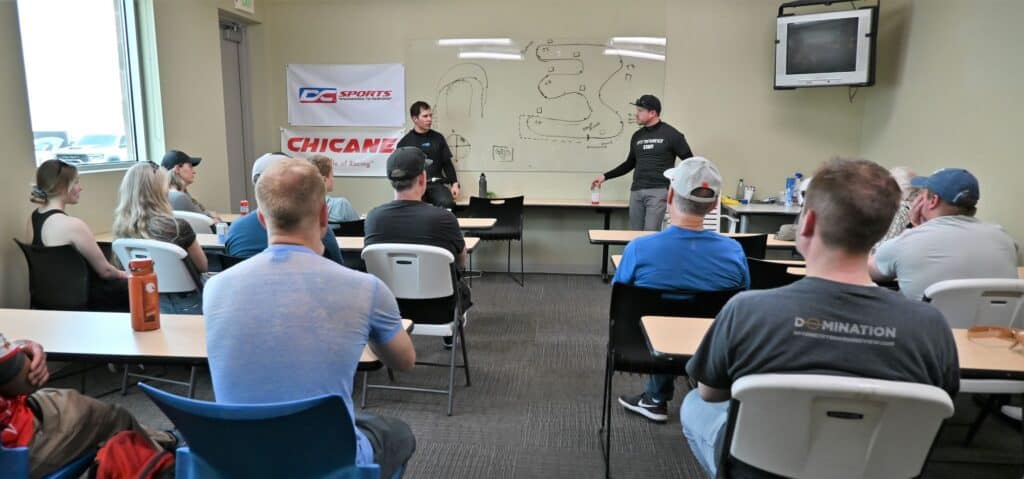 On May 20th, the classroom portion was taught by Spec Miata racers, and brothers, Greg and Blake Troester. With four sessions scheduled, the instructors introduced important track knowledge gradually and incrementally so it wasn't too much like drinking from a fire hose.
For instance, they covered the four parts of each turn and the difference between understeer and oversteer. They went over the physics of how a car's weight shifts between front and rear axles depending on what's happening on the track at a given moment, and why that matters. They emphasized that smooth is fast; that is, being smooth on the brakes, steering wheel, and accelerator.
Of course safety was emphasized and reemphasized throughout the day. Blake and Greg were also careful to invite discussion during each session so students could clear up questions as their learning accumulated on- and off-track throughout the day.
For the track sessions, each HPDE1 student driver was paired with their driving instructor on the pre-entry grid. It looked like NASA tried to connect students with instructors that raced similar cars. For instance, the one student with a Ford Mustang got an instructor that raced a Shelby GT Mustang. Another student showed up with a new Z06 Corvette, and he was paired with a Corvette racer. Students with "momentum" cars—good handling but less raw power—like the Toyota GR 86 were often paired with instructors that raced momentum cars like Mazda Miatas.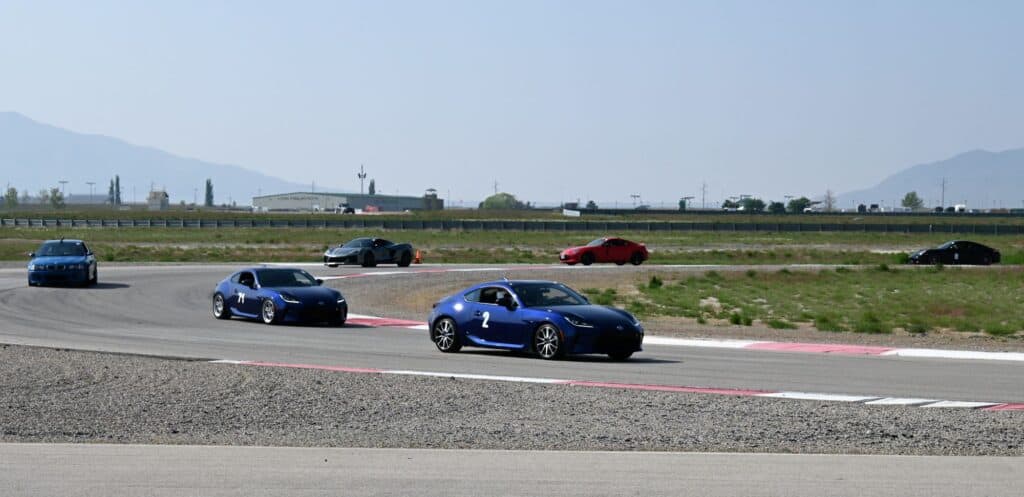 Participant Backgrounds
The HPDE1 student drivers came from a wide variety of backgrounds. One young woman had a race-driver grandpa. Another had just bought a new Toyota Supra and wanted to take advantage of Toyota's offer to pay for a one-day track learning experience.
Almost half the class was from outside Utah. Amy Gerkensmeyer probably traveled the farthest, having come from the Tri-cities area of Eastern Washington. She had one track option closer to home, but the NASA Utah dates worked out better for her. Plus, the drive in her new Toyota GR Supra was a pleasure.
Participant ages ranged from young adults to older adults. For instance, Bozeman Montana's Rod Johnson, who drove almost as far as Aimee, is 81 years old. Rod and Utahn Rich Bovo, who is 78 years old, both had a blast getting their Toyota GR 86s on track for the first time.
Student drivers also had different experience levels. Most had zero track experience, while others needed a refresher after a multi-year break or just wanted some formal instruction.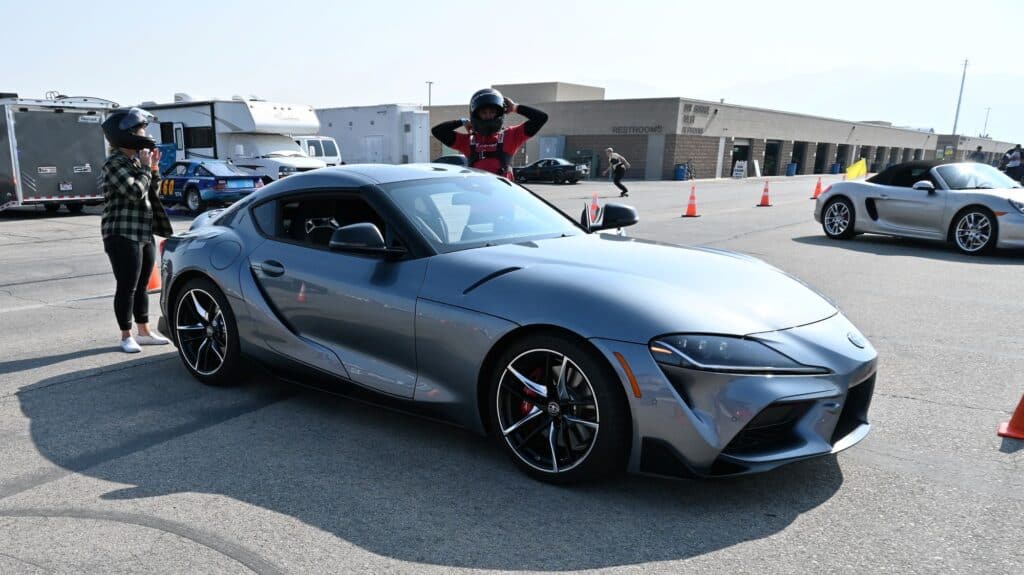 Toyota/NASA Partnership
I found it interesting that about a third of the HPDE1 students were driving new Toyotas that day. Apparently, when you buy certain models, Toyota pays for a one-year NASA membership and for your first HPDE session. That is an approximately $360 value.
See your Toyota dealer and do your own research for details, but I left with the impression that the GR Supra, GR 86 and GR Corolla are covered by this program. For sure, brand new examples of all three were part of the HPDE1 "beauty pageant" that day.
I have talked to a handful of Toyota-dealer sales people, including sales managers, and many are not familiar with this program. If you're considering buying one one of these cars and want to take advantage of a complimentary track day, you might want to do your own research first. For instance, according to https://www.toyota.com/grsupra/grgarage/, "Every 2023 GR Supra comes with a complimentary 1-year membership to the National Auto Sport Association (NASA)….[and includes] one free High Performance Driving Experience…."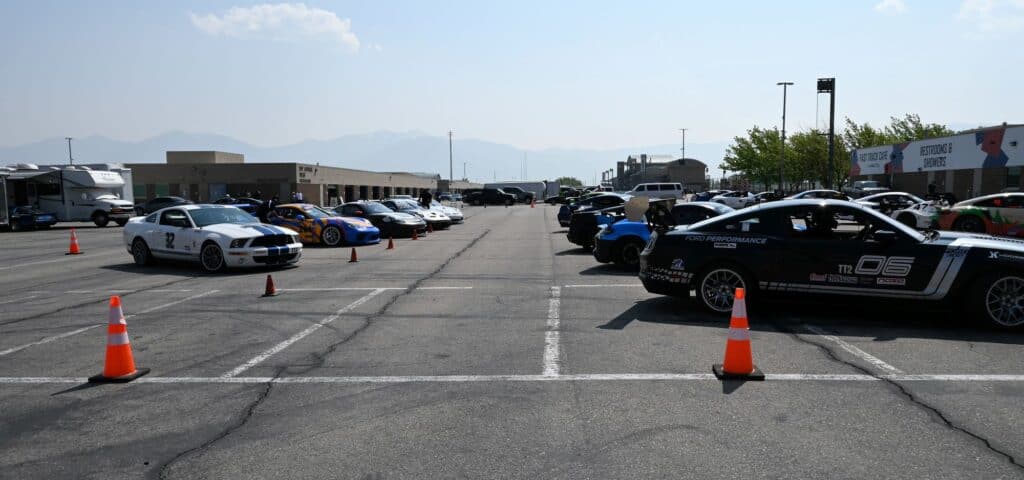 Student HPDE Impressions
Idahoan Darren Wolters had a friend talk him into buying a brand-new C8 Corvette Z06, which is a serious track weapon. Darren spent time on the track earlier in life, but it had been years. When asked afterward whether HPDE1 was worth it, he couldn't say enough about what an awesome experience it was. The Z06 is a lot of car, and Darren said the head start on nailing down the correct racing lines was totally worth the time, travel, and expense.
Similarly, Brandon Atnip is a business manager for BMW of Idaho Falls, and has driven on several tracks with BMW. Still, he claims that HPDE 1 was super valuable and a lot of fun!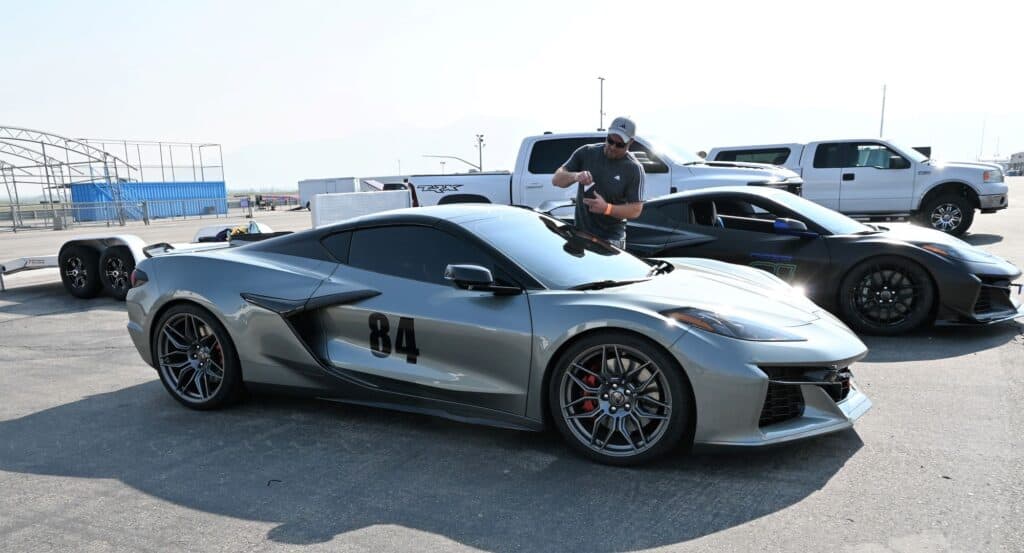 Jared Carter put tons of work into modifying his 2013 Mustang, and was looking forward to tracking it. He was amazed with how much he learned, like how important it is "to nail the apexes" in turns. He also realizes how much he still has to learn, and described how helpful the flow of feedback from an experienced instructor was throughout the day's sessions.
Rick Bovo claims that he was the slowest driver on the track. However, he couldn't say enough about the great people working with NASA Utah and how much safer he feels driving nearer the limits of his GR 86. He would recommend HPDE1 to anyone.
In short, every HPDE1 driver I spoke with, without exception, was glad they participated and felt like they were considerably better drivers as a result.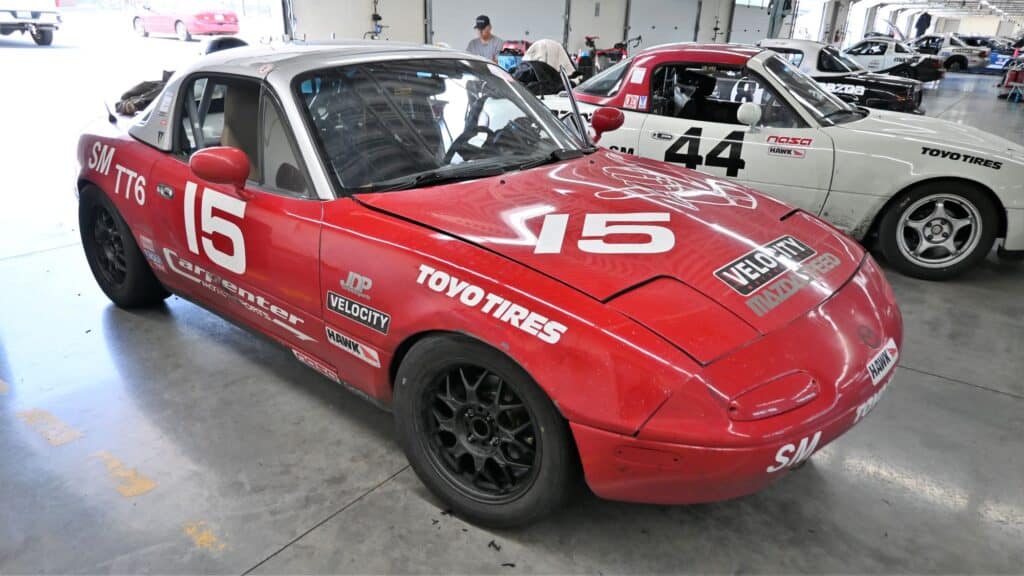 NASA Communities
One of the side benefits of motorsports involvement—many would argue it's the greatest benefit—is the close-knit communities and amazing friendships that develop. To increase that sense of community, NASA Utah hosted a meal for registered participants at the end of the day. HPDE1 drivers were especially encouraged to attend and to keep building on the sense of community that started forming in the classroom.
Fortunately, there are enough breaks in the HPDE1 schedule to watch some of the class racing and to get to know other drivers and teams. I spend a lot of time with the Miata drivers, who rent day garages near each other for NASA weekends. Every one of them was more than willing to share insights and pass along their wealth of experience. After finishing his race, Bob LeMon was even generous enough to let me drive his Spec Miata (off track).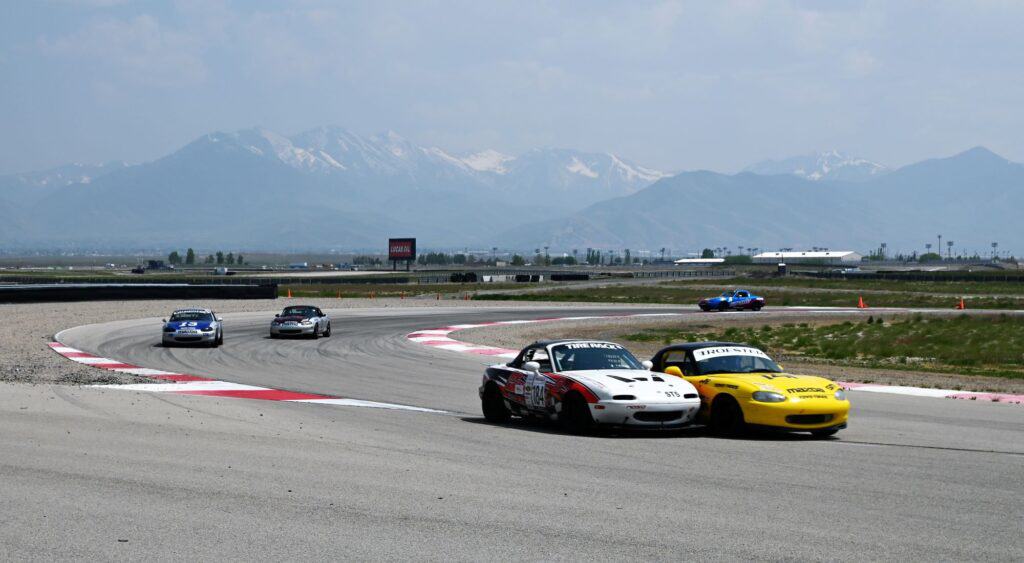 Several Mustang drivers also rent day garages and provide mutual support to each other. In fact one of them—also a NASA instructor—hosted a clinic on setting up your car for the track and making changes to that set up.
Sometimes I would just see an interesting car and go talk to the owner about it. I found that almost all drivers and mechanics enjoy discussing their cars. They are similarly happy to tell you about getting more involved with HPDE, time trial, and class racing.
I kept hearing about the wonderful, helpful people involved with NASA Utah, and it's all true. In fact I had such a good time being around it all that I just signed up for the next HPDE1 class. I hope to see you there!
© 2023, R Bairett