By Rick Bairett
After attending my first rock crawl off-road competition, all I can say is "Wow!" Pictures don't do it justice, and even great rock-crawling videos fall short. There is just no substitute for being feet away from these machines tackling unbelievable terrain. Usually the rock crawlers win. Sometimes the terrain wins.


The World Extreme Rock Crawling Championship Series brings together many top professional and amateur teams in the highly-competitive world of rock crawling. On May 6th and 7th they converged near Cedar City, Utah to tackle natural formations in the Three Peaks Recreation Area.
A team consists of "car" driver, and spotter. Their objective is to get the best (lowest) score possible by completing each fiendish course within the 10 minutes allotted. Clearing bonus gates, avoiding penalties for hitting the cones framing each narrow gate, and not having to reverse and reattempt a segment also improves a team's score.

The Machines
Rock crawler cars or buggies, at the professional level, consist of Unlimited, Pro Mod, and Pro Trail classes. Unlimiteds are an anything-goes class and they can range from over $70,000 for an excellent self-build, to over $170,000 for a professional build. Rear steering and huge tires are the norm, and turbo- or supercharged engines—mostly 4- or 6-cylinder to save weight—are common.
Dave Wong, of Club 42 Racing, went over his pristine Unlimited-class car (AeroLidz #42) with me in considerable detail. He demonstrated how drivers can lock and unlock front and rear drives, or even bias power to a wheel on one side of the drive. Suspension travel is incredible and can be adjusted in length or stiffness, on the fly, while navigating an obstacle.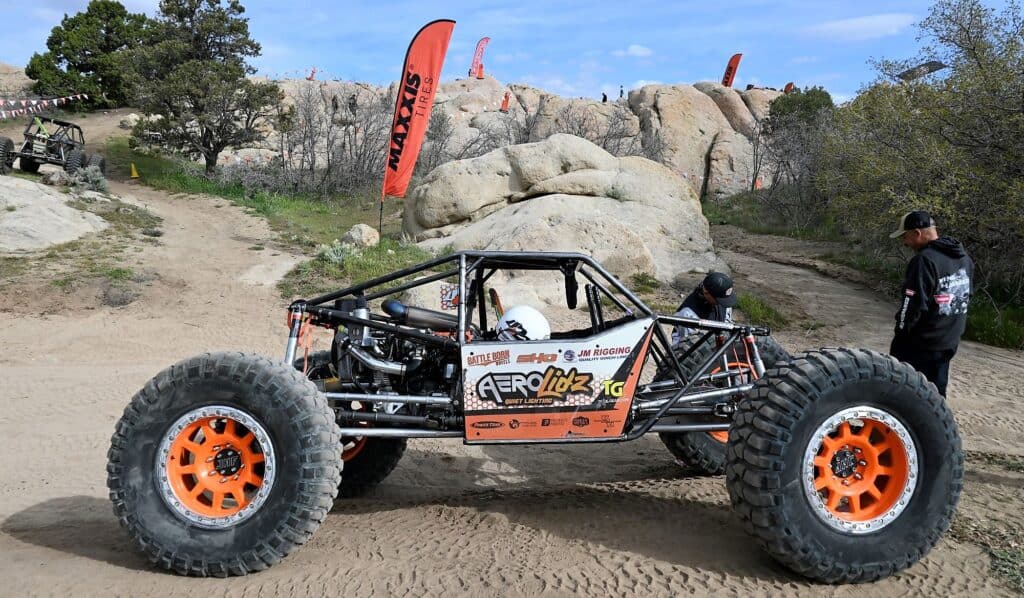 I was probably most surprised to learn that teams normally fill their massive tires with water, or even steel shot, for better balance. For instance, Dave had steel shot and water in the front tires of his mid-engine buggy, since weight shifts even more to the rear when climbing.
The Pro Trail class is similar to Unlimited in that they can have rear steering; however, those cars must have two seats and front engines.
Pro Mods are front-engine, two-seat machines that cannot have rear steering, but are otherwise optimized for conquering terrain. They are also run smaller tires than Unlimited or Pro Trail classes.
Amateurs compete in Sportsman A (similar to Unlimited), B (modified pickup and jeep-type rigs), and C (UTV/side-by-side) classes.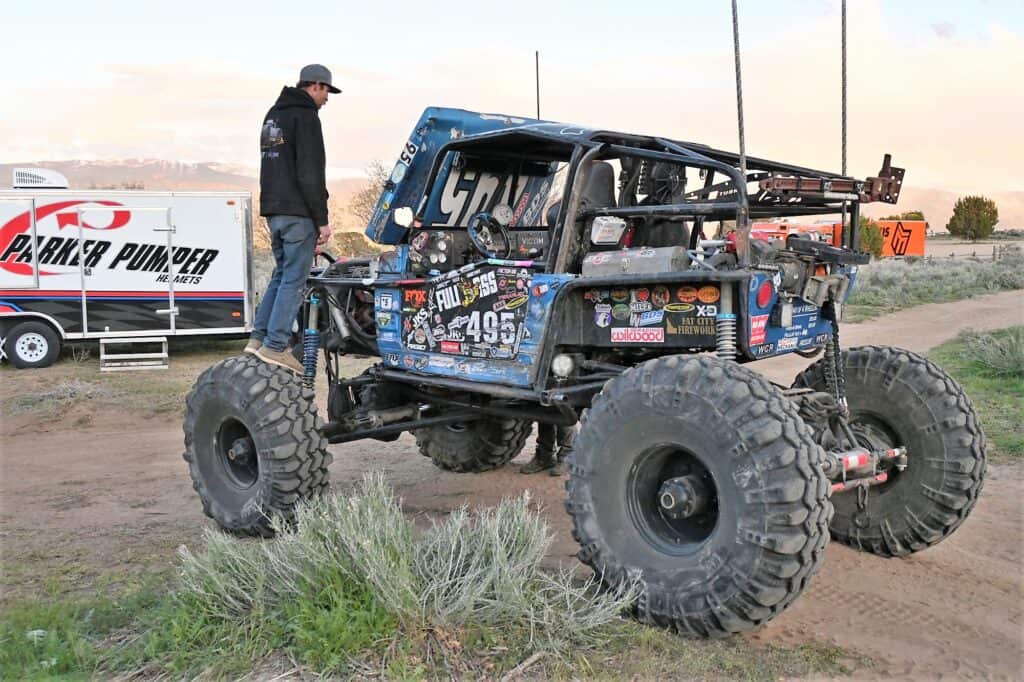 The Competitors
I was vaguely aware that Three Peaks was on the rock crawl circuit—it hosted the World Extreme Grand Nationals in 2020. What I didn't know was that a large percentage of prime competitors are from Utah, especially Washington County. I also learned that speed-junkies can appreciate and enjoy rock crawling.
Hurricane, Utah resident John Hembel is a former speed skier who has gone much faster on skis—153 MPH—than most of us ever will on wheels. Now, as driver for Mad Cow Racing, with spotter David Binkerd, he has just as much fun in his Unlimited rock crawler.
Dave Wong—a consistent Unlimited first-place finisher this season—and spotter Rich Kline are also from the Hurricane area (Dave's regular spotter Nate Reed is from Washington State), as are two of the youngest pro drivers on the circuit.

La Verkin's Braxton Coleman—the youngest professional I spoke with at age 15—won the Pro Mod class at Three Peaks, with spotter Bret Robison. 16 year old Miss Hurricane and Krazy K's Offroad driver, Katelynn Boren, with her dad and spotter Kevin Boren, similarly compete in the Pro Mod class. This is just a sample of Utah teams.

Not all of these Utahns are native to the state. Many readily admit that they relocated because of great off-roading, such as Sand Mountain at Sand Hollow State Park. They go "wheeling" together, and push each other to be better, so perhaps it's no surprise that they are second to none in the world of competitive rock crawling. For instance, five Utah teams competed in a recent Eastern Series meet in Mason, Texas, and all five ended up on the podium (1st, 2nd or 3rd place) in their classes.
While Utah was well represented at Three Peaks, teams from all over the western United States were competing. Some from at least as far away as New Mexico, California, and Washington state.
On a side note, last year's Sportsman A Grand Nationals champion Dwayne Lewis, of Quartzite, AZ asked well-known social media influencer and off-roader Holly Fowler (Mischief Maker) to be his spotter at Three Peaks. She thought he was a little crazy but the new combination just missed the podium, by two points. Not bad for Holly's first time as spotter.
Western Championship Series, Round 2, Unlimited Class
After judges and drivers meetings, teams started running Day 1 courses at 10 AM. The four "A" courses were for the pros, while the Sportsman classes drove challenging, but less-brutal, "C" courses.
Nearly all teams walked their courses early and discussed strategy for each gate. The order that teams attack the courses is randomly chosen but is important. Watching the first teams navigate a course allows others to adjust strategies. That's why the order is reversed for Day 2, when the same courses are driven but in the opposite direction.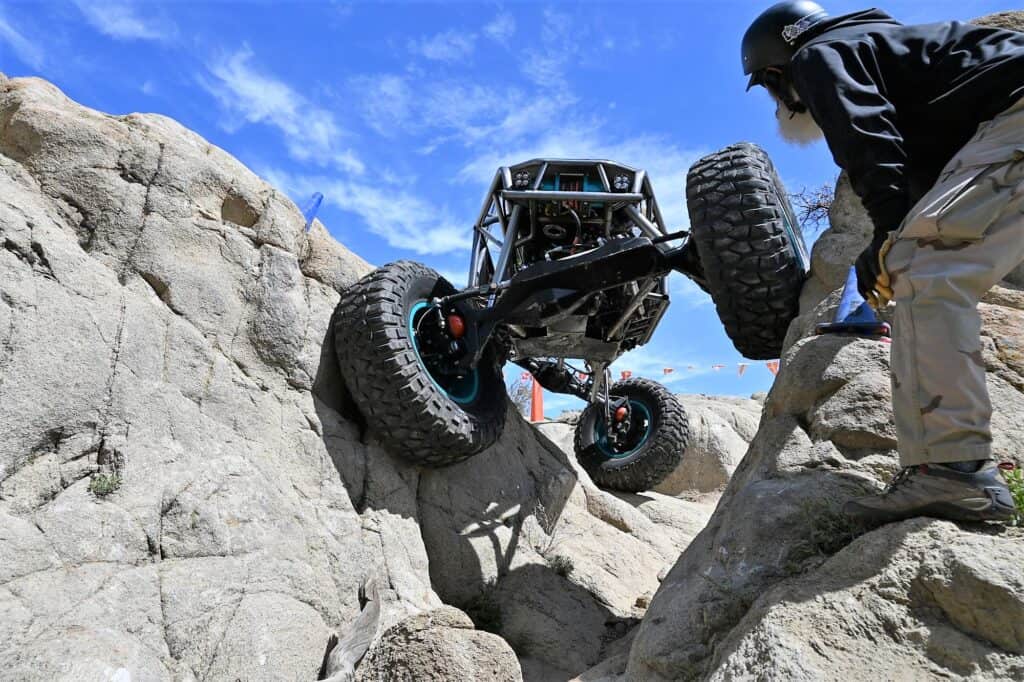 I started my day checking out Unlimited-class competition on A4, which had two tricky exit gates. One was a narrow crack with nearly vertical walls in places. The only way down was to paste the wheels against both sides. The other bonus exit was about 15 feet down with a 70-degree slope. It also had a perpendicular rocky outcropping on one side at the bottom.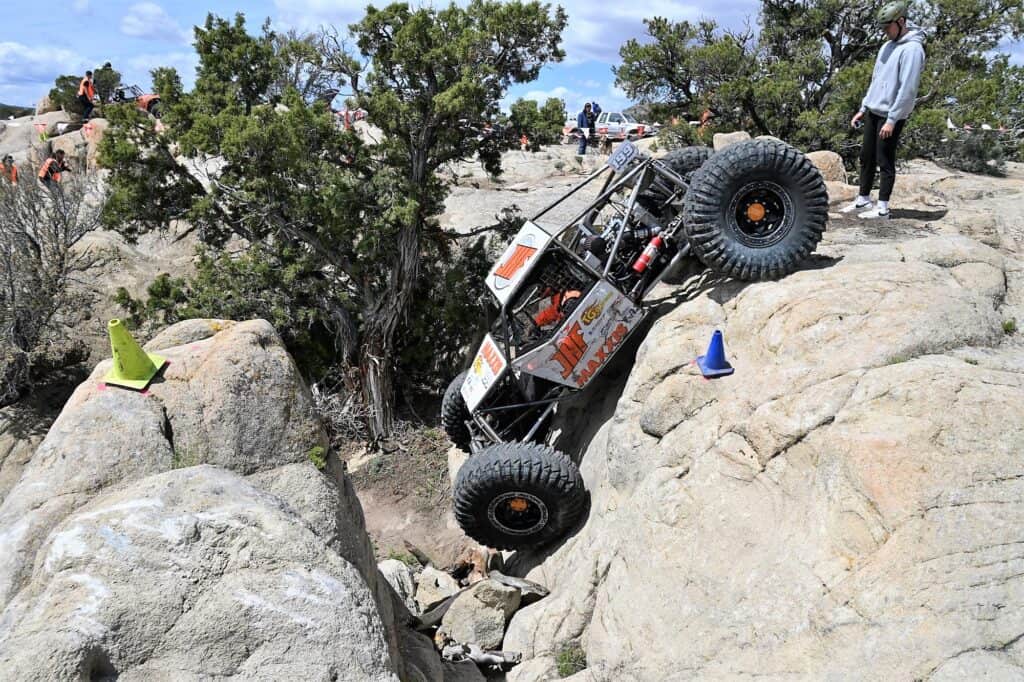 Most of the Unlimited teams attempted the steep gate successfully. Competitor Jesse Haines did nose over against a tree—was bounced into it by the rocky outcropping at the bottom—but managed to right himself with appropriate use of power. There is no penalty for a rollover if the driver can recover the car without outside assistance, so it was a nice recovery.
The first obstacle/gate on course A1 was rather steep, but that wasn't the real problem. A rounded slick rock at the bottom destroyed rear tire traction. Meanwhile the right front tire had to simultaneously clear a large boulder at the top, just inside a cone.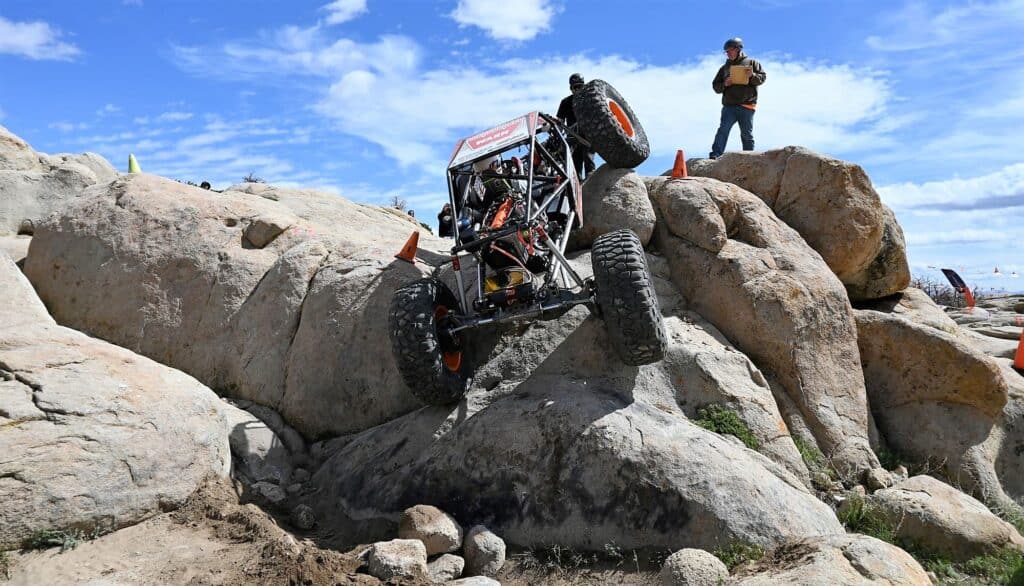 Most Unlimited and Pro Mod teams burned a large chunk of their 10-minute limit just on that first gate, and some couldn't clear it without creaming a cone. One driver was so anxious to make up time, or just so frustrated, after finally clearing that gate that he snapped a CV-joint flying over the ensuing rocks.
The biggest challenge—and biggest temptation as it turned out—was getting off course A2. The bonus exit gate was steep—as in at least 85 degrees—with a substantial drop-off. The first two Unlimited teams bypassed it for the normal exit gate. The next two teams took a calculated risk and went for it.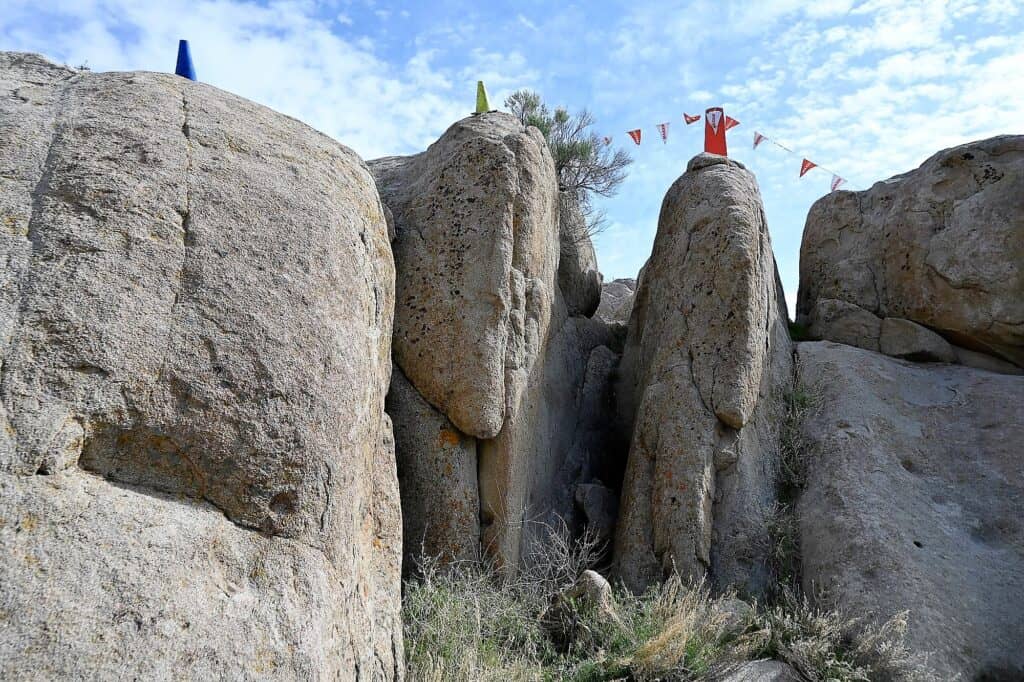 Driver Kalif Redden is known for going big and putting on a show—he rolled 360 degrees during an aggressive climb on Day 2—and he did not disappoint on this gate on Day 1. He started inching through the bonus gate at something of an angle so as not to have to point straight down the small cliff. By throwing power to the front axle as he landed, he managed to exit with all four wheels under him. However, when gravity took over as he dropped off, his rear tire slid into a cone. The 10-point cone penalty offset the 10-point gate bonus. Still, he looked like he was having fun!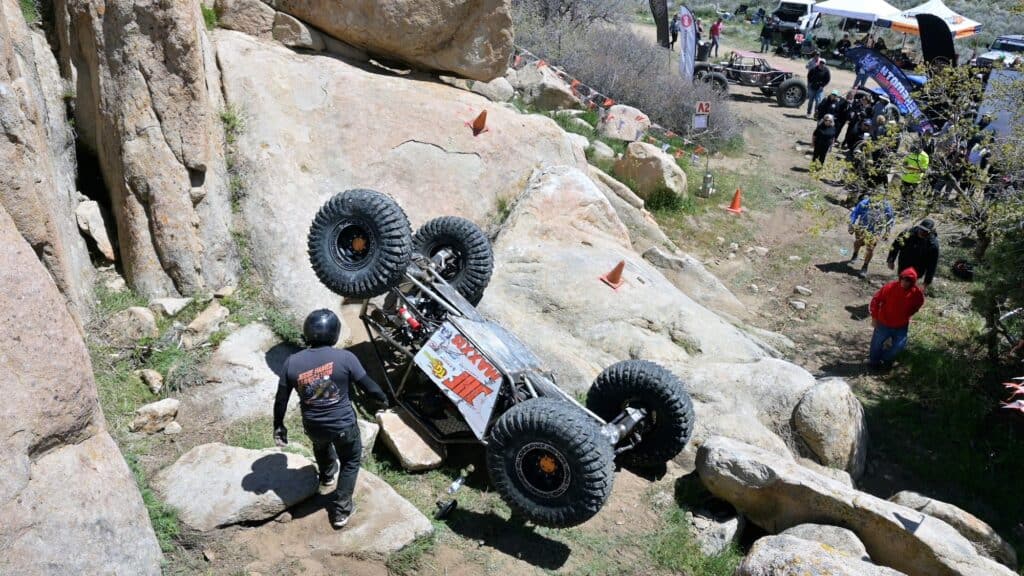 Next, driver Jesse Haines—one of the most winning Unlimited and Pro Mod drivers on the circuit—took that bonus gate straight on but nosed over at the bottom and came to rest on the car's back like a dead bug. Because of the rocky terrain, spotter Chris Poblano needed outside help to right the buggy, meaning they DNF'd (did not finish) course A2. And at this level of competition, a DNF makes it nearly impossible to reach the podium.
From all of this, I saw that successful teams have to be good problem solvers and take strategic risks. Yet they must also keep their emotions in check when things don't go well or a gate takes longer than planned to clear. As with golf, consistency is one key to a great season, but even consistency doesn't always guarantee things will go your way.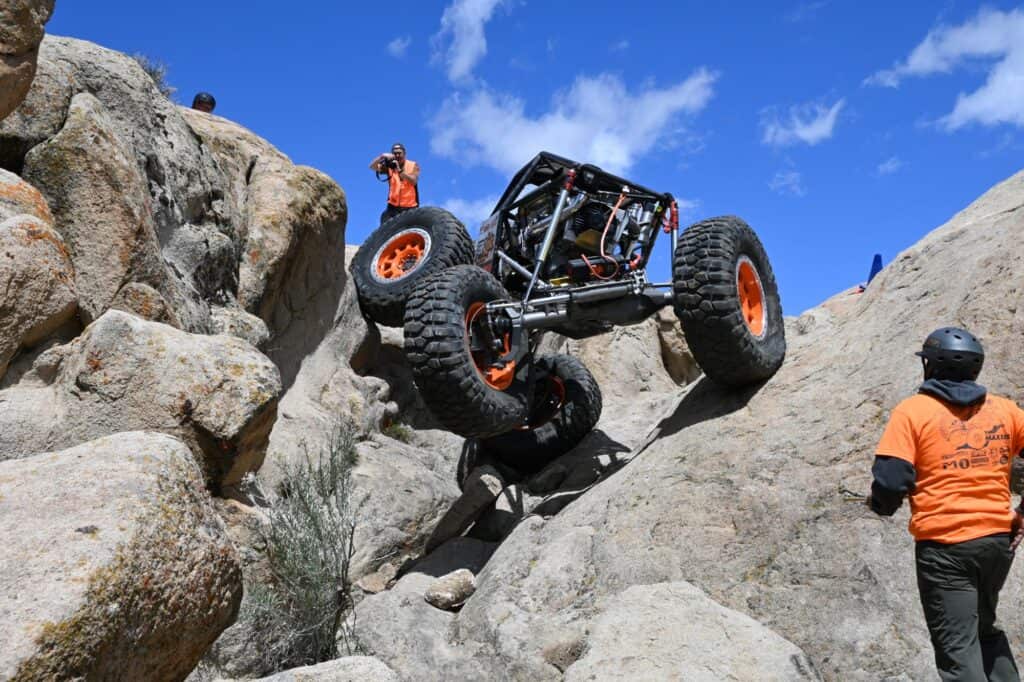 The Winners
In the Unlimited class, Dave Wong and Rich Klein finished Day 1 tied with son-father team Jacob (driver) and Jason (spotter) Reeves. Dave and Rich just managed to edge them out on Day 2, so they finished first, with Jacob and Jason a close second.
Josh Patt, from Denver, Colorado, had a stellar 2022 season and is one of the top Pro Mod drivers. However, a recently-replaced u-joint separated—he believes it was a bad casting—and left his rear drive shaft hanging. So he was unable to complete two courses on Day 1. With that "racing luck," plus two Utah teenage drivers who brought their A-game, Braxton Coleman and Bret Robison took first place in Pro Mod while Katelynn and Kevin Boren finished in second.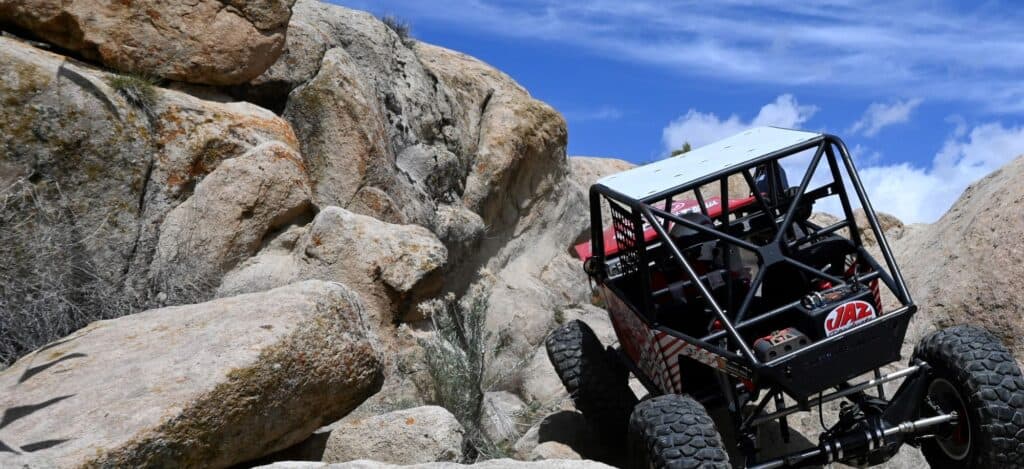 The Pro Trail competition was close, but driver Tyler Harper and spotter Miles Kimberly had a great weekend and emerged with the victory.
As for the amateur Sportsman classes, driver Thomas Meisner (Parowan) and spotter Rick Jenkins edged out the competition to win Sportsman A.
I got to watch several Sportsman B teams navigate a course that was so tight that they were constantly having to reverse and eat the associated penalty. So I was surprised when driver George Leyner, with spotter Tyler Harper (St. George), blew through the course with ease and without a single reverse. After that performance, I was not surprised that they won the Sportsman B class.
Finally, driver Chris McKenzie, with spotter Josh Griffin, swept the Sportsman C class.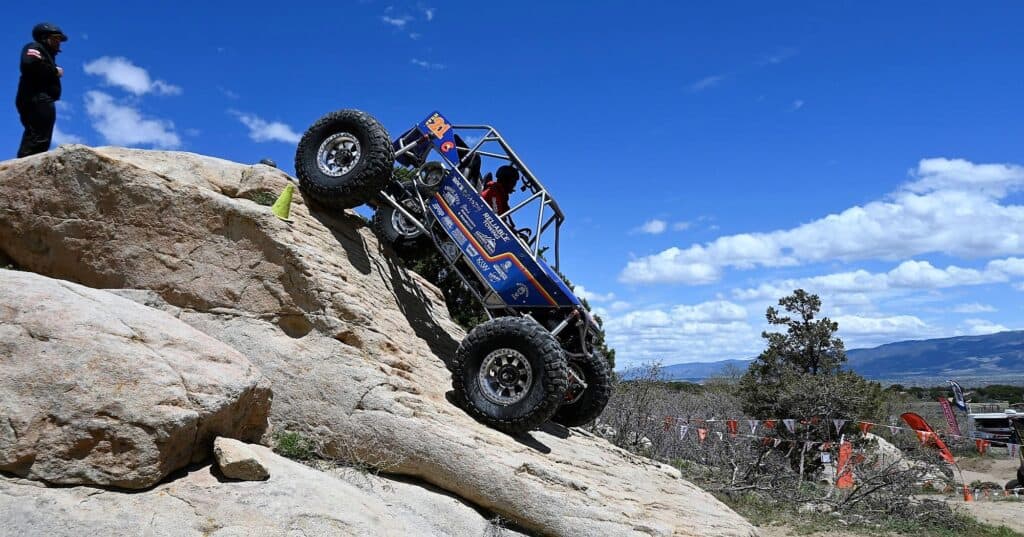 Upcoming Utah Rock Crawls
Upcoming participant events include the Delta Classic Rock Crawl on May 26th – 27th and the Vernal Rock Rally, June 8th – 10th. Trail Hero at Sand Hollow State Park, Oct 2nd – 7th, will also include rock crawling. The next, and last, 2023 W.E. Rock Championship Series competition in Utah takes place outside Vernal on June 24th – 25th.
It was amazing to spend time with this tight-knit and mutually-supportive cadre of off-road thrill-seekers. I highly recommend attending an event. Between rounds, there is plenty of opportunity to check out the machines, ask questions, and even get autographs.
Just be careful if you go. You might find yourself building a rock crawler.

© 2023, R Bairett