By Rick Bairett
On May 26th, over 1200 riders, plus thousands of supporters and fans, descended on Three Peaks Oasis, outside Cedar City, Utah, for three days of WORCS (World Off-road Racing Championship Series) desert racing. Teams from much of the western United States participated, and Utah was well represented.


This event was one of many desert races in Utah. Motorcycles dominate the class structure, but plenty of quad-type (ATV) and side-by-side (SXS) racers also compete. Off-road race types include: Hare & Hound, with 2 different 30 – 50 mile loops; Desert Scramble, where riders complete two loops twice each, and Desert GP (Grand Prix) events, which include man-made, motocross-like sections.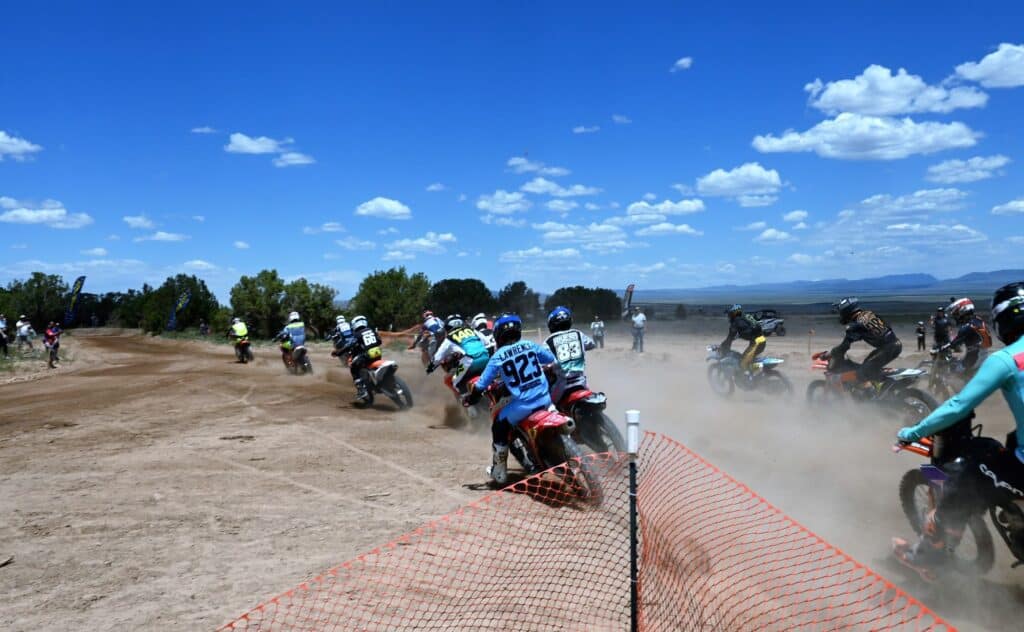 Utah Off-Road Opportunities
A number of organizations support desert racing in and around Utah. The Utah Motorcycle Off-Road Racing Association (UMORA) was formed by a group of racers and affiliate clubs, and claims to be Utah's newest off-road racing organization. Their goal is to introduce individuals and families to the sport, and to help racing on public lands survive and thrive. UMORA hosts one race during the year, and encourages each of its affiliate clubs to host a race.
UMORA spun off from the Utah Sportsman Riders Association (USRA), which also hosts desert races through affiliate clubs. The Motorcycle Racing Association of Nevada (MRAN) holds competitions, including a night series, near the Utah-Nevada border. Meanwhile larger organizations like the National Grand Prix Championship (NGPC) and WORCS—the biggest US off-road series—sponsor huge championship-series events in and around Utah. So there are plenty of opportunities for off-road riders to compete.
A rider who doesn't mind traveling could easily compete multiple times per month in race groups for men and women. Motorcycle classes range from 50cc Pee Wee classes, for children as young as four, through senior classes for varying bike sizes and skill levels. There are also pro classes for 125cc, 250cc, and 450cc bikes, and a separate women's pro class.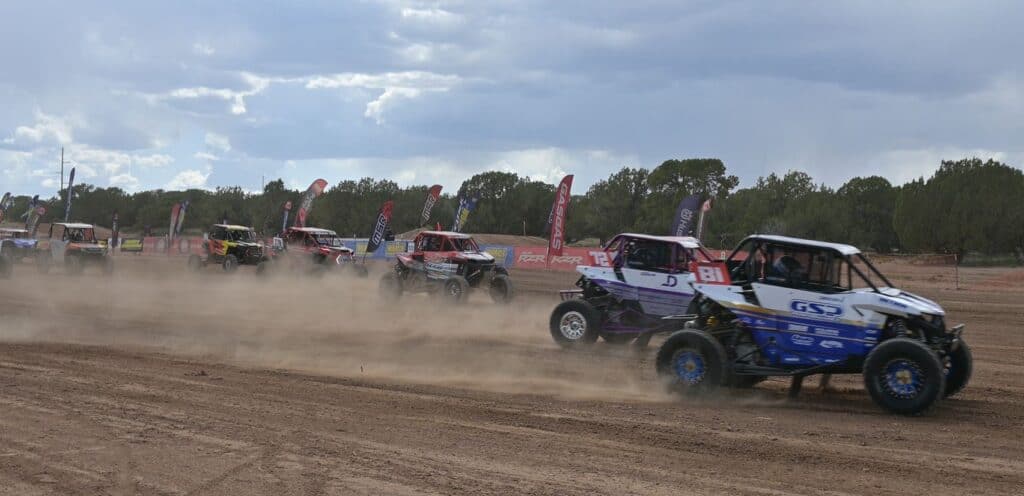 If you want more than two wheels under you, many races include multiple ATV and SXS classes for various ages, equipment types, and skill levels.
The Legacy Racing Association, which hosts a couple of events in or near Utah (Cedar City, UT and Caliente, NV for 2023), even adds modified pickup, car, and SUV classes.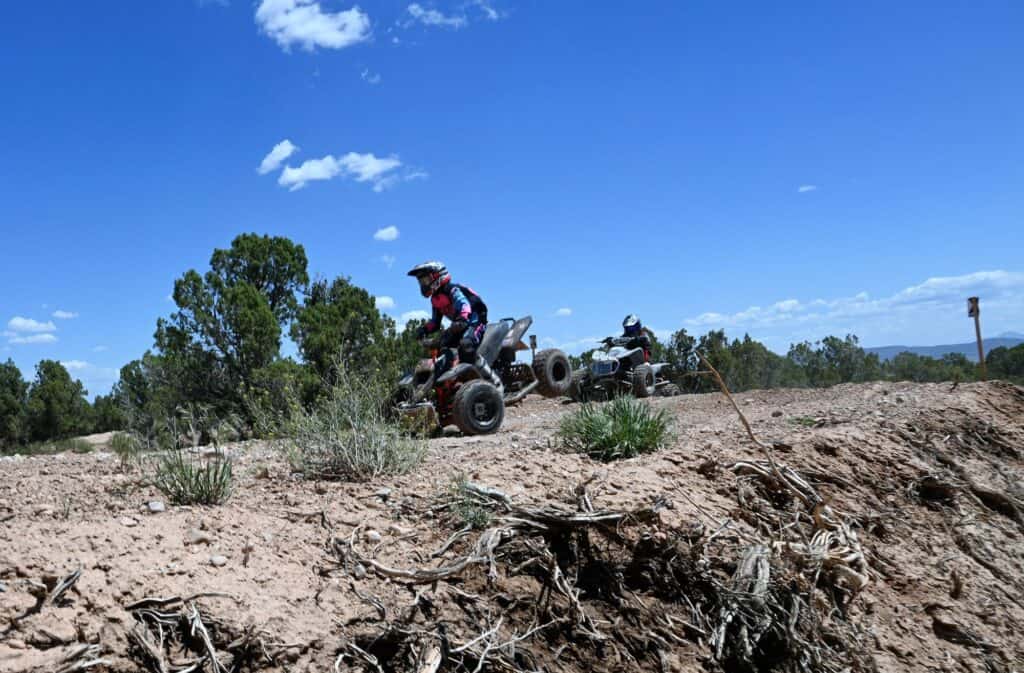 The People
When I attended my first off-road race—the May 26th – 28th WORCS event—I was floored by the sheer number of people participating. Most riders had a supporting cast that included friends, family members, and fellow club members.
The racers I spent time with were trailer-camping with their families, and usually near friends or members of their local clubs. One family member might tow the camp trailer while another tows the trailer with desert machines and support equipment.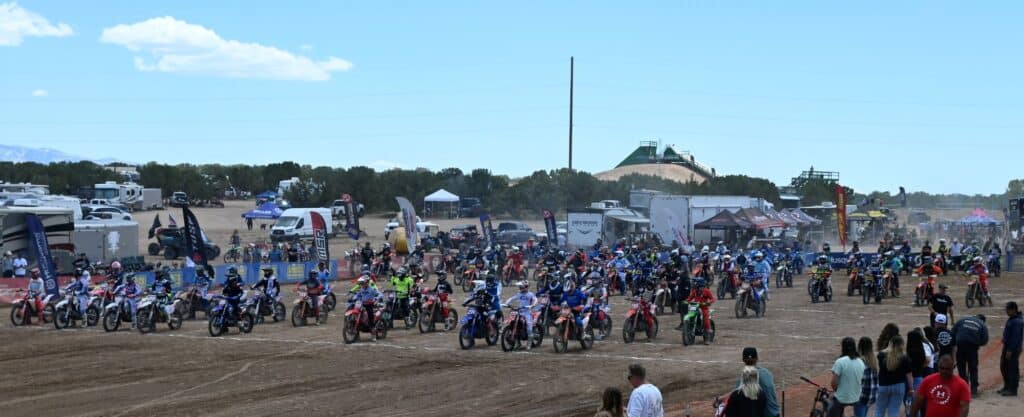 Those fortunate enough to attend with club members seemed to have an extensive support system. Long-time members look out for newer members, and there is a lot of sharing of parts, fuel, expertise and encouragement.
Even factory-pro teams may have family member support. For instance, highly-successful KTM factory racers JP (podiumed in Pro 250cc) and Tristun Alvarez (won Pro 125cc) are brothers. Their dad Ernie travels with them and supports them as much now as when he was getting them started years ago.
There are several women and girls out there competing. While they have separate classes, many do as well or better than the men and boys. For instance, Lake Havasu City's Brandy Richards missed months of racing after a serious leg injury, then came roaring back to dominate the Pro Women class at the May 19th – 21st NGPC race in Delta. She again dominated Pro Women at the WORCS race in Cedar City. She also made the podium, in 3rd place, in the overall (mostly mens) Pro 125cc class.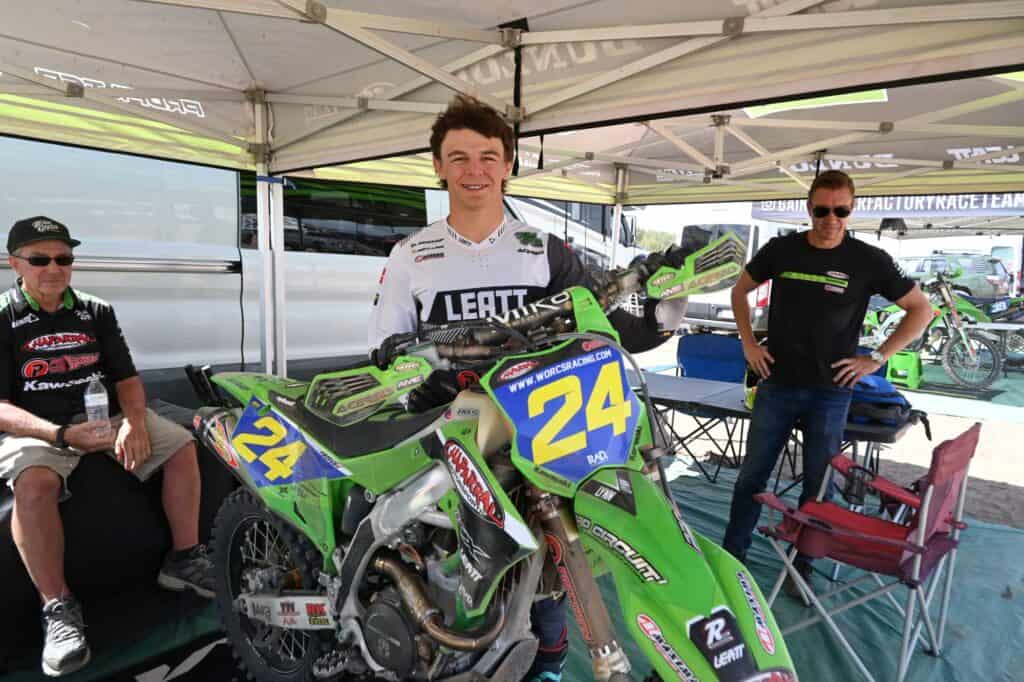 There were loads of Californians and Arizonans present, but Utah has its share of top racers. Tyler Lynn, from Mona, is a Kawasaki Racing pro rider who won the WORCS Pro 450cc class. St. George's Sophie Phelps is a renowned motocross champion and she also competes in some off-road events.
Additionally, Trent Sandoval rides Hard Enduro internationally and Skyler Howes competes in Dakar racing for team Husqvarna Factory Racing. Cole Townsend has ridden Motocross for Kawasaki and his son Grayson is currently factory sponsored by Kawasaki. All four riders are from the St. George area.
This is just a partial list of top Utah riders.

Getting Started—Local Clubs
Although large national organizations like WORCS and NGPC attract plenty of independent riders, local desert racing would die without the support of clubs. UMORA, USRA, and MRAN depend on those clubs to host races. Without them there would be no season.
Unless you already have a solid network of off-road-racing friends, joining a local club when getting started is a really good idea. I spoke with Kyle and Sadie Pulsipher—president and secretary of the Southern Nevada Jackrabbits Motorcycle Club of Las Vegas—and got a lot of insight into club functioning and purpose.
The Pulsiphers helped resurrect that branch of the Jackrabbits with a group of about 20 participants, including relatives. It continued to grow, with members now split between Southern Utah and Southern Nevada. The Jackrabbits plan to host a UMORA desert race annually. It's important for clubs to be affiliated with a larger governing body so they have more competitors attend the races they host. A governing body also tracks championship points in the classes riders compete in.
While these are all important aspects of club functioning and while they serve members of all ages, their main purpose is to help young people grow and develop as riders. And of course the focus, discipline and team building that riders experience carries over into other areas of life. Clubs also encourage families to come together in support of their young (and older) riders.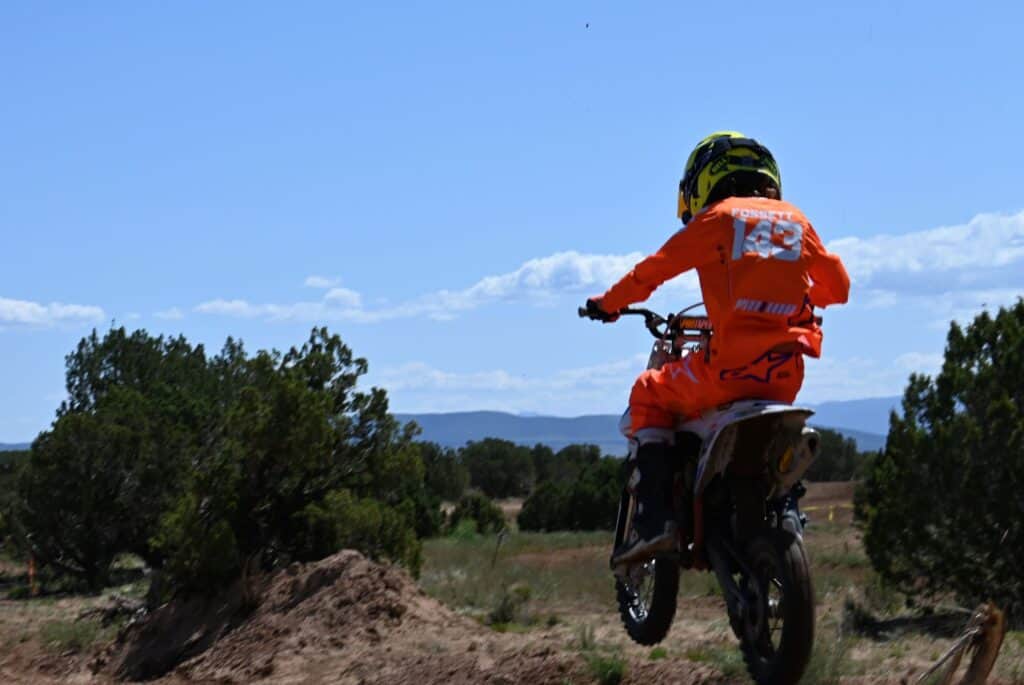 Of course kids want to compete because it looks fun and is fun. But it's a lot more fun when they are fully prepared. Kyle mentioned showing up, with his son, to their first event on BLM land only to find out that they needed spark arrestors to race their bikes. Besides learning to prepare equipment for the next race, there are a myriad of rules, requirements and classes to consider.
New riders tend to focus on their bikes, ATVs, or SXSs, but may overlook personal preparation. Kyle and Sadie described one day where their son Ammon competed in three events: so three-plus grueling hours of riding at the limit. Just knowing that you need to wear a CamelBak, or similar hydration system, and otherwise take care of yourself physically and mentally, can make all the difference in how successful and enjoyable the day turns out.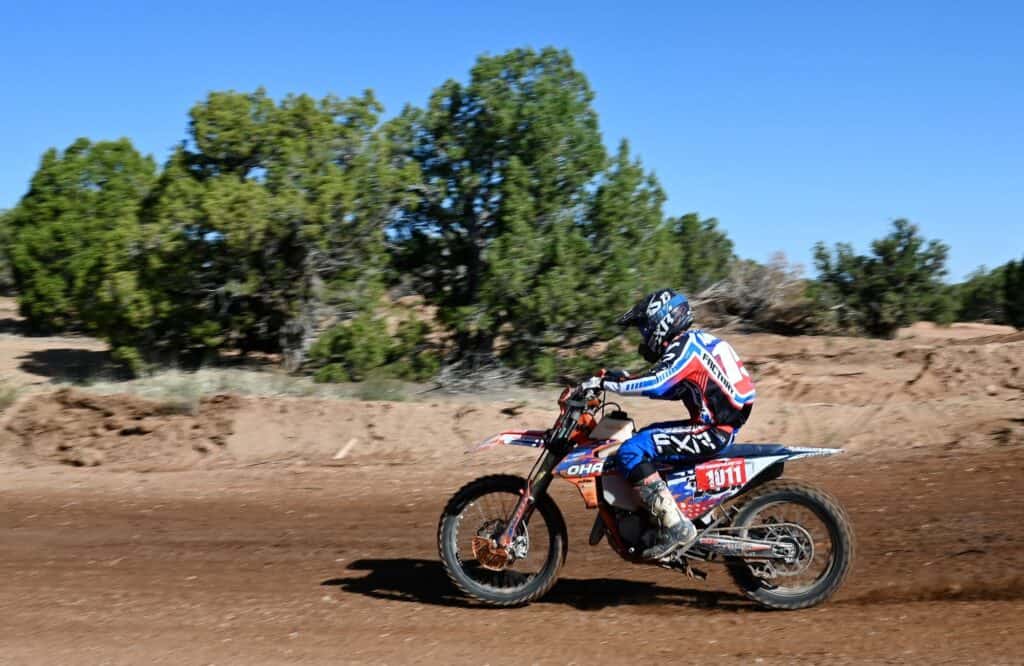 All of the above can be overwhelming to navigate and remember, but experienced club members act as mentors. They keep an eye on new riders, help them get the right equipment, and make sure they are ready to have a great time and ride their best race.
I hung out with the Jackrabbits at the WORCS event, and saw club mentorship in action. One young teenager was competing in his first race ever. Kyle spent time talking to him about things like riding at his own pace and staying in his lane, versus moving out of the way, if someone is passing.
Another new club member showed up for his first race, with two pre-teens in tow who would also compete for the first time. Other Jackrabbits helped them find a campsite, navigate registration, transponder rental, etc, and went over the schedule and race execution with them.
In short, club membership appears to be invaluable, especially for beginners.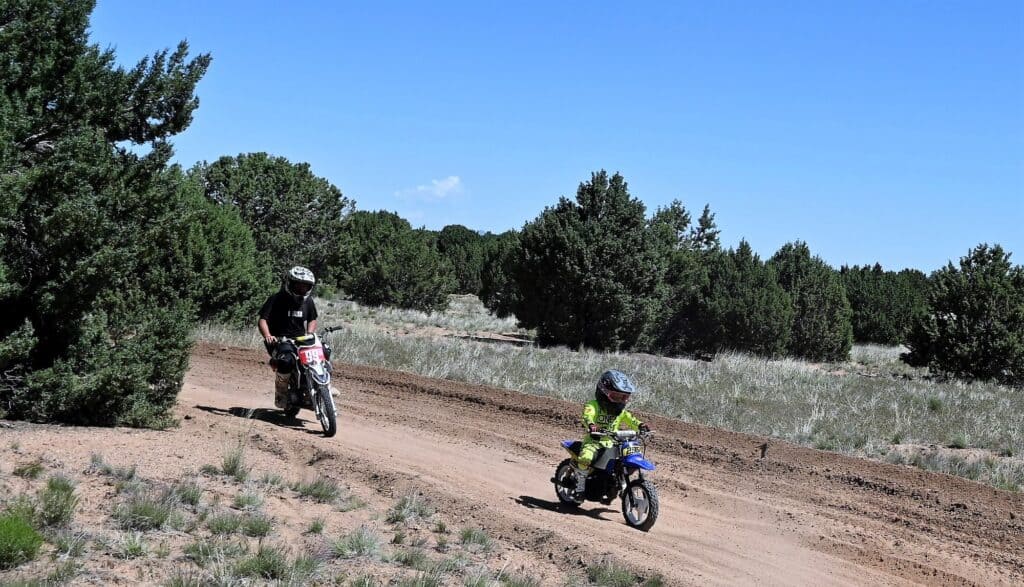 Getting Better
While some talent is important, the Pulsiphers feel that hard work is vital in developing the skills and toughness to be truly competitive. Sadie emphasized that once a rider gets comfortable with the basics, a lot of successful desert racing is mental. Riders need to learn to read terrain and to look well ahead of the next turn or obstacle. They also must learn to conserve energy so they can perform at a high level for an entire lengthy race.
It is also important for a rider to focus on their own race. Changing things up because someone else is passing them, for instance, can cause worse problems. Similarly, the best riders keep their emotions in check. Things rarely go perfectly: bikes malfunction, terrain and obstacles aren't always read perfectly, and other riders can be frustrating. Letting frustration take over at such times does not make you a safer or faster rider. In fact, quite the opposite.
As with most forms of motorsports, expert coaching is one key to getting lap times down. For instance, Kyle Pulsipher signed up for the Utah-based "Ride with the Knights" online program and training camp, with his son Ammon, and learned excellent technique. Since then, Ammon has been coached by world-renowned Graham Jarvis, Destry Abbot, Utahns Rich Larsen and Nick Thompson, and others. Riley Brough of the RMX Academy also helped make Ammon a more well-rounded rider by teaching motocross skills. The Pulsiphers described this training as "absolutely game changing."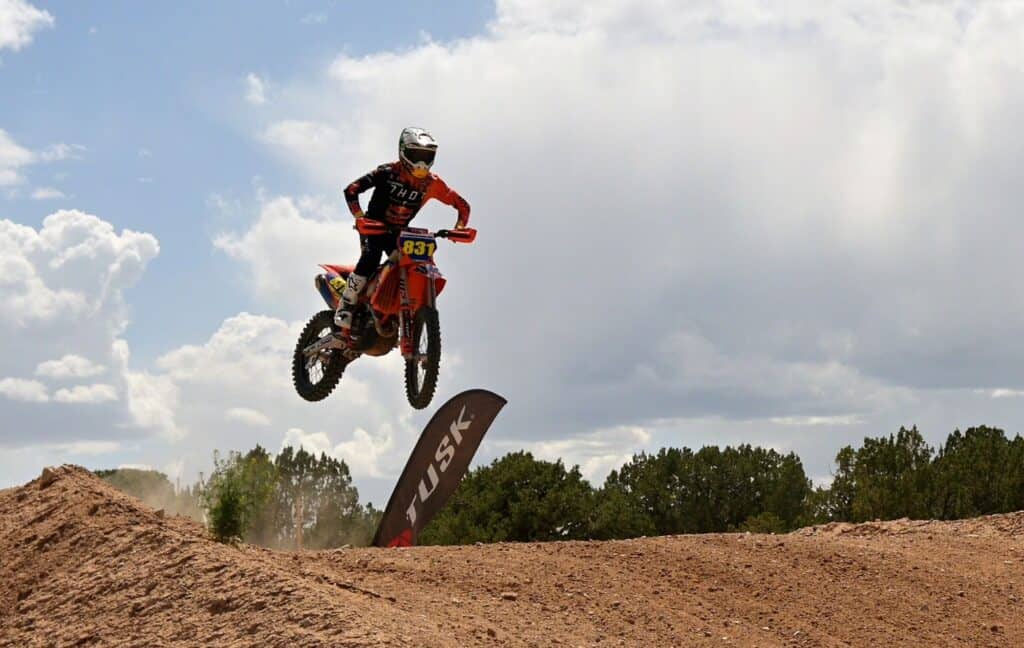 WORCS Racing
I've seen motorcycles airborne. Maybe even launched a few myself, with almost as many successful landings as takeoffs. WORCS Round 6, however, was nonstop flying bikes. This particular GP-type event featured miles of groomed track with man-made obstacles, not natural terrain, so motocross-like jumps were plentiful.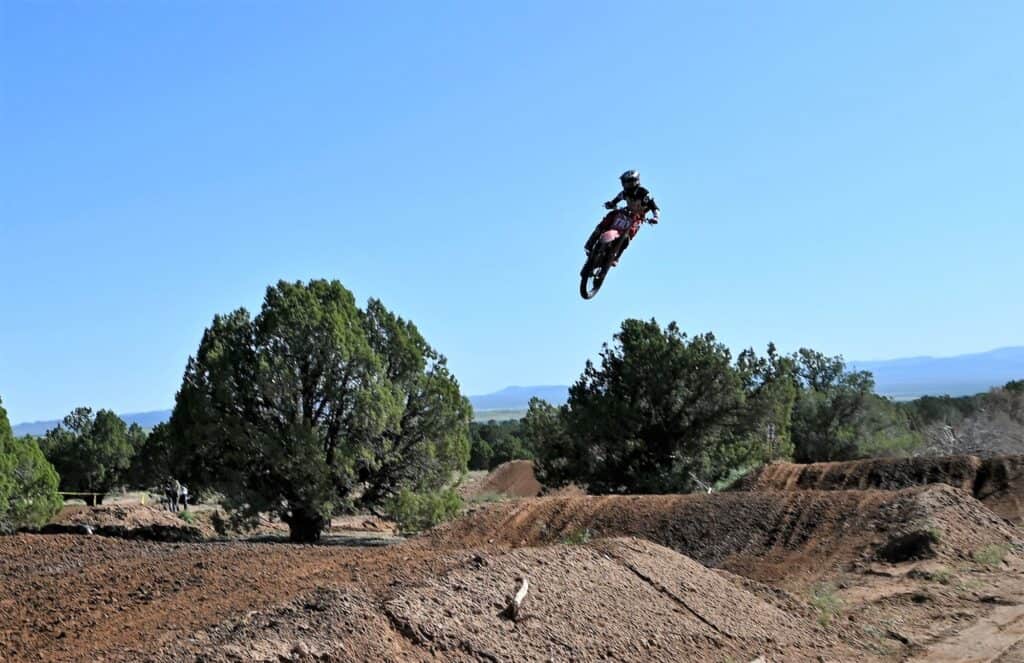 The pros, especially, put on an aerobatic show. Clearing triples in one leap was the norm, and sometimes they got enough altitude to do some freestyling. Many talented amateurs were also flying over jumps, and ATVs and SXSs spent time airborne as well.
Standing at the end of the starting grid provided another adrenaline rush. It felt like an angry hive of supercharged hornets flying past, just inches away, fighting to be ahead by the narrow first turn.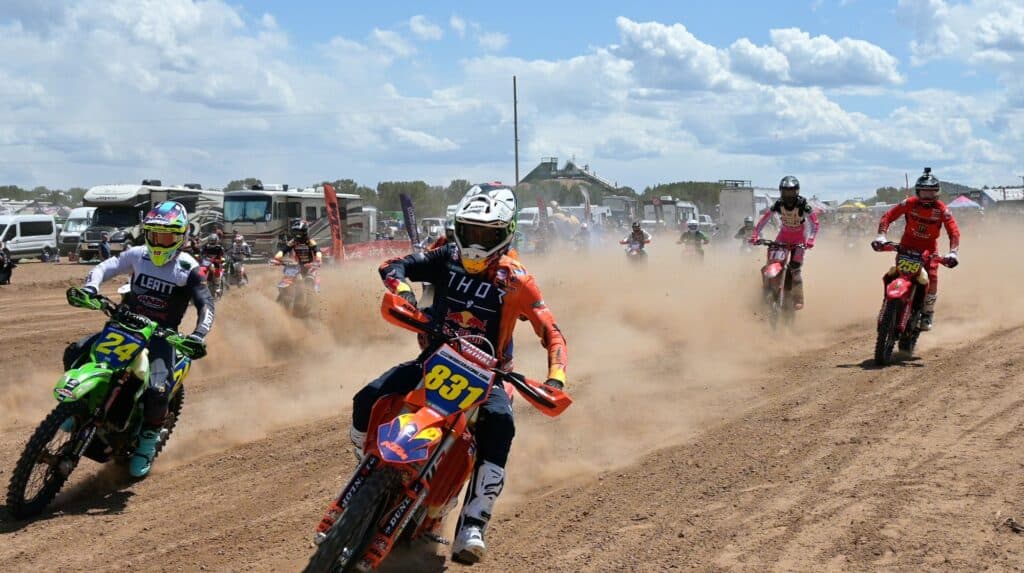 The course doubled back on itself in places. So it was possible to simultaneously watch riders throwing rooster tails in tight turns on one section while watching others catch air on jumps nearby.
At the other end of the spectrum from the pros and advanced amateurs, were two 50cc Pee Wee classes for 4-8 year-olds. Although less air and speed is involved, it's an absolute pleasure to watch little kids pushing their bikes through chewed up turns and numerous obstacles at their pace. And they kept it up for 35-40 minutes. A couple of the tiniest ones even had dads riding nearby to keep an eye on things and shout encouragement and advice.
That isn't to say watching the Mini classes is boring. Most of those kids could ride circles around me.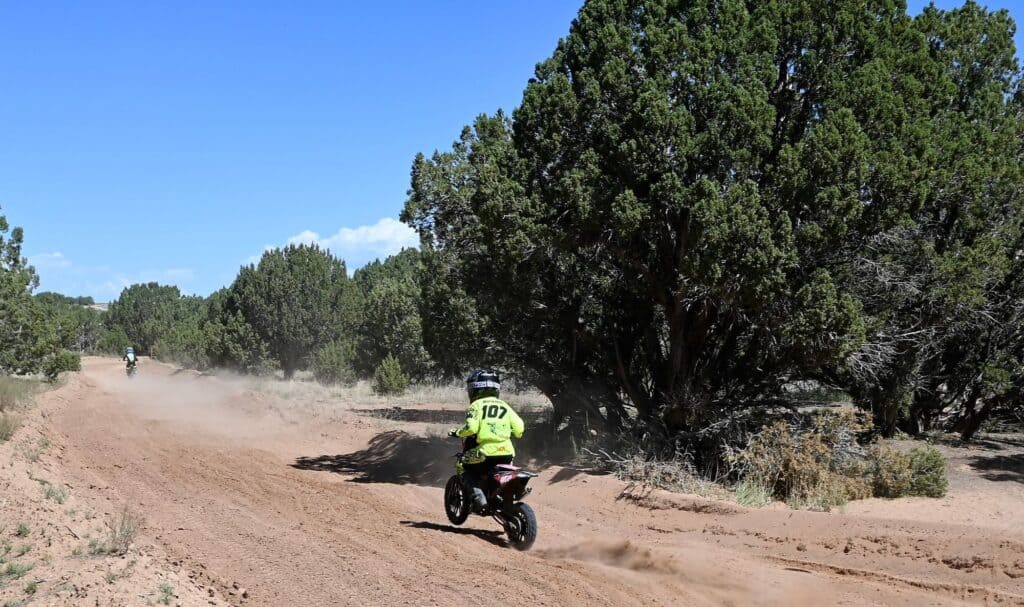 Although California and Arizona riders dominated several classes, some Utahns really stood out. In particular, Mona, Utah's Tyler Lynn took 1st place in the Pro 450cc class. Daemon Wollslayer, also of Mona, just missed the podium in Pro 125cc. Colby Laub, of Duck Creek Village, Utah, podiumed 3rd in Pro Am, with three other Utahns coming in behind him (Kayden Lynn, Jayce Zillmer, and Miles Holt).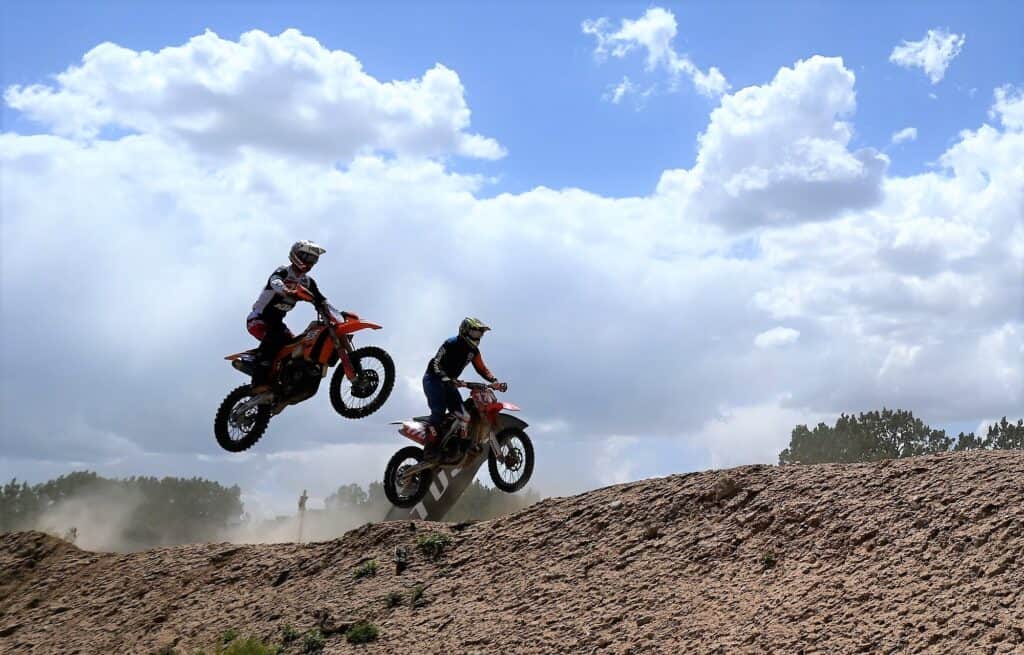 More to Come
July and most of August are slow for off-road racing. However, there are races every June weekend in Monticello, Snowville, and Nephi. (See the Utah Motor News June events calendar for more information, and the ad below for details on the June 24th Juab Xtreme race.)
The season picks back up in late August with a Jackrabbits-hosted race in Cedar City on Aug 26th. Several races are then scheduled for September through mid-November.
So get involved as a rider or just come out as a spectator. I can pretty much guarantee you won't regret attending a desert race.
© 2023, R Bairett