By Rick Bairett
As a college professor, I ask my new freshmen to "tell me something interesting about yourself." I recently encountered a young woman at an auto show and asked a similar question. The answer was quite different from what I normally hear: "I hope to be a NASCAR Cup pro driver."
Way before my teaching years, I volunteered as crew chief for a friend's Street Stock racer at Idaho's Meridian Speedway. The most adrenaline-charged part of the evening was watching the ultra-powerful Winged Sprint cars. Those cars accelerated so viciously out of turns that the left-front tire often lifted completely off the asphalt.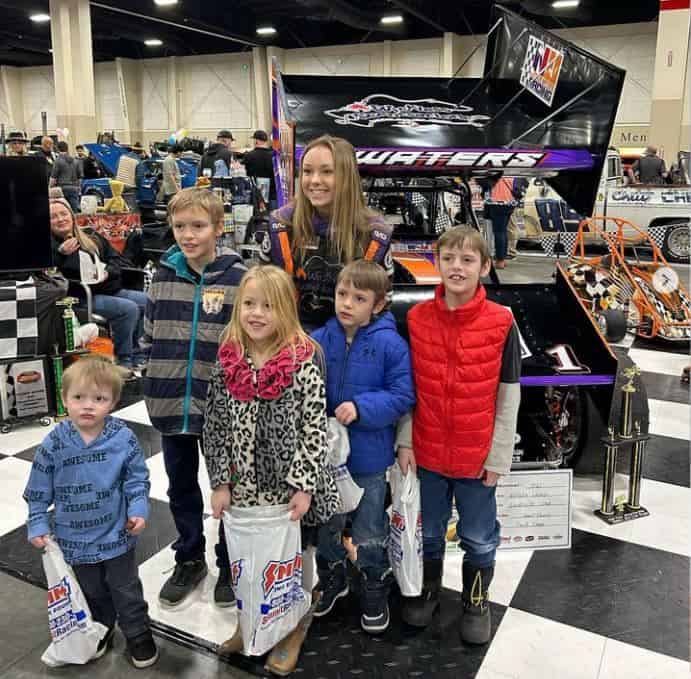 So when I saw a Winged Sprint on display at the April Autorama in Sandy, my earlier experience had left me with the impression that sprint drivers must be the toughest, most grizzled veterans on the track. When Utahn Natalie Waters—a petite college freshman from Grantsville—came around the car in a fire suit, she shattered that image permanently.
She may not be the grizzled veteran I pictured. However, Natalie has lots of experience, is plenty tough, and is one of the most exciting rookie 410 Winged Sprint drivers!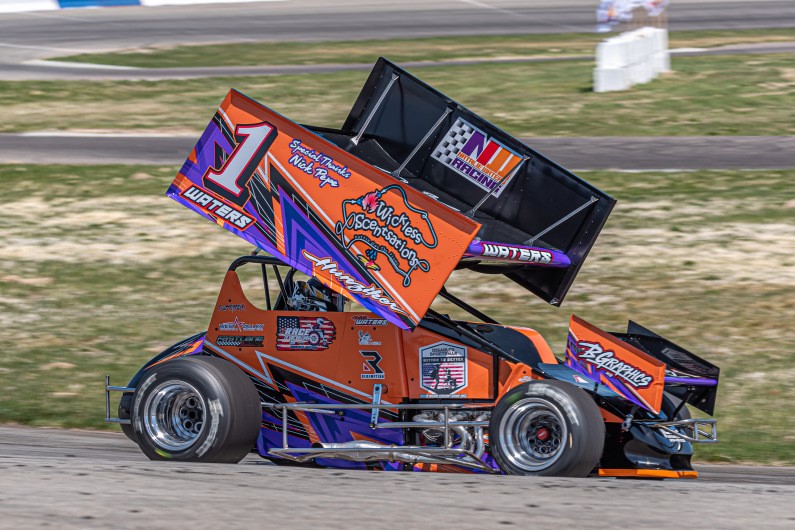 Progression
Natalie started racing early. A big 7th-birthday surprise from her grandpa was a Quarter Midget race car. Of course she won her first race in it—the first of many wins! She then advanced to Junior Stingers as a 12 year old.
Natalie started racing Ford Focus Midgets as a 13 year old, and did so for four years. In midgets, she broke two track records, won two championships, and was recognized as "Best of Class" and "Fans' Favorite Driver."
She was simultaneously running Limited Winged Sprint Cars, starting at age 14—the youngest sprint driver in Utah history. Natalie broke a track record for that class, was the 3rd place overall points leader, and won Rookie of the Year, all in her first season.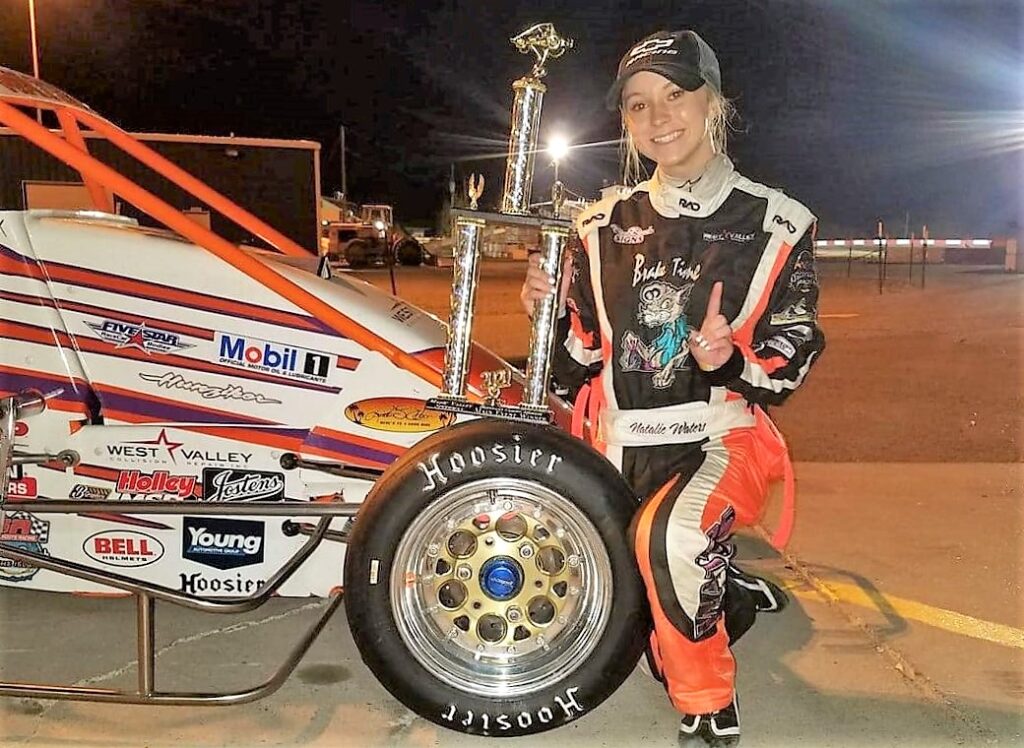 There have been some hiccups along the way. For instance, when Natalie was 14 years old, a steering component failure on her Limited Winged Sprint car put her into the wall and totaled the car. Another Sprint owner, Robert Crowther, handed over his racer, and Natalie got her only Limited Winged Sprint win of the season that night. She also ran in her midget, right after the sprint race, and won that class as well, although she may be even happier that she edged out her Uncle Sid…by 0.002 seconds. Like I said, she's tough!
As a 16 year old, Natalie started driving her uncle Lynn Hardy's Modified stock car: a big step closer to her NASCAR career ideal. By age 17 she had moved into the Modified series full time to refine throttle control with "big horsepower" engines in full-size cars. Natalie actually won the last race of her first full season in Modifieds. That happens almost never for a rookie in their first season at that level.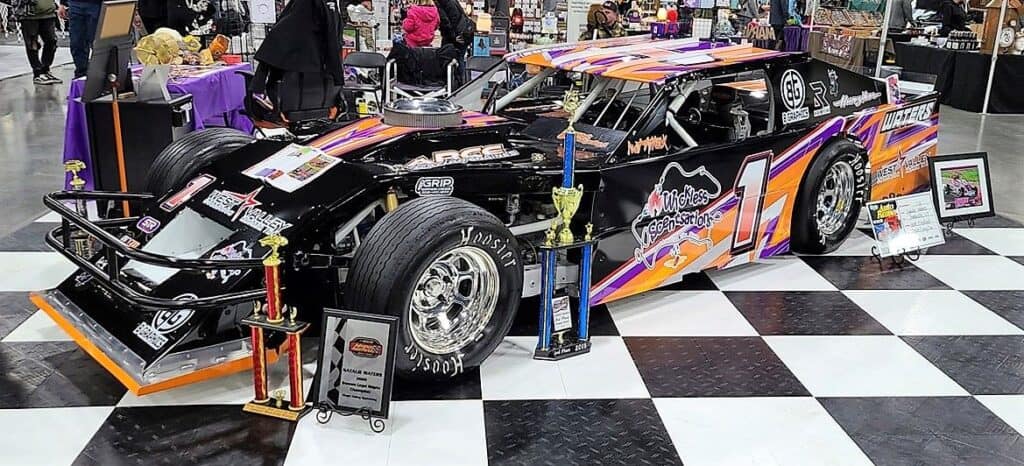 For the 2023 season, she is running 410 Winged Sprint Cars—the top of the class structure for regional stock car racing.
Natalie hopes to catch a professional team's attention and move through the different NASCAR levels—ARCA, Trucks, Xfinity Series—then on to the NASCAR Cup series. Obviously she doesn't wait around for things to happen. She goes after her dreams!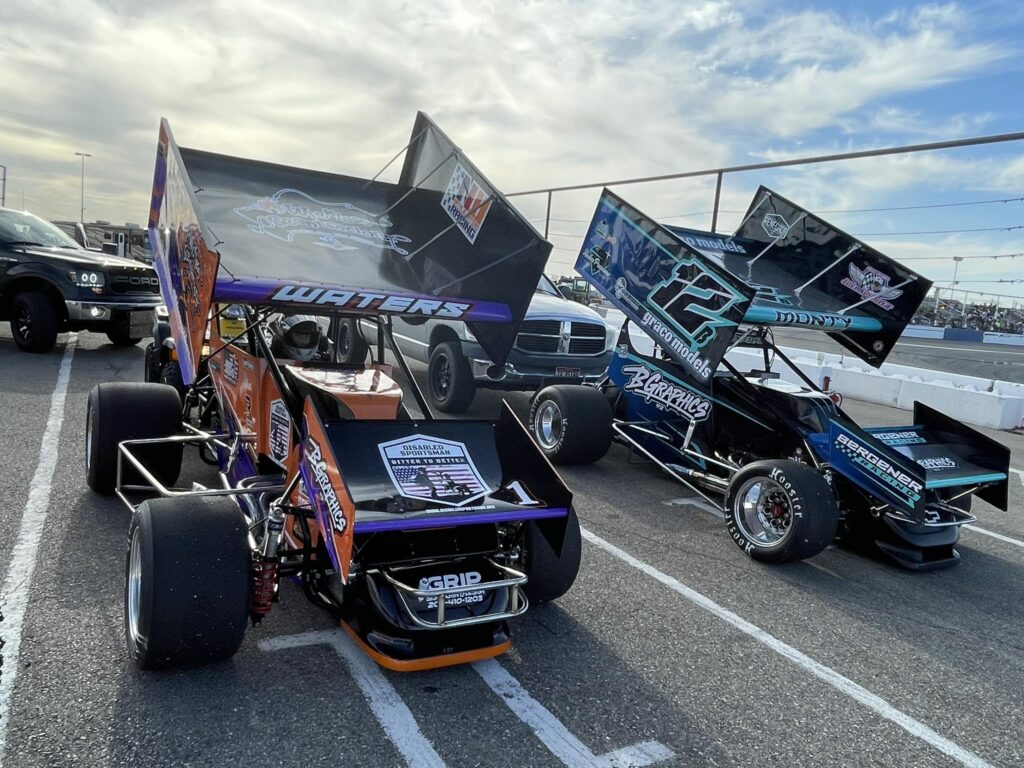 410 Winged Sprint Car
I asked why she moved to a 410 Wing Sprint, when Modifieds are closer to a typical NASCAR machine in size and handling. Natalie described how exciting it was to watch her grandpa's cousin, "Uncle Jim" Waters, pilot Winged Sprints around the asphalt oval. It became her dream, from an early age, to race them too.
I pored over nearly every inch of the #1 Wickless Scentsations sprint car with Natalie and John Waters—her crew chief and grandfather. It quickly became obvious why these cars are on the top of the heap for regional stock cars.
First, the naturally aspirated, but methanol-powered, 410 cubic-inch engine outputs 860 horsepower (810 hp with restrictors). The car and driver must weigh 1650 lbs at the end of a race. Do the math: that engine is only moving about two pounds per horsepower! I've driven some powerful cars, but nothing even remotely close to those numbers. It's no wonder that unlimited sprint cars have enough torque to pull a front tire off the ground. And no wonder that they really benefit from a couple of massive wings to hold them down. Natalie's machine also has different size tires on all four corners to optimize grip, with the right-rear being the biggest.
Maximizing turning performance—finding the right balance between maneuverability and stability—is an ongoing challenge. What worked one day may not be quite the right balance the next. A car that is too "tight" is stable but hard to turn, while a "loose" car is happy to turn but harder to control in that turn. Much of the tradeoff is determined by pre-race setup. However, Natalie can adjust the main wing—change the downforce—from the cockpit. She can also adjust brake bias to help with corner entry.
There are straightaways on the short asphalt tracks Natalie drives—typically ¼ to ⅓ mile ovals. Still, a 410 Winged Sprint accelerates so furiously that the straightaways disappear in just a couple of seconds. So most of the lap time is in the turns, and near constant turning in a 60-lap main event is far more tiring in Sprints than in Modifieds. Accordingly, part of Natalie's 2023-season routine is hitting the gym to build upper body strength and endurance.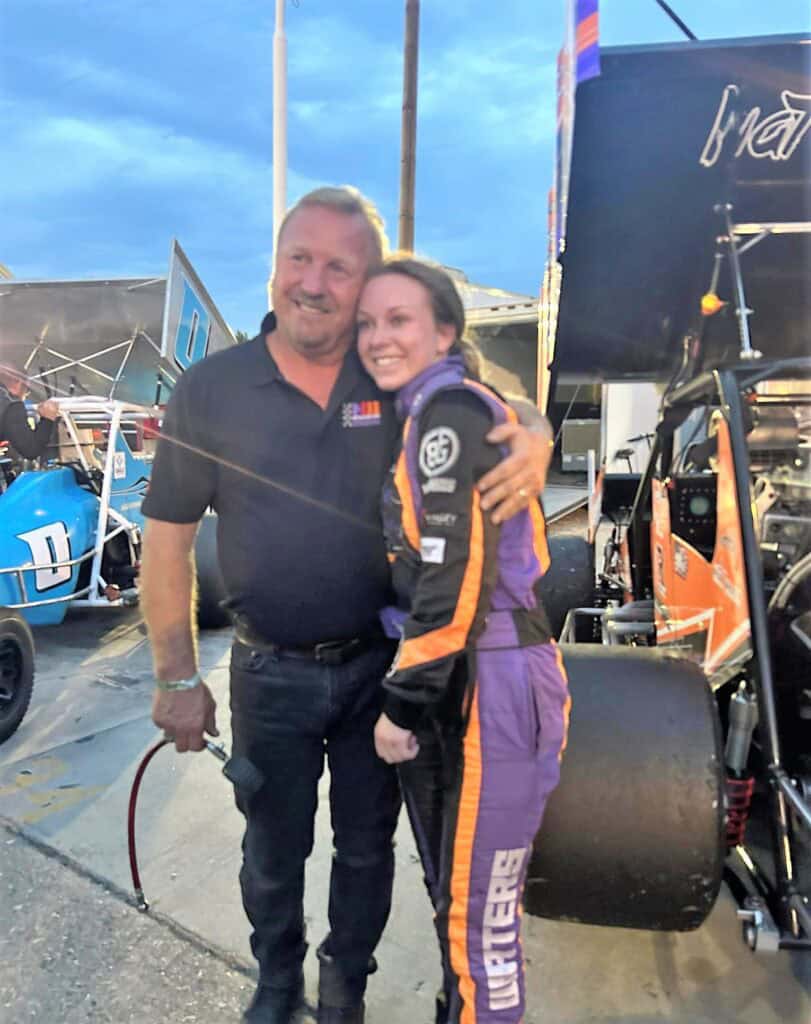 A Family Effort
Much of Natalie Waters Racing revolves around family. When she was little, Grandpa John decided Natalie and her cousins needed to be involved in something meaningful. Naturally, given his own stock car background, he started a Quarter Midget class in a local parking lot. John described how Natalie, as a six-year old, was pretty reserved and would putt around the parking lot getting beat soundly—even getting lapped—by her cousin.
When she got her own Quarter Midget, Natalie was the one lapping other drivers in her first heat race. What changed? She decided she "wanted a trophy like her cousins." Since then she was nearly always on the podium and took 1st place in the majority of her Quarter Midget races. She is also the only one of her cousins that stuck with racing.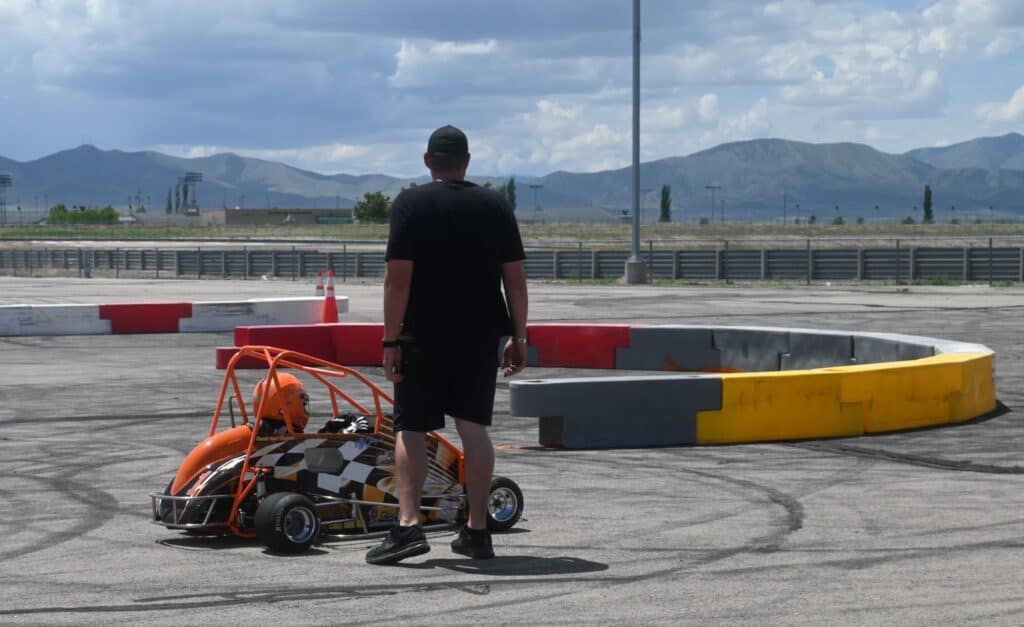 A big part of her early success was a feel for the car that quickly became instinctive. By age eight she was accurately critiquing the handling of her machine—too loose, too tight, etc.—which John describes as highly unusual for such a young driver.
John continues as Natalie's crew chief while his wife Sherri—Natalie's grandma—helps manage non-race event scheduling, social media, and team products. Uncle Jim also keeps tabs on Natalie and has been known to give up a car part or two at the track to keep her in the race.
While Natalie Waters Racing is a family affair, her grandparents are clear that she is the team director. She has been making her own decisions about which classes to focus on and which races to compete in for some time now. She also began handling meetings with potential sponsors—e.g. Spencer Young of the Young Automotive Group—and being mentored by them since she was 14. Of course those experiences helped her learn networking and relationship building at an early age.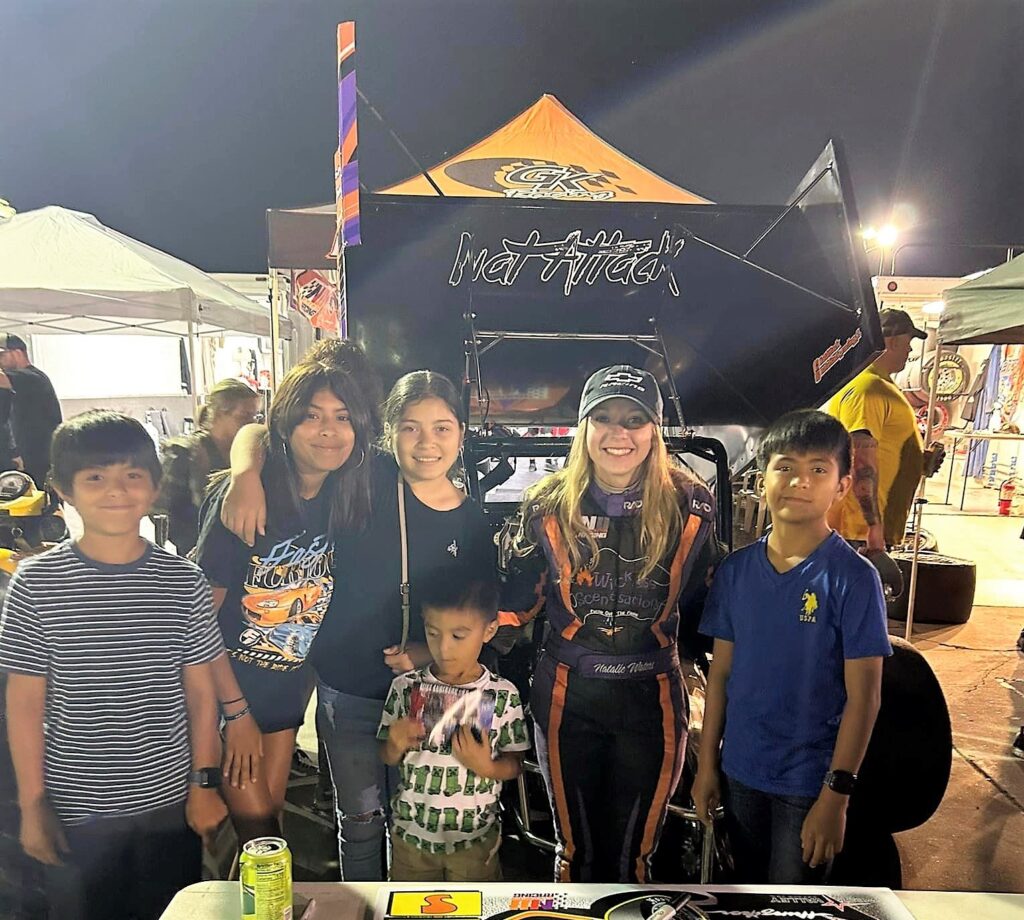 Giving Back
Not surprisingly, Natalie is poised and articulate. She also understands that she is unusually blessed with opportunities to live her dreams, so she tries hard to give back to others. For instance, at my first Quarter Midget event a few weeks ago, I saw Natalie there coaching and supporting a young girl who she is letting use her own Quarter Midget racer.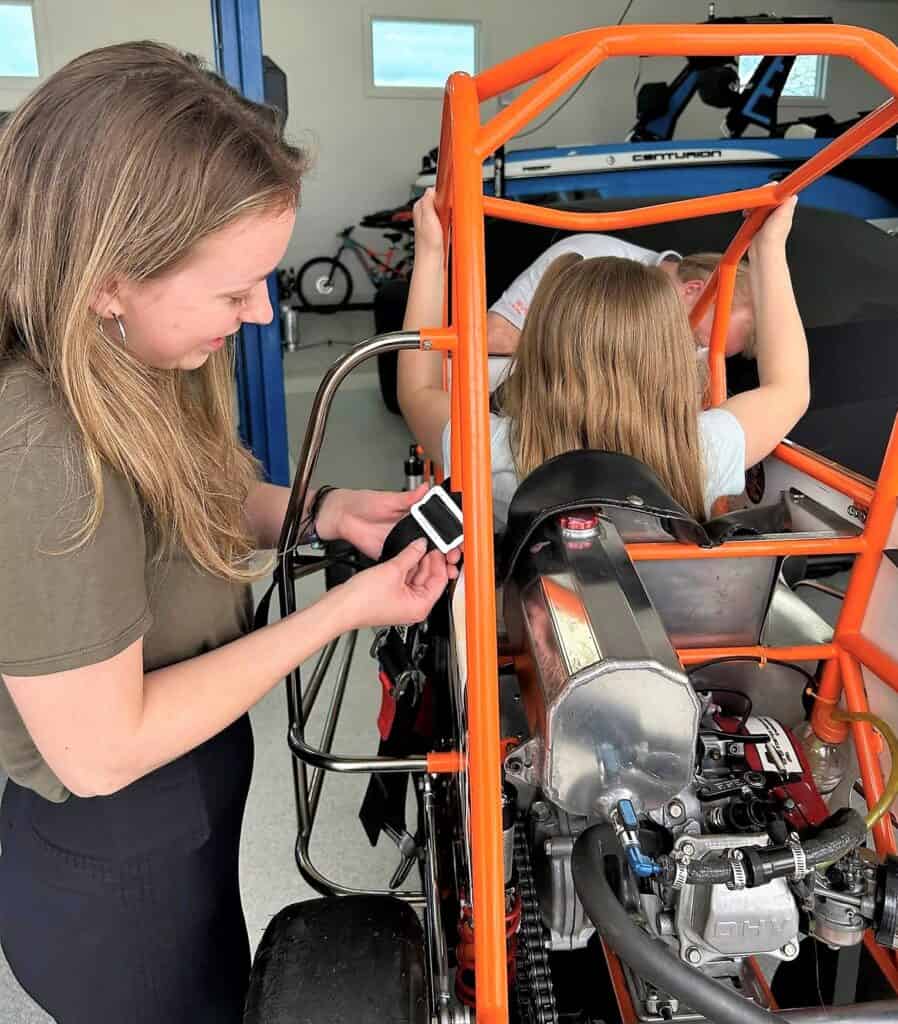 Natalie is also quite conscientious about crediting her sponsors—including Wickless Scentsations, B-Graphics, and Disabled Sportsman, to name a few. She is always quick to acknowledge that she wouldn't be where she is without the support of others.
She also gives back more formally by visiting schools and promoting her Race to End Bullying organization. As Natalie became aware that her home region of Tooele County has the 2nd highest suicide rate in Utah, she wanted to do something about it.
Perhaps unsurprisingly, Natalie gets several invitations to meet with young people and tell them about herself. She is invited to speak at schools, from elementary to high school, present trophies at a pinewood derby event, etc. She usually brings a race car and talks about racing.

However, she is also careful to discourage bullying by teaching kids that if they see bullying they can, and should, say something. Specifically they can discourage the bully from continuing, support the victim, and appropriately involve adults. She has other stock car drivers displaying her Race to End Bullying decal and otherwise expands the program via social media.
Natalie feels that if she can help even one person, all of these efforts are worthwhile.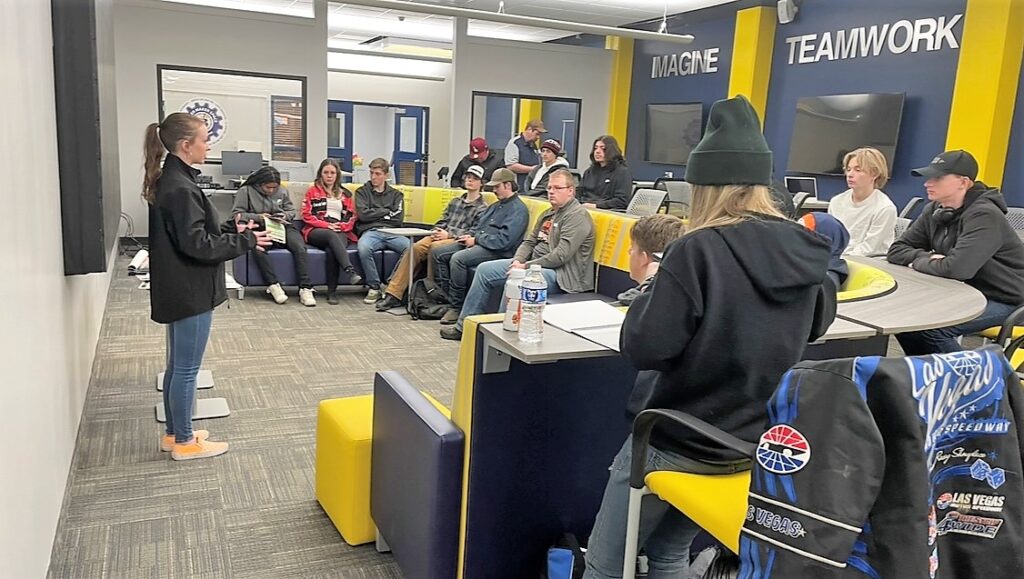 Looking Ahead
While 2023 is largely a learning year for Natalie, she is progressing well and has some notable successes. She often finishes near the top of the leader board during qualifying for 410 Winged Sprints. This past weekend at Meridian's Diamond Cup—one of the biggest regional stock car events of the year—she had the 4th-highest qualifying time on the ¼ mile track at 11.47 seconds. First, that event attracted 23 of the best sprint drivers, and she was faster than the vast majority of them. Second, that's drag-race time. Imagine going that fast while turning!
In each of her first four races this year, Natalie came close to winning the four-lap trophy dash.
"Racing luck," including parts breaking, being impeded by other drivers spinning out, etc., have kept her off the podium so far. Still, a podium would be highly unusual during one's rookie year and she and her team are happy with this season's progress. They have clearly found the speed. Now Natalie's focus is on building endurance to maintain that speed throughout the race.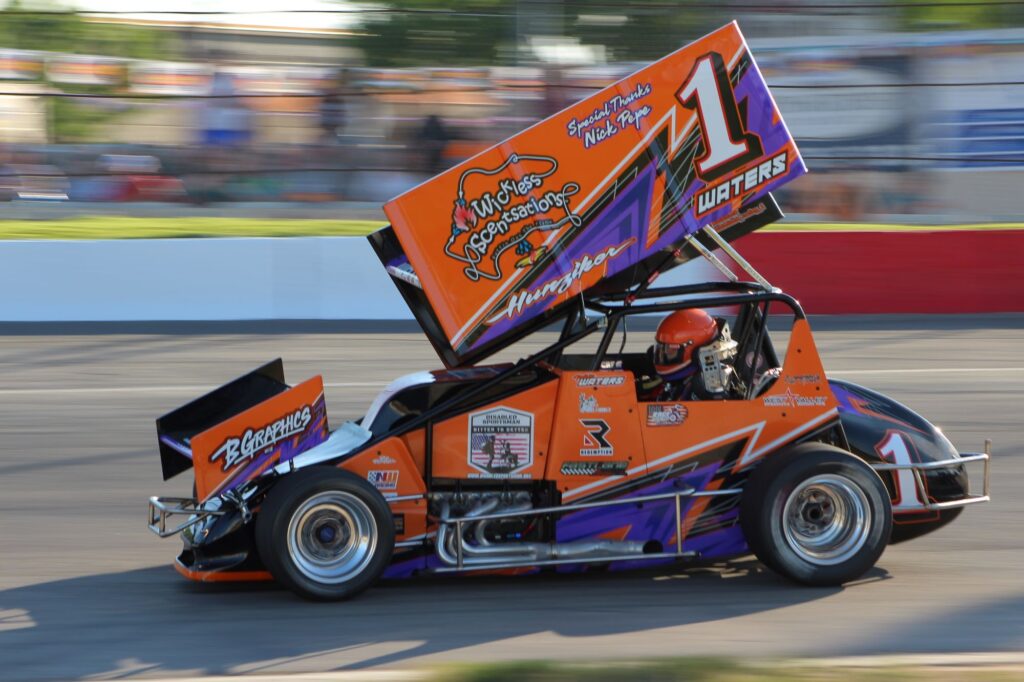 Her rookie-year goals include a top-five main-event finish and being top-seven in overall points. She would also love to win a heat race. Of course keeping the momentum going requires a lot of resources, so Natalie Waters Racing welcomes additional sponsors.
Since the closing of Rocky Mountain Raceways, Utah no longer has an asphalt oval. So you can see Natalie race a couple of times a month at tracks in Twin Falls and Meridian, ID. She will likely participate in at least one event in Dacono, CO as well.
Natalie also has goals outside of racing. She is currently majoring in Veterinary Science at Utah State University. Her minor is Marketing, and of course she already has considerable marketing experience as director of a race team. After graduating, Natalie hopes to attend Veterinary school in North Carolina—closer to the heart of NASCAR!
So I'm pretty sure that when I ask my young, female, college-freshmen students to tell me about themselves this fall, none will say they are pursuing a NASCAR driving career…or will they?
© 2023, R Bairett