By Rick Bairett
Do you have a child with a need for speed, who hopes to become a race driver? Well, you're in luck! Quarter midget racing is one great option to help them develop racing skills and prepare for higher levels. In Utah, the Salt Lake Valley Quarter Midget Association is helping pave the way for the next generation of racers.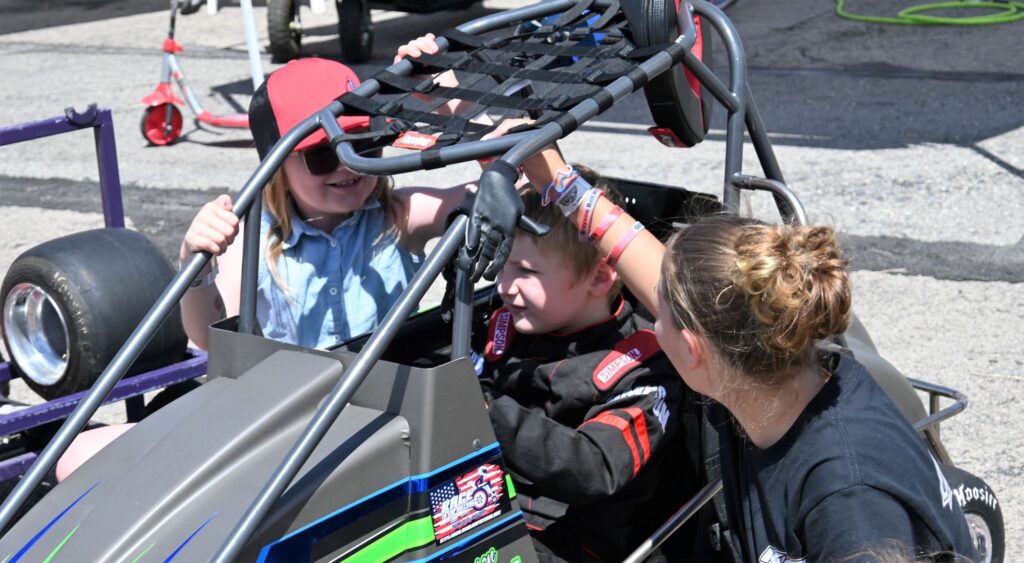 What is Quarter Midget Racing and How is it Different from Kart Racing?
Quarter midget racing is an entry-level motorsport designed specifically for kids ages four and up. "Quarter midget" refers to the size of the cars, not the kids. They are about one-quarter the size of a full-size midget race car. These miniature racers zip around small oval tracks, providing an exciting and safe environment for young drivers to hone their skills.
Kids can, alternatively, get a jumpstart via kart racing. Both use chassis and engines with several similarities. Both offer a path to a meaningful motorsports career. Both are family and friends oriented. Competitors tend to be heavily supported by family networks, and their friends are often those they are trying to outrace on track. So what are the major differences?
Karts are open-wheel, open-seat (typically no seat belt) vehicles, with no roll cage. Quarter midgets are also open-wheel, but include, shock absorbers, an enclosed cage and a driver seat harness.
Karts race on a road-course-type layout with left and right turns. Quarter midgets typically race on a small oval course (1/20 mile), like a stock car track, with all left turns.
The age range for quarter midgets is from 4 – 12 years, after which drivers who want to continue racing need to transition to other classes and other, usually larger, cars. Kart racers also start quite young, but may continue to race karts throughout their lives.
Note: See Iger (2022) for a more-thorough discussion of the advantages of each type (https:// www.performanceracing.com/magazine/columns/06-01-2022/make-case-karting-vs-quarter-midgets).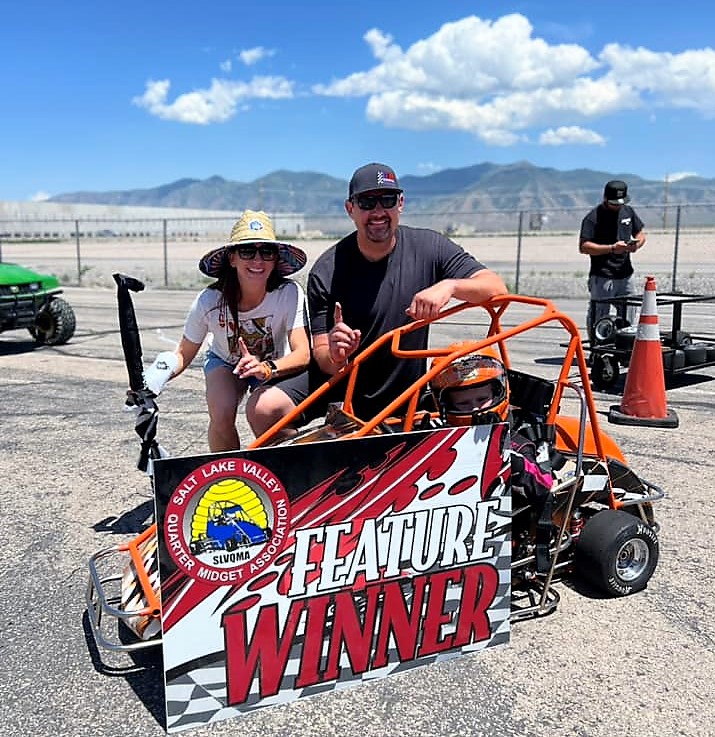 The Salt Lake Valley Quarter Midget Association
The Salt Lake Valley Quarter Midget Association (SLVQMA) is a thriving, supportive, family-oriented community dedicated to promoting quarter midget racing. It was founded by Austin Luttmer, who is the current director. Austin is a former 410 Winged Sprint stock car driver himself. He wanted to provide a way for his own kids, and those of other interested families, to develop their racing skills.
Austin's wife Lindy Luttmer is a former Ford Focus Midget racer. Their emphasis now is on developing the next generation of racers. That includes supporting their son AJ who, at age 12, is racing full-sized Ford Focus Midgets. Austin and Lindy, with Amy and Tyler Whetstone, keep SLVQMA humming.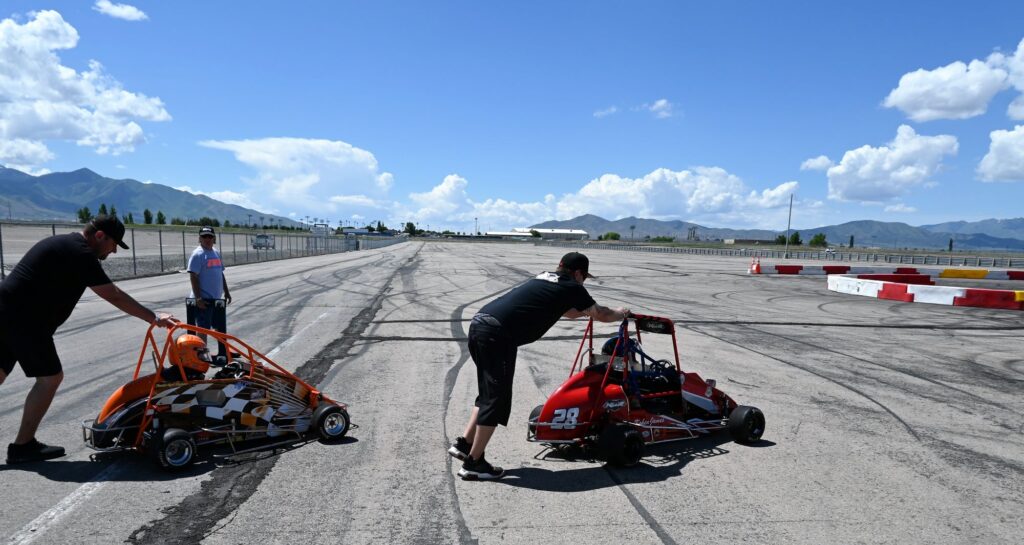 Besides practices and social events, SLVQMA maintains a full competition schedule, with six races mid-May through mid-September. Races are held at the Utah Motorsports Campus midway paddock. The next two events are scheduled for August 12th & 27th. There is a small admissions fee to cover insurance costs. However, it's more than worth it to see these pint-sized racers in action.
There are three SLVQMA quarter midget classes. The all-age beginner/novice class requires a restrictor plate that limits the flow of air and fuel to the Honda engines to hold speeds down for new drivers. Junior Honda is the intermediate class. It allows larger restrictor plates for drivers who have progressed from the rookie class. Junior Honda also features rolling double-file starts, like a stock car race. Senior Honda is the advanced, and fastest, class with unrestricted motors.
If you are interested in getting a child into quarter midgets, a decent used racer can be purchased for around $2000. As with karts, one can spend much more on new equipment. The main thing that changes between classes are the engine restrictor plates. So it's not overly expensive to advance from one class to another within quarter midgets.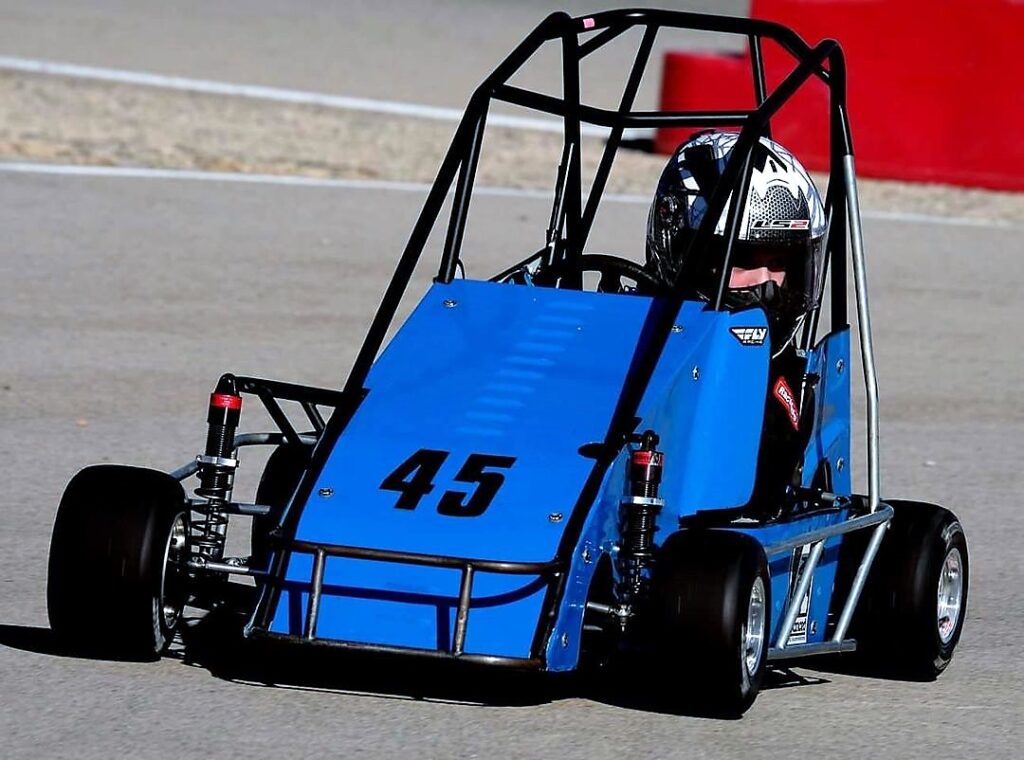 Driver Development
At the June 10th event I witnessed, more than one young driver was competing for the first time. All were learning how to compete, and to develop skills and discipline on the track.
Important life skills being instilled include learning to follow rules, respect fellow racers, and practice good sportsmanship. Quarter midgets allow young drivers to build confidence and resilience. They learn to cope with the pressures of competition, handle victories and defeats with grace, and strive constantly to do better. These qualities are crucial for success, not only in auto racing but in any competitive field.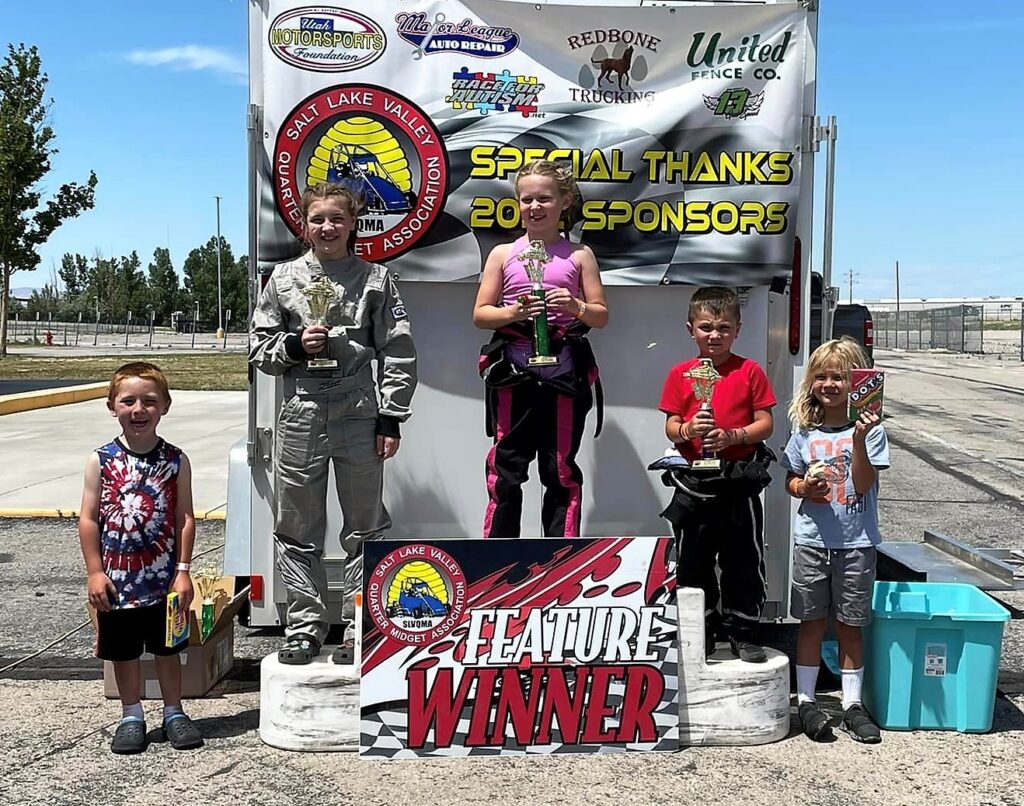 Of course SLVQMA drivers are also getting valuable experience with vehicle dynamics, racing lines, and strategic decision-making. With the more advanced classes, it's obvious that kids are becoming more proficient in car control, with a better sense of speed and precision—the building blocks for success in any form of automotive racing.
Importantly, drivers are also having fun! A lot of fun judging from the smiles on their faces at the end of a heat race or main event.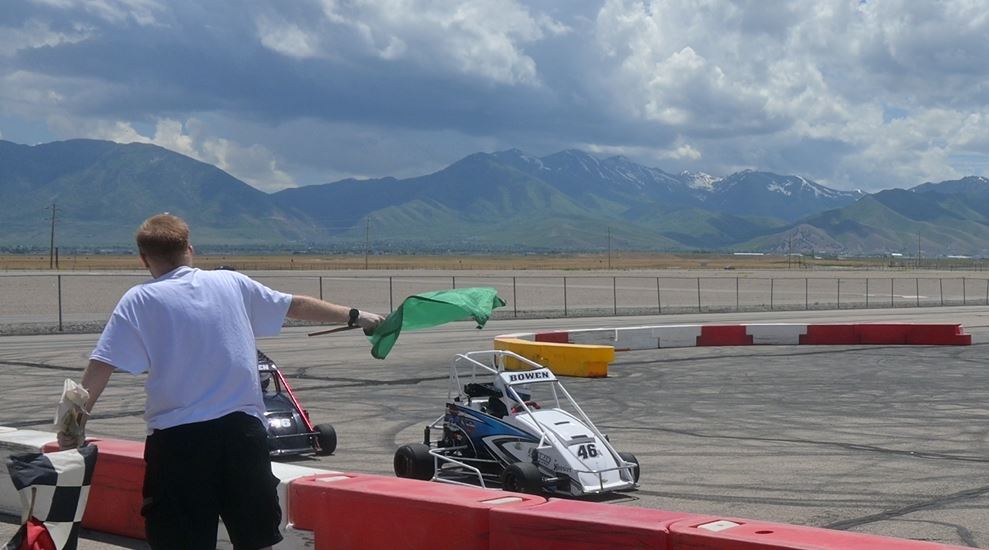 Participants
I spoke with a couple of young racers, and it was easy to see that the SLVQMA is making a difference. For instance I watched nine-year-old Skylar get t-boned in her heat race. Still, she was excited to jump right back in and compete in the main event for the "blue plate" (intermediate) class. Skylar told me she looks up to 410 Winged Sprint car driver Natalie Waters, who is also from Utah and who got her start racing quarter midgets.
In fact Natalie was there, with her family, encouraging these developing racers. She was specifically supporting Ally by letting her use her own quarter midget racer and coaching her.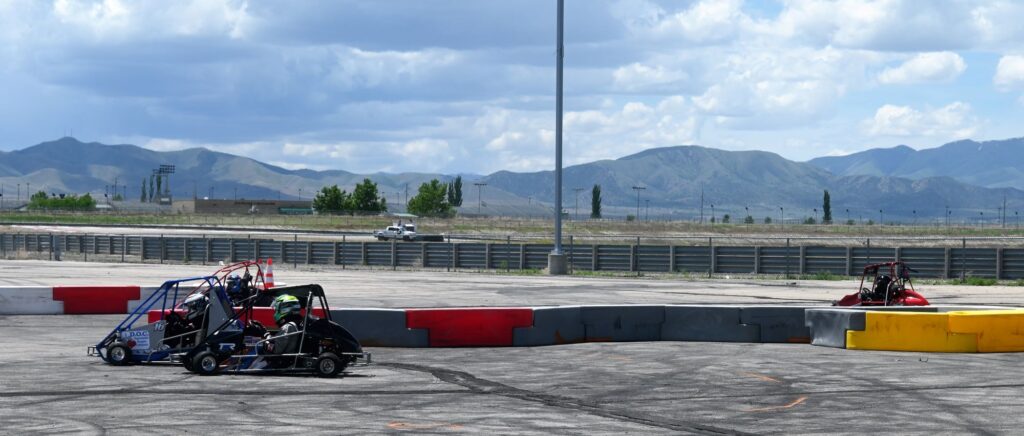 Young Kohen is in his first season and seemed to love it. His parents say he always wants his dad, when driving, to "go faster." So SLVQMA is really helping with his need for speed in a safe environment and teaching him a lot of important life lessons.
I also spent time talking to AJ Luttmer, who at age 12 is already driving USAC Ford Focus Midget racers, in which he has won multiple Feature (main) events. He is also a champion driver in Micro Sprints. AJ got his start in quarter midgets, so, like Natalie Waters, is a testament to the excellent racing foundation SLVQMA provides.
One of the most remarkable aspects of the Salt Lake Valley Quarter Midget Association is the sense of camaraderie among families. Parents, siblings, and friends all come together to support these young drivers.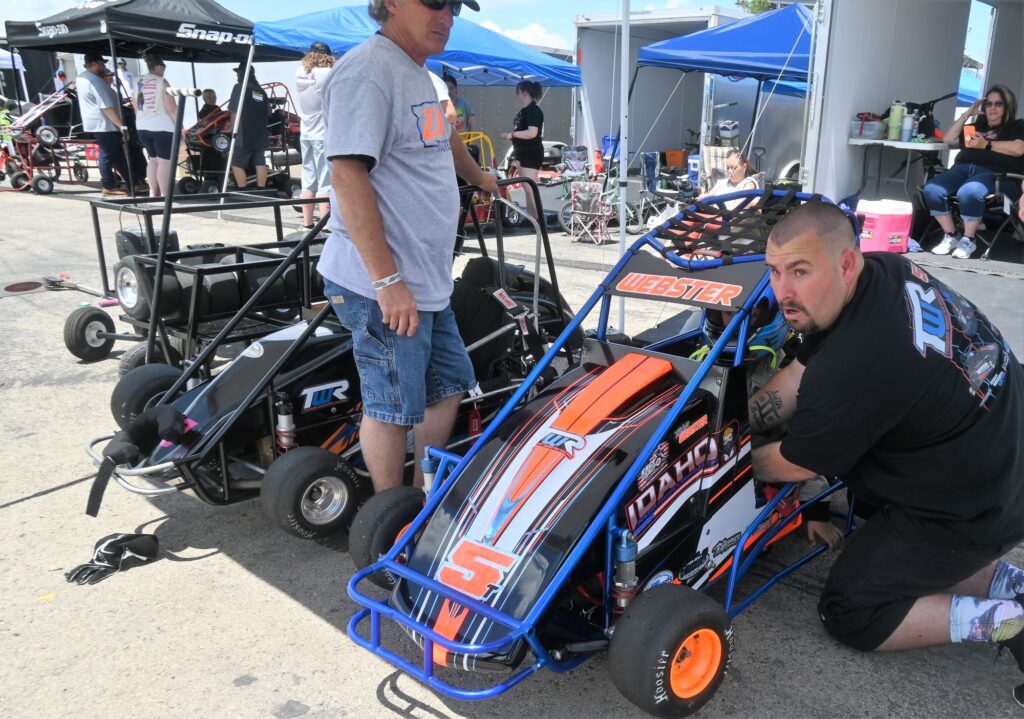 Most of the families I talked to are already involved in some form of stock car racing. However, a stock car background is certainly not a requirement to get involved. Although SLVQMA is mostly about the kids, the whole family gets to enjoy the thrills of quarter midget racing and form bonds with other member families and friends.
The Salt Lake Valley Quarter Midget Association is a great platform for kids to pursue their racing dreams. So, if your child has a need for speed, and you hope to convert that desire into important life skills, consider joining the SLVQMA to ignite their racing journey!

© 2023, R Bairett