By: Rick Bairett
Recently I've written about a handful of Utah teenagers going head-to-head with experienced adults in various motorsports. It's not unheard of for those teenagers to come out on top of their events or even to win championships. 
Still, I was surprised to find out about a young pre-teen running with adults, and in most cases out-running them. West Jordan's 12-year old AJ Luttmer (who recently turned 13) has been a front-runner in Ford Focus Midget racing on regional asphalt ovals for the last two seasons.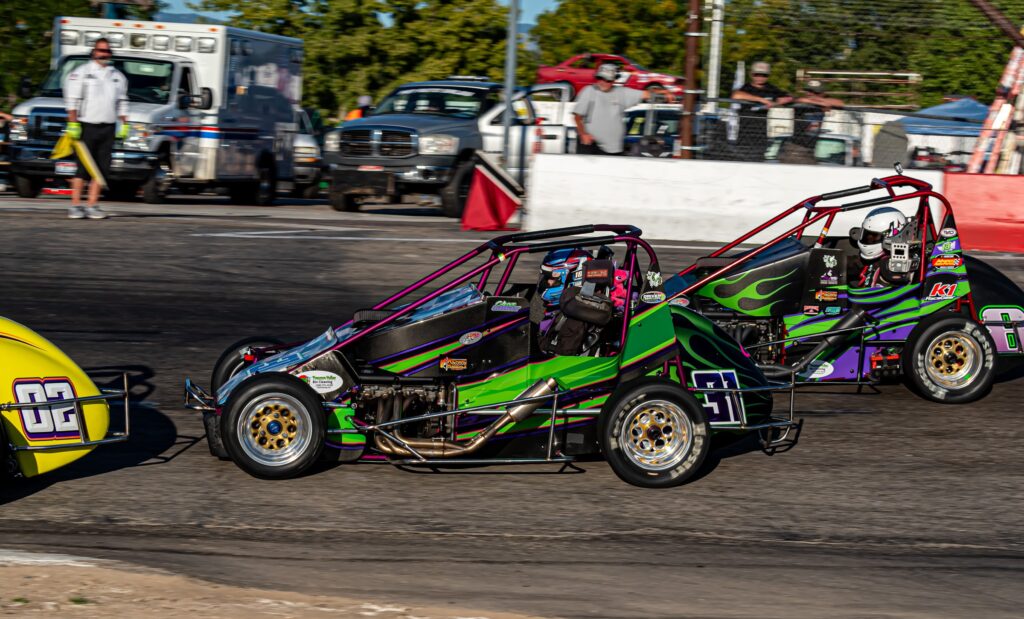 Ford Focus Midgets
Ford Focus Midgets run 2.0L Zetec engines straight out of a Ford Focus. The US Auto Club (USAC) began the series in 2002 as a relatively affordable alternative to full-size sprint cars and more-powerful midgets. The idea was to help more people enjoy oval-track racing. Since then the class has become "one of the fastest growing professional racing series in America" (http://www.scrafan.com/others/focus/main.html). 
Builders start with a bare tube-frame chassis and mount the Zetec motor, with factory internals, in the front of the car. They continue to add drive-train, suspension, cockpit and body/aero components. Depending on the components, a finished car can cost well over $40,000. Although it's not unusual to find an existing build for much less.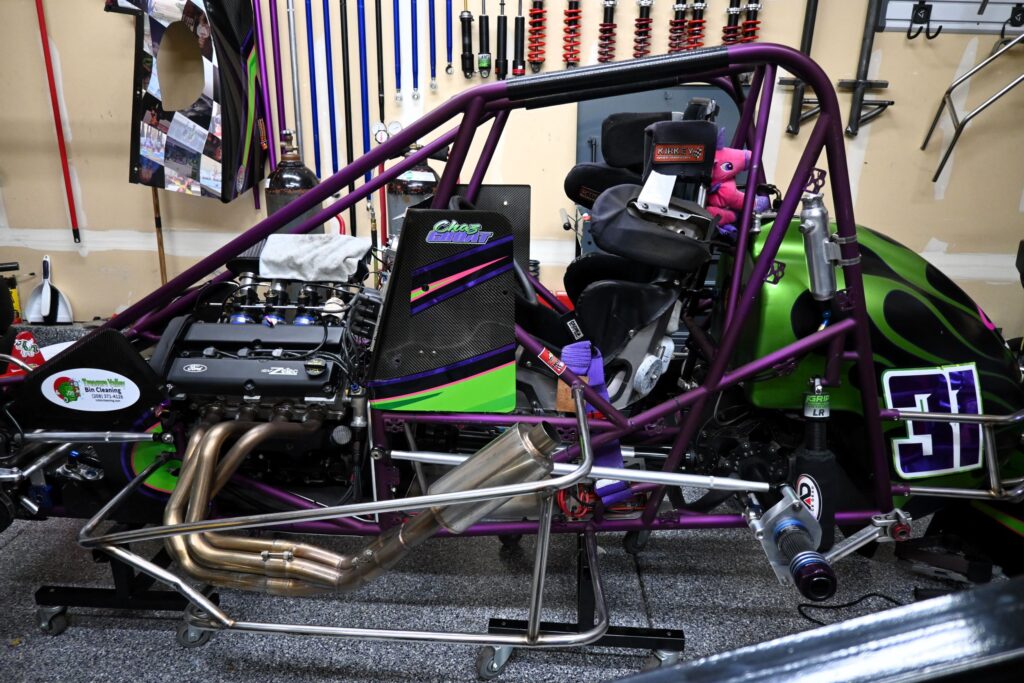 And while engine internals have to be factory spec, the externals do not. Straight-pipe cold-air intakes are the norm, and the typical exhaust system is a header with a short pipe and minimal muffler. For still more power, the cars run on straight methanol.
With that setup, a Ford Focus Midget can produce 158 horsepower (hp) at the wheels. That's a big improvement over the factory-claimed 128 hp at the crankshaft. It's also plenty of thrust for an 1140-pound car and driver (minimum post-race weight). Speaking of which, AJ—being the size of a typical 12-13 year-old—has a lot of lead bolted to his seat to make weight.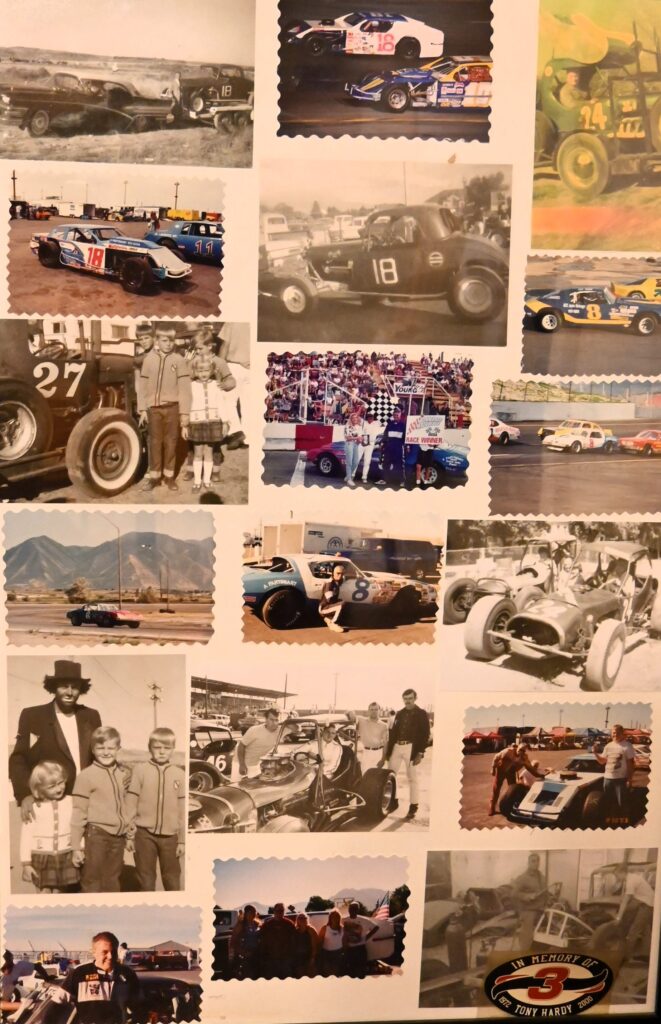 AJ Luttmer
AJ's racing history really starts before he was born, since he is a fourth-generation driver on both sides of his family. Both of his great-grandfathers were stock car racers. And one grandfather was a driver while the other was a race mechanic. 
His mother, Lindy Luttmer, raced in the Ford Focus Midget class herself (2007 and 2008), and AJ grew up watching his dad, Austin Luttmer, drive 360(ci) Winged Sprints and other classes. Lindy (mostly) stopped driving when children came along, and Austin's racing was curtailed by a non-track accident.
Both of AJ's parents still  have plenty of energy for racing, which they initially poured into founding the Salt Lake Valley Quarter Midget Association. SLVQMA provides opportunities for kids to learn asphalt oval racing and produces some outstanding young drivers (see https://utahmotornews.com/ quarter-midget-racing-in-utah/). They have also poured that energy into AJ's racing career.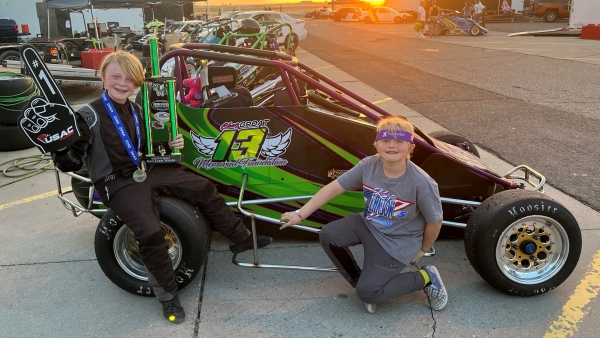 His younger brother Jordan—a talented driver himself—also supports AJ as his crew chief. 
AJ started in SLVQMA Quarter Midgets, building a great success record from ages 4 – 9. As a 10-year old, he started running 600cc Micro-Sprints on the bigger tracks. AJ was the 2021 points champion in both winged and non-winged Micro-Sprints, adding evidence to what was becoming increasingly obvious: he has real talent behind the wheel.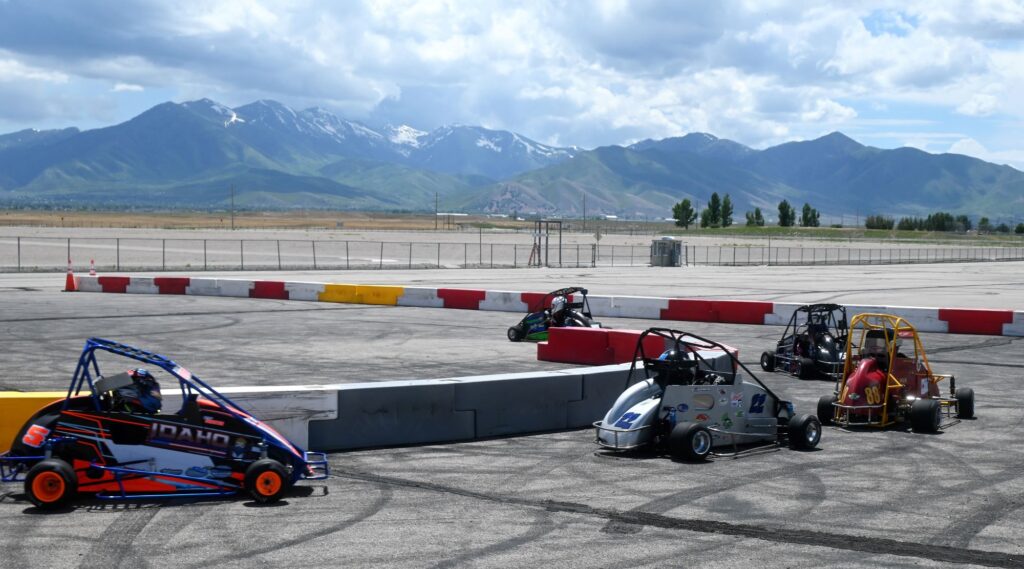 Ford Focus Midget Racing
AJ started driving Ford Focus Midgets when he was 11, at tracks in Twin Falls and Meridian, ID and Lake Havasu City, AZ. He was fortunate to get sponsorships from Lucky 13 Racing and Utah Motorsports Foundation's youth racing grant. Lucky 13 owner Chuck Groat provides AJ with a car, and the Luttmer and Groat families are close and strongly supportive of each other.
So what has AJ accomplished? He has great support, but when the green flag waves there's just him in the car. Well, he won Rookie of the Year in 2022—his first time in Ford Focus Midgets—competing against much more experienced drivers. He was also 2nd in overall USAC regional point standings.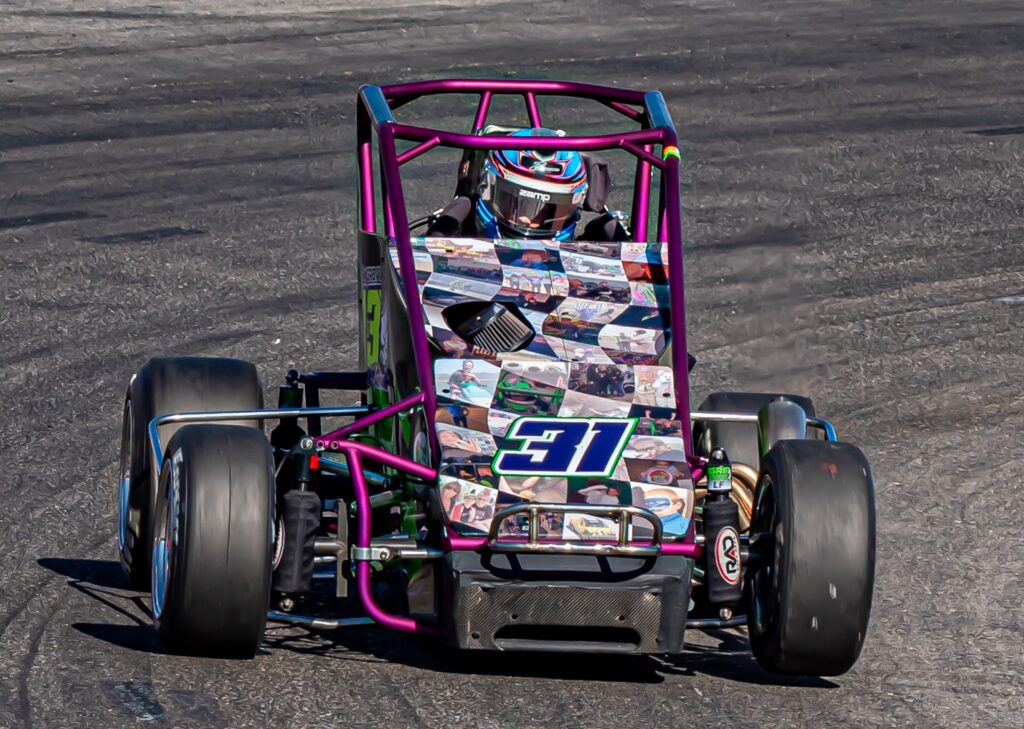 In his first five events this season, AJ made the podium every race, including two 1st-place finishes. He DNF (did not finish) his sixth race with a technical issue—a loose ignition wire. He had mostly positive results the rest of the year with plenty of podium finishes, including another 1st place. 
By the end of the 2023 season, AJ was the Magic Valley Speedway (Twin Falls) points champion and easily took second place in the USAC regional points standings. AJ was only four points, of over 900, behind the leader so just missed the regional championship. I can't help but think, if it weren't for that one DNF…but that's racing and neither the Luttmers nor Lucky 13 Racing were making excuses or complaining about a fantastic season.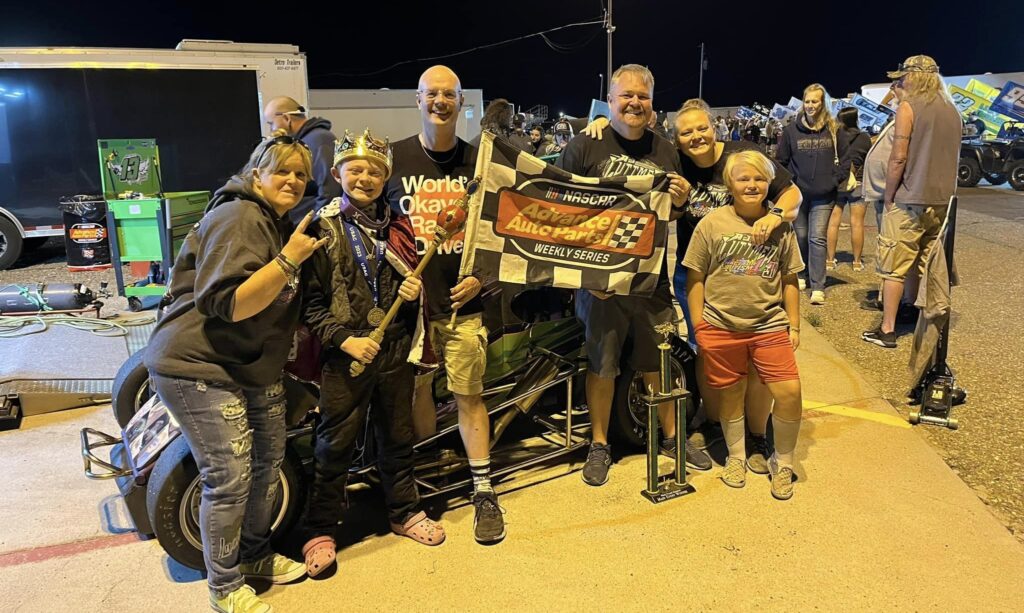 What's Next for AJ?
Off track, AJ is already in the college mindset. He plans to earn a mechanical engineering degree and participates in a concurrent-enrollment pre-engineering program. Meanwhile, he's a typical, nice 13-year old who likes solving Rubik's cubes, having fun with family and friends, and making new friends. 
He made lots of friends on track, and AJ can't say enough about how much he has enjoyed the quarter-midget and stock car communities. Drivers and race teams are just super supportive of each other. 
His longer-term track goals include driving 410 (unlimited) Winged Sprints at the regional level. And if he could race for a living, driving either NASCAR or Formula machines, he wouldn't complain.
For the 2024 season, while he might still get behind the wheel of a Midget, AJ plans to compete mainly in 350 Pepsi Sprint cars (mostly non-winged). This winter's project will be to make that car come together. Other than some steering enhancements to help a smaller driver to control it, this will be a typical full-size sprint car. 
I'm looking forward to seeing how he does at an even higher level of racing against veteran drivers. Good luck AJ!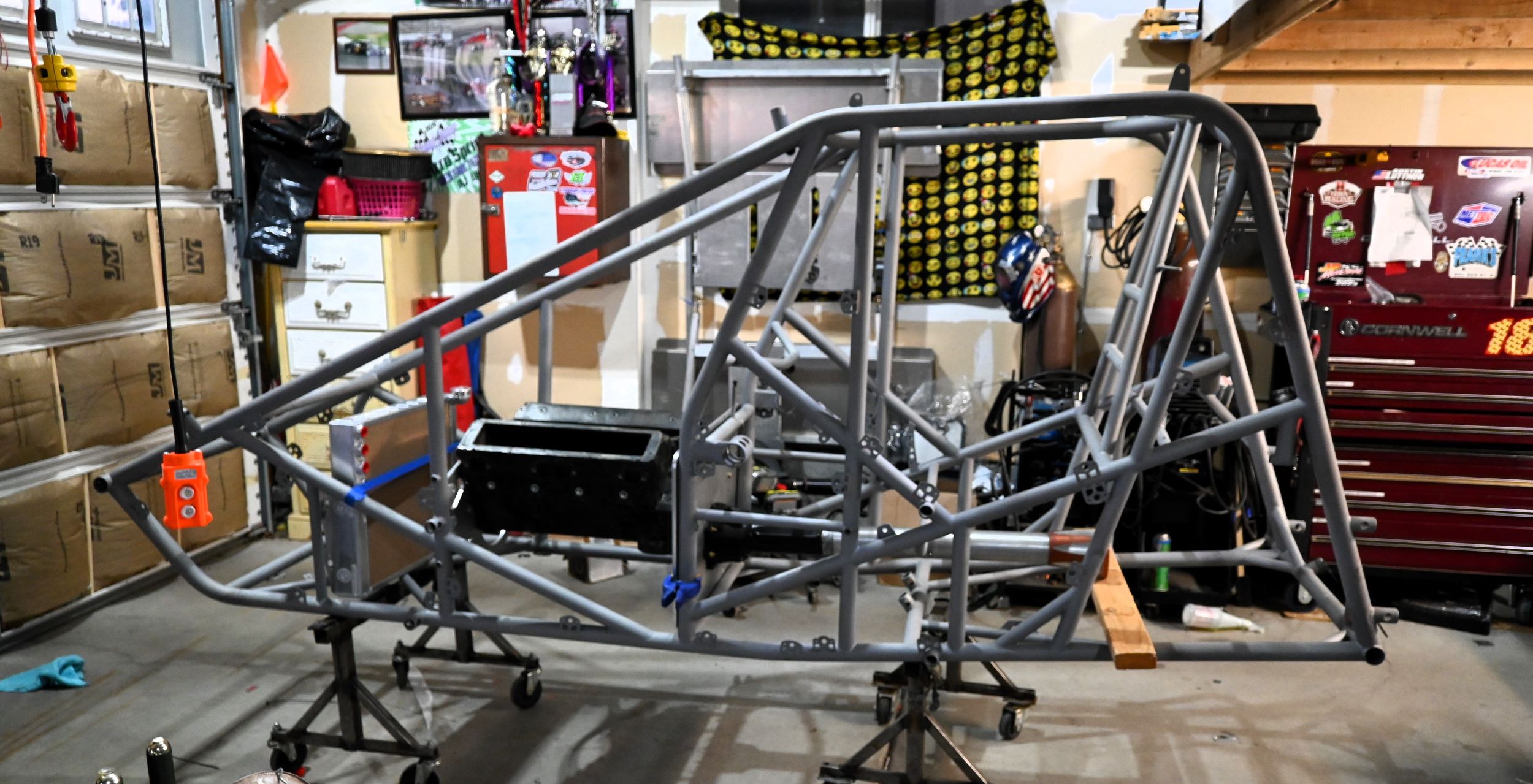 © 2023, R Bairett