The Utah Motorsports Campus Karting Center (UMCKC) came alive June 8th – 11th, as the "Superkarts! USA" (SKUSA) Pro Tour SpringNationals competition blew into town. Over 200 drivers were registered, some in multiple classes. The track frontage became a small city as many factory and other race teams, from the US and beyond, set up full-service portable shops.


There was no shortage of Utah participants in this high-level event. Most, however, came from outside the state, including factory drivers imported from Europe and Latin America.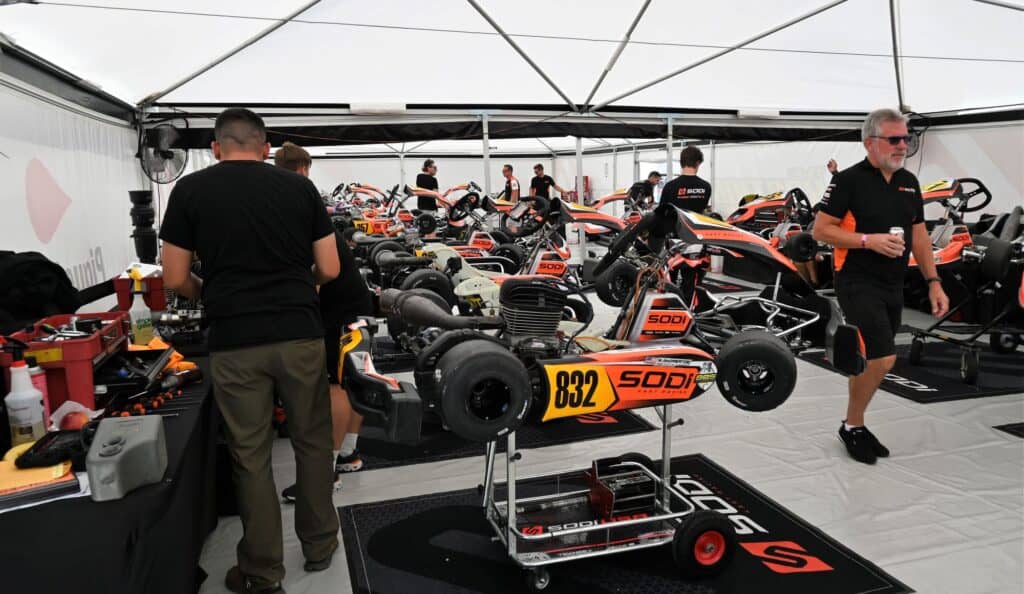 For instance, SODi Kart Racing is a French company and chassis manufacturer that is in its first year of having a full national-level presence in the US. Many Team SODi drivers are US-based, but SODi also brought in previous FIA KZ2 (Pro Shifter) vice world champion and current European FIA points leader Senna Van Walstijn, from Amsterdam.
Similarly the Italian Birel ART factory team included Brazil's Matheus Morgatto, who is the 2022 FIA Karting World Championship winner in OK-N (125cc; similar to the SKUSA X30 class). Both made their presence known, but faced stiff competition and fell short of the podium in both rounds.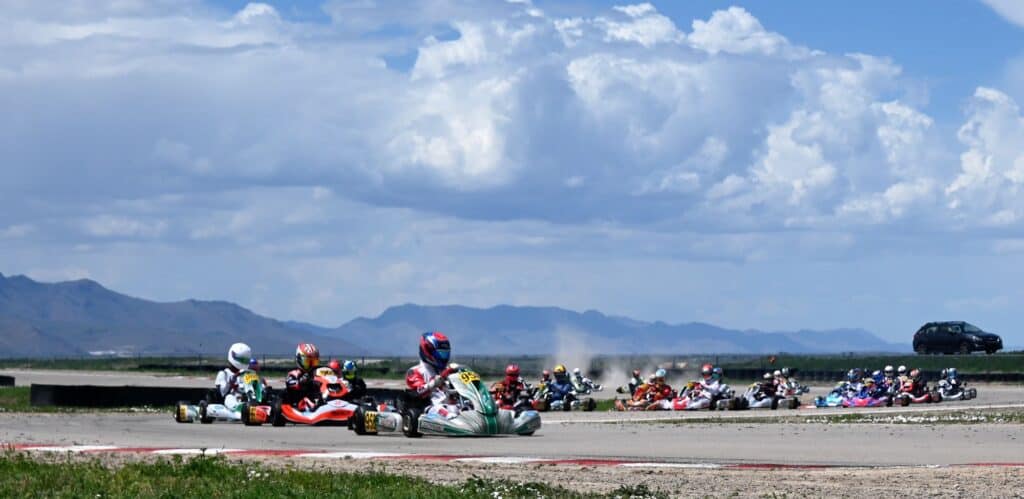 At the other end of the spectrum from factory pros were the Micro, Mini, and Junior classes, featuring drivers as young as seven. Even kids can be part of factory teams. However, We Can All Race was present to support those whose families may lack the means to support them at this level. They identify talented, well-rounded young racers who are under-represented in the racing community. Then We Can All Race provides scholarships that help kids to travel to major events and put a competitive kart on track. A few of those recipients did make the podium in Round 3.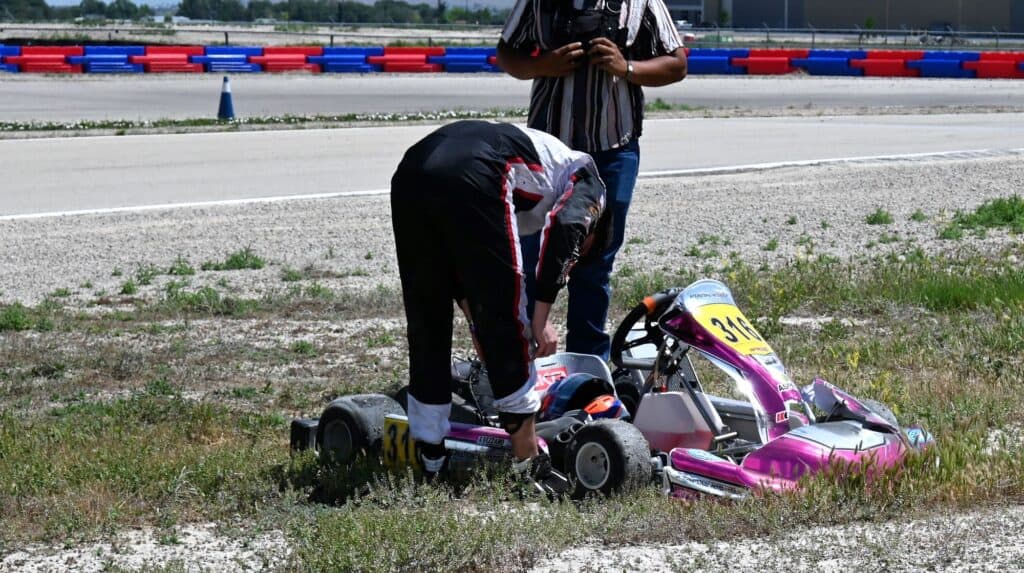 SKUSA Inspections
Kart racing at the SKUSA Pro Tour level is serious business. Perhaps that is made most clear by the tech inspection that takes place at the end of a class final. More than one competitor who appeared to have made the podium (1st – 3rd places) was disqualified when an axle measurement, across the width of the rear tires, was too wide by 1mm or so. When asked, the chief inspector emphasized that a millimeter is the same as a foot and it still provides an illegal competitive advantage.
As for the karts' engines, apparent podium winners get them back in pieces. SKUSA inspectors check that bore and stroke (cylinder displacement), intake and exhaust porting, ignition timing, spark-plug gap, etc., have not been modified in any way, or otherwise improved from manufacturer specifications.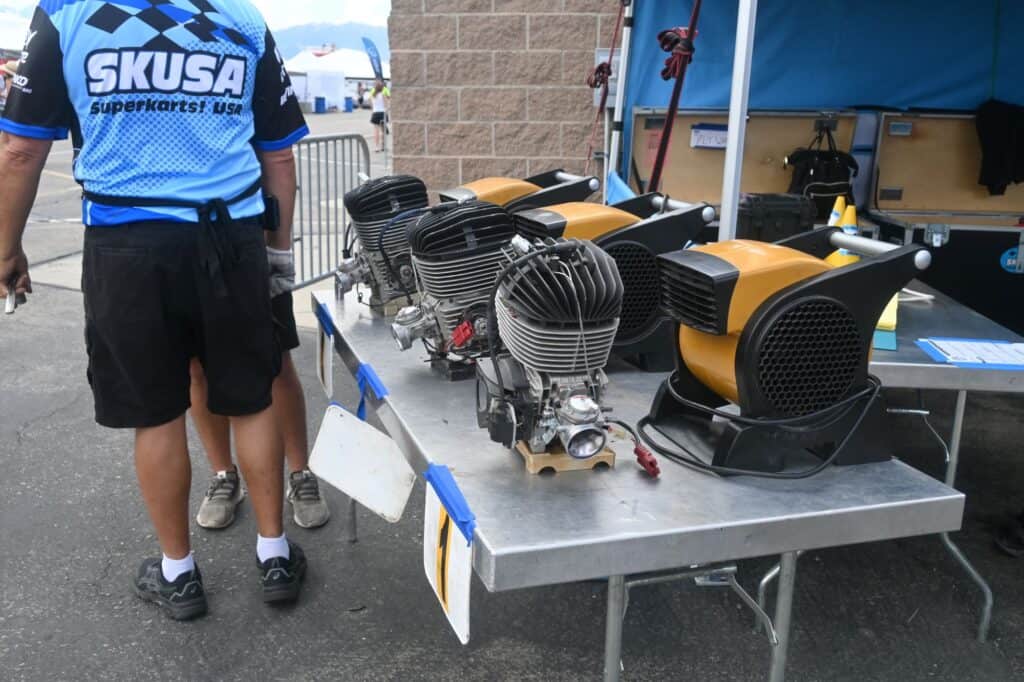 Utah Teams
All three Utah kart teams—Englehart Racing, Msquared and Scuderia Littel—had drivers participating, and some really made a statement.
Ayrton Littel, co-owner of Scuderia Littel, had not planned to race in the KA100(cc) class. Nevertheless, he found himself standing in for one of the team's pro drivers, who'd suffered a recent rib injury. Some challenges during qualifying and the pre-final had Aryton starting the Round 3, KA100 final in 21st position. He showed a real return to form as he steadily picked off competitors and finished in 5th place. 

Scuderia Littel's Evan Concepcion did not finish the pre-final, so had to start the Round 3, KA 100 final at the back of the pack in 35th position. Evan demonstrated what he's made of by fighting his way through most of that pack to 8th place.
(Note: Scuderia Littel's manufacturing affiliate, Team GFC, dominated the Pro Shifter class in both rounds.)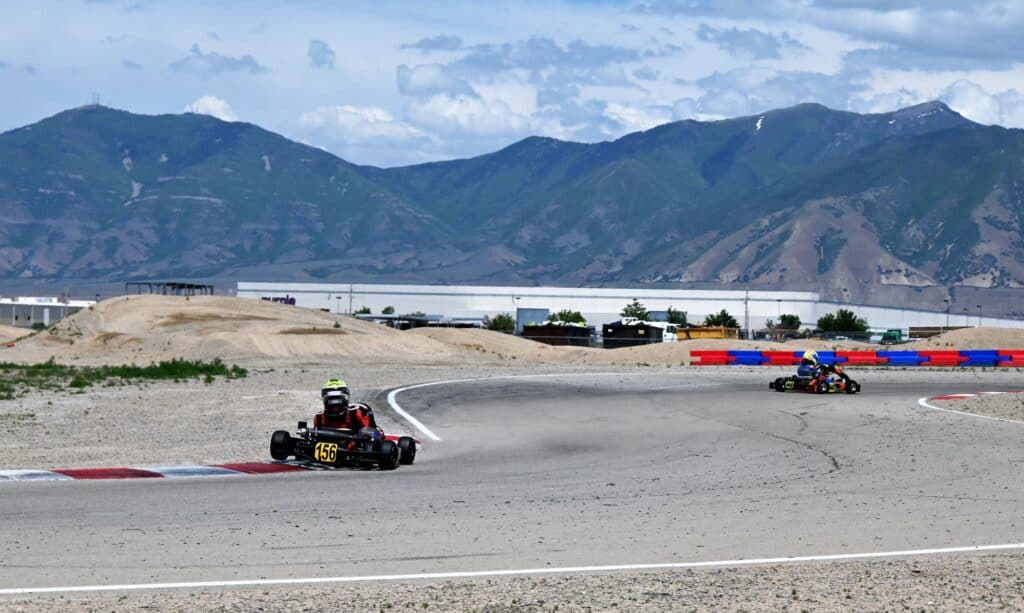 Msquared's X30 (125cc), and FIA Formula-4, driver Hannah Greenemeier quickly pushed her way to the front of the Round 3, X30 final and led the field for several laps. Unfortunately, after she and another driver made contact and were passed by several competitors, she was not able recover that ground by the end of the race.
Congratulations to all of the winners and participants, especially the Utah drivers who qualified and raced at this level. It was an exciting weekend of aggressive, open-wheel racing.