Rick Bairett, 20 Feb 2023

Note: A version of this article originally appeared in the Jan/Feb 2023 edition of Lotus reMarque, a magazine published by Lotus Ltd., the largest Lotus club in the US.
I love cars and have been a distant admirer of Lotus offerings for decades. My tastes, however, outrun my budget and I haven't had the chance to get my hands on one. Especially not in a track environment. That recently changed when I found myself rocketing around a road course in an English exotic with a gorgeous exhaust note, living the proverbial dream. After completing Utah Motorsports Campus's (UMC's) half-day "Lotus Driving Experience," my "wannabe" racer status was notably upgraded.
First, their Lotus Evora GTs are awe-inspiring. My daily driver is a Subaru WRX with the STi performance package, and I've driven other remarkable cars including a supercharged, 650 hp Camaro ZL1 with 1LE track package, Porsche's 911 and a track-prepped Cayman GTS, and even a V-12 powered Ferrari FF grand tourer.
The mid-engine Evora GT coupe is at least as much fun to drive assertively, and it arguably provides even more driver engagement with the car and the road. Its 416 hp comes from a supercharged V-6: perhaps not the most powerful motor one can buy but plenty of thrust for a lightweight car. The power is immediately available and predictable, and stabbing the accelerator always equals a smile. In short, it was love at first drive.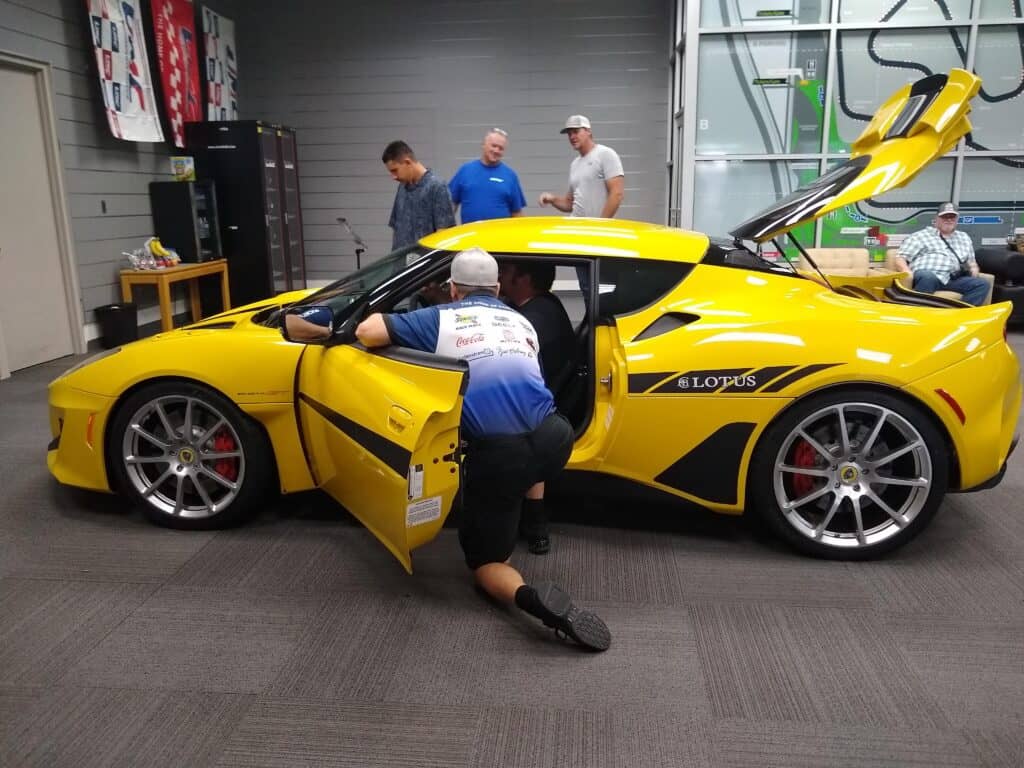 UMC is near Tooele, Utah—about a half-hour drive from the Salt Lake airport—and their directions landed me at a nice facility with a race-focused classroom that was greatly enhanced by a yellow 2020 Lotus Evora GT centerpiece. My classmates and I were greeted warmly, given forms to complete, and provided helmets, helmet liners, and plenty of snacks and drinks.
As a college professor, I'm used to seeing new freshmen on the first day of class: excited to be there yet not knowing quite what to expect. Now I was the new freshman: definitely excited to, finally, learn about racing from experts. The rest of the 8-person class was a diverse group from all over Utah and the US, including two Lotus Evora GT owners from Texas.
We began by discussing safety, covering Evora GT features, learning the unique starting sequence—what a breathtaking sound—and briefly covering the autocross course we would drive first. My wife came along as a (non-paying) guest and was well treated and given viewing access for our activities.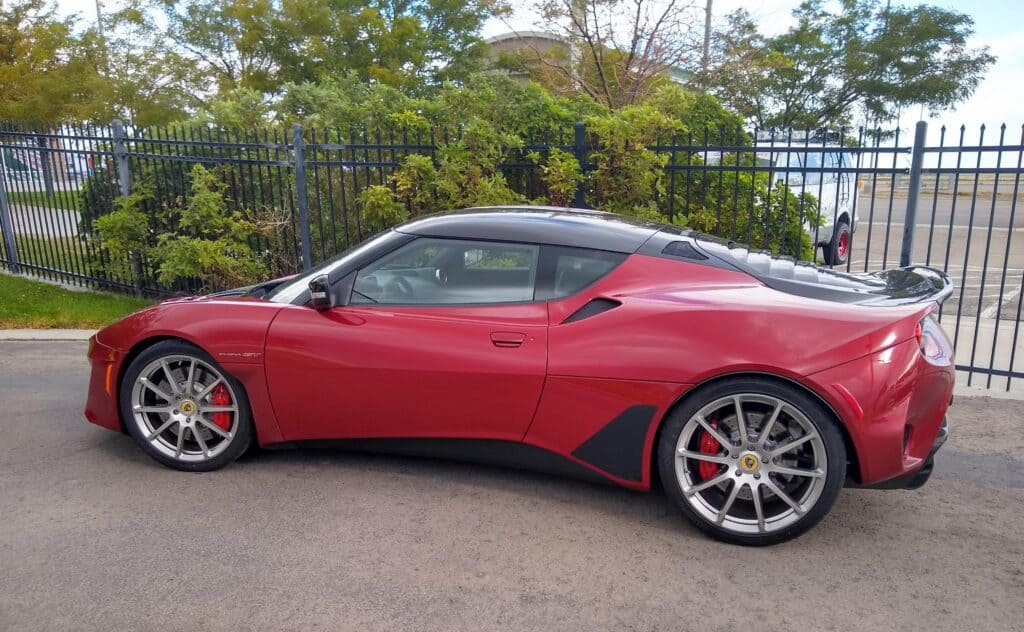 Autocross
Autocross involves getting a car through a closed course, typically laid out with cones. Turns come quickly and are tight so it's a relatively low-speed event, but is rather technical for the same reasons. Not having been around motorsports much, I'd never tried autocross, but that morning I soon found myself in an entry-level supercar, with an experienced professional in the passenger seat, charging through cones while almost constantly turning.
I tend not to hold back when presented with such an opportunity, so I nailed the accelerator at the start and was sure I would clip some cones in the initial slalom section of the course. After navigating those cones successfully, I started realizing what incredible capability I had wrapped around me. The Evora was similarly at ease blowing through hairpin and squared-off turns.
In the final segment we accelerated hard into a closed box, again formed by cones, and were supposed to mash the brake pedal hard enough to engage the anti-lock feature. In five trips through the course, I always accelerated into that box as furiously as I could, yet the brakes were so effective and I stopped so immediately that I only felt the anti-lock cycle once.
I took two lessons from that electrifying autocross introduction. First, the Lotus Evora GT is astoundingly good and massively confidence-inspiring! Second, who knew you could have so much fun in a parking lot?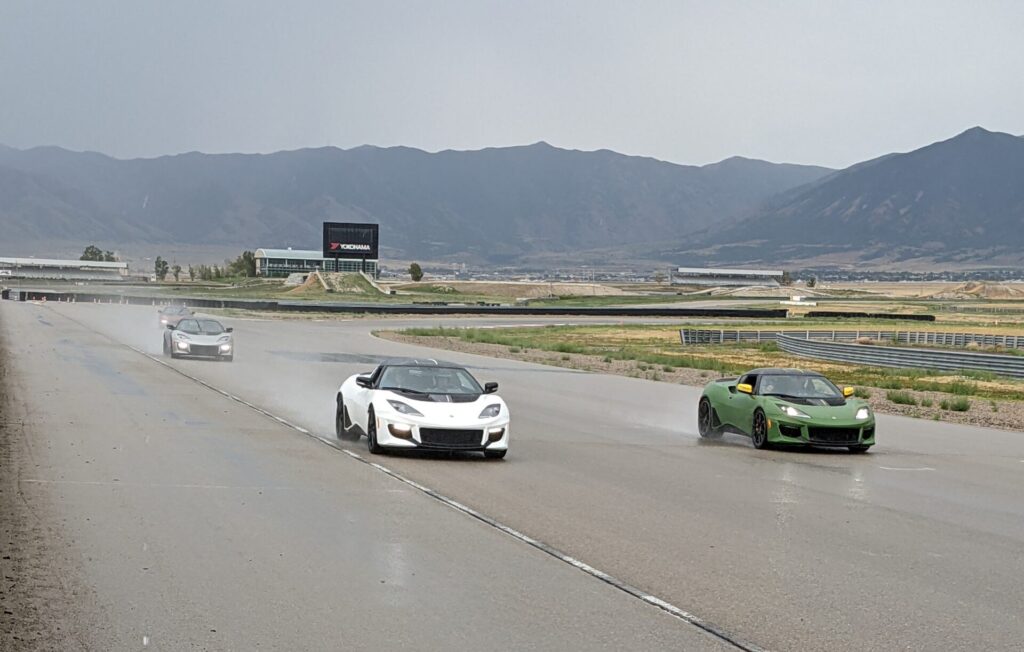 The Track
With the road course ahead of us, the fun was just beginning. A brief return to the classroom allowed us to recharge, discuss each turn on UMC's 2.2-mile west track, and cover the lead-follow format we would use: chief instructor in the lead car with four students following. Two students would carry an instructor for each five-lap heat, so we all got five laps with instruction and five laps solo—a great balance. The chief instructor also explained how the student directly behind him would pull to the left and fall back—really just maintain speed—while the other three students moved up in position on the straightaway at the end of each lap.
Next, we visited the track, but in a big 11-passenger van. There was method to that seeming madness since the chief instructor stopped at the entry, apex, and exit of each curve and explained to all eight students what we needed to be doing with the car, and why, at that point in the turn. After methodically covering the ideal way to tackle each of the 10 turns, we experienced a "sighting" lap in that same van, seeing the correct racing line at speed.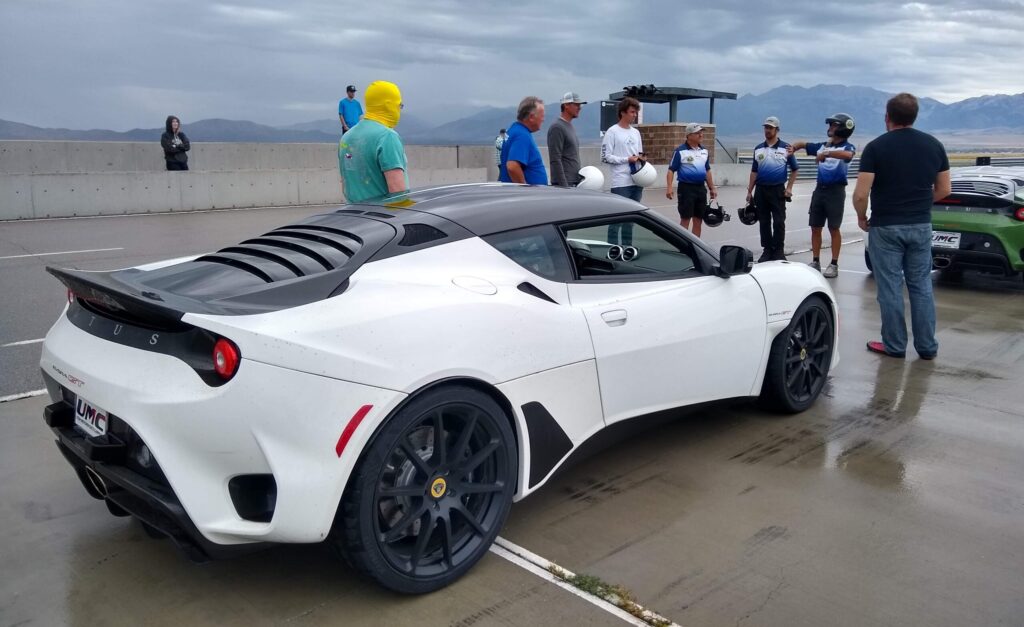 It had been years since I'd climbed out of the cockpit of an Air Force aircraft for the last time. Now it was my turn to strap on a small British rocketship and fly low. I was in the first group of four and took advantage of the opportunity to have an experienced racer ride along to remind me to apply what we'd learned to the racing environment and to use the entire track. Driving and racing are very different animals and most of us wanted to dive into turns too early. Of course, seeing the lead instructor negotiate them correctly and at speed gave us confidence—even on a rare rainy morning in Tooele—that we could do it too.
Hard cornering in such an athletic vehicle was incredible, and it was a blast to hammer the throttle on the short straightaway and catch the instructor as the lead student moved aside each lap. I ran my second five-lap heat solo and my already-outsized grin just kept getting bigger. Sometimes I'd get on the gas probably harder than I should have when exiting a turn, but the Evora GT stuck like…well, like a supercar. I still have plenty to learn about taking full advantage of track and car, but what a thrilling start to the journey!
The final event was a hot lap—watching an actual race driver while sitting in the passenger seat. They are good! Not only were they a pleasure to learn from, but they seem to have as much fun engaging with students as they do racing. More than one instructor took extra time to discuss my motorsports questions and future sports car aspirations with me.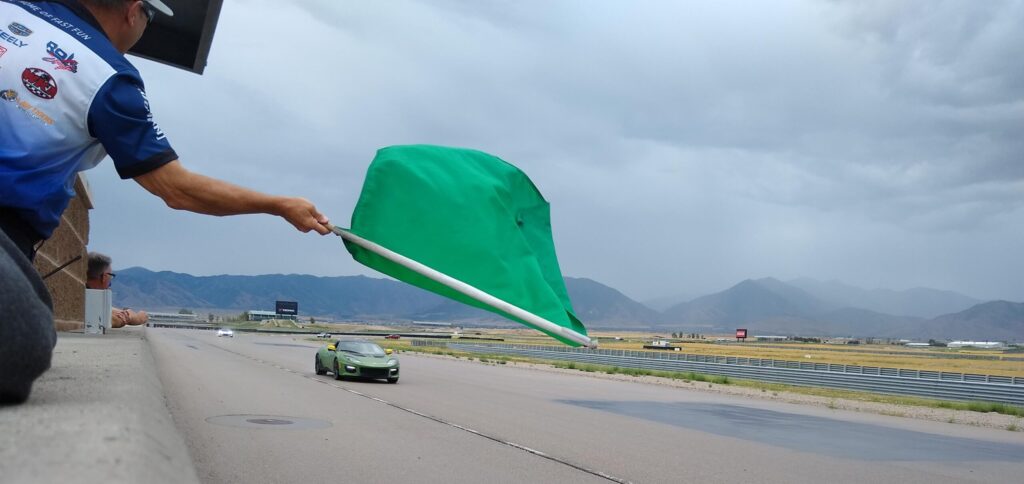 Racing vs. Driving
I should confess that I've been on-track once, briefly, for a Las Vegas exotic experience, driving the Porsche Cayman GTS mentioned previously. I was shown a short track video, experienced a full-speed instructor-demo sighting lap in a Lamborghini SUV, and quickly found myself piloting the Cayman with the instructor talking incessantly to get me to move faster. It was a good experience and I did get faster, yet it was all I could do to catch up to the car mentally—to this day I'm not sure how a Cayman GTS drives (it races well). Conversely, the half-day Lotus experience built my understanding incrementally and effectively. Positive, patient, and personalized instruction combined with some soak time between activities inspired a lot of confidence and steady skill development. While there's little that's "normal" about the Evora GT, being able to ferry the cars from one venue to another also gave me a great feel for driving them in normal conditions.
Of course I really appreciated that I didn't have to pay for wear and tear on my own tires, brakes, engine, and transmission, which become tools for getting around the track fast. Incidentally, most of UMC's Evora GTs had manual transmissions, so brushing up on one's stick-shift skills beforehand, if needed, was essential. Since the entire autocross course can be driven in second gear, and the entire road course in third gear, not much shifting was required.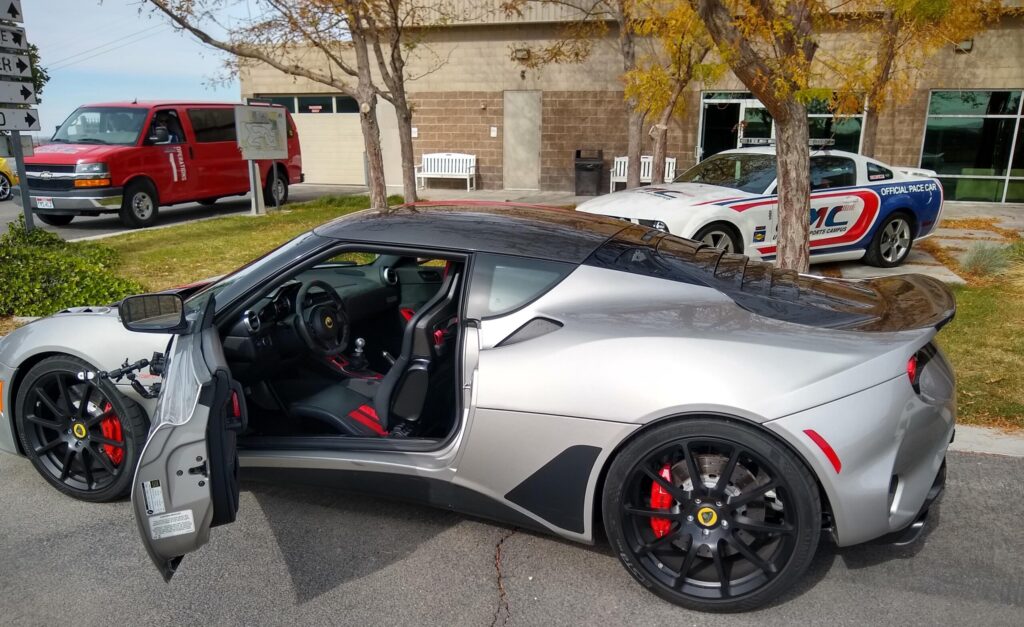 Addicted to the track?
The half-day experience was a dream fulfilled, but those Evora GTs just would not quit calling to me. Accordingly, I had to go back for the shorter but more-advanced "Fast Fun" experience. Fast Fun is about what you can safely do on-track, with one-on-one instructor guidance rather than following a lead instructor or other students. The chief instructor again stopped at the entry, apex, and exit of each turn and discussed ideal strategy for navigating each as fast as practical. He then turned me over to the instructor I would be driving/racing with (and who I had developed a great relationship with during the first experience).
I got to learn a lot more about my limits and the Evora GT's limits, and how to push the car considerably harder and faster. Unsurprisingly, the Evora is more capable than a track newbie, but it was a pleasure to see my limits move closer to the edge of the performance envelope and to learn where I still need the most work. I should mention that, as a returning customer, the instructors went the extra mile to make sure that I enjoyed the experience thoroughly.
During my return visit, I was also thrilled to learn that Lotus has tentatively committed to provide the all-new Emira for UMC's 2023 season. For me, that's fantastic news since the Emira is at the top of my very short list of future entry-level supercar purchases and I'll, hopefully, have the chance to test drive/race one soon.
If you're ready for a change from golf or other pastimes, and driving one of Lotus's best on-track is something you've always wanted to do, you've got to try this! The prices for the half-day course and the Fast Fun experience are quite reasonable when compared to what you'd pay for a few short laps driving an exotic elsewhere. Your confidence will grow thanks to great instructors, amazing cars, and a good balance of soak time and behind-the-wheel time. If you're anything like me, the UMC Lotus experiences will leave you smiling for at least a month. Now I can't wait to do it again and get my hands on the Lotus Emira!
© 2023, R Bairett