By Rick Bairett
Wrecked Neck Racing takes high school trade students on a wild ride. That ride involves mechanical and welding skills, and, best of all, semi-violent destruction of their work. A collision of craftsmanship and chaos! And if that isn't enough, it can even open up career opportunities. 

Mentorship Program
Wrecked Neck Racing (WNR) is not a typical after-school program. It is an opportunity to trade textbooks for torque wrenches and dive headfirst into automotive creativity. Specifically, WNR is a mentorship program that donates old cars to high school trade students. It then helps those students turn them into demolition derby machines. In the process, derby teams get to learn and apply lots of new skills. 
The organization was founded by Tyler Warner—an army veteran and experienced mechanic—and his wife Sarisha Warner. They have put countless hours, and even personal financial resources, into providing cars for students. Of course they also work hard to find sponsors to provide the old cars, auto parts, metal stock, and other materials needed to turn out a competition-ready derby car. 
Their efforts have snowballed from one school in 2022 to five affiliate schools this year. For 2023, ten derby cars were built by trade students at Payson High School, Salem ALC, Provo High School, Maple Mountain High School, and Tintic High School. An eleventh WNR-supported car is also being prepped by the Yates Place homeschool cooperative.
With continued outside sponsorship and other fund-raising efforts, Wrecked Neck Racing hopes the program will spread to school trade programs throughout Utah.

Safety
One reason some high schools are reluctant to add a demolition derby project option to their trade programs is safety, and of course potential liability. Having examined some of the 2023 builds, and having built a demolition car myself as a teenager, I'm amazed by how much safety is designed into the WNR-sponsored machines. 
These cars have a serious cage—as in (at least) 4-inch steel square tubing—wrapped all the way around the passenger compartment of each car. The same material is used to create a roll bar that protrudes above the roofline. Further, seat foam from the removed passenger seats is used to wrap exposed metal near the driver and to pad the center of the steering wheel.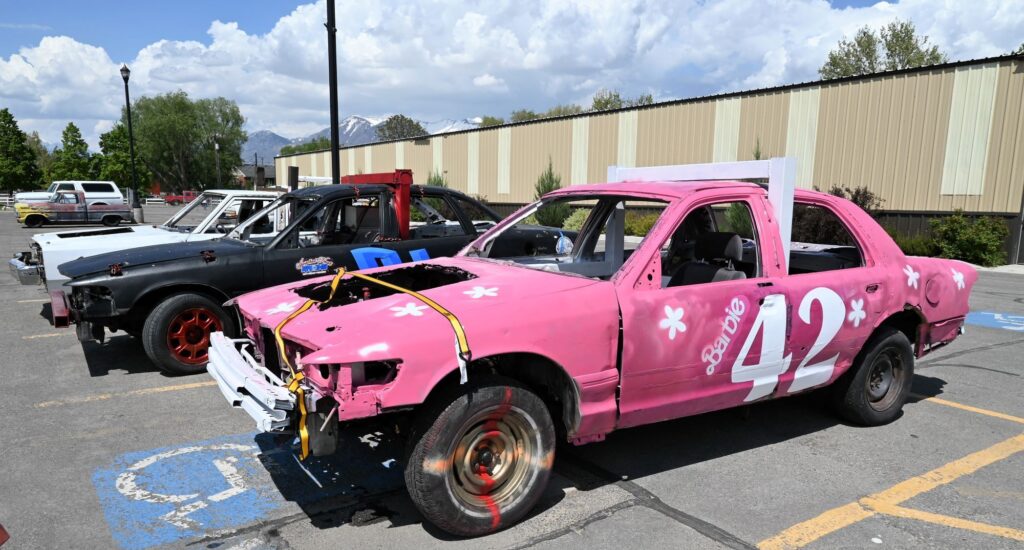 Some vehicle components, like the batteries and fuel cell, are in the passenger compartment to keep them from being damaged during impact. Actual racing fuel cells replace the stock fuel tank, and components in the passenger area are extremely well secured. 
As for school liability, the season for these teams is during the summer and the driver must be 18 years old—a legal adult—and have already graduated. Drivers must also wear an approved helmet, a neck brace and a full harness to compete.
So how's the safety record for WNR-sponsored teams? The only competition-related injury for 2022 was a driver getting scratched while climbing out of a car he was working on. There is probably not a football team in Utah, or even a volleyball team, that can make that claim.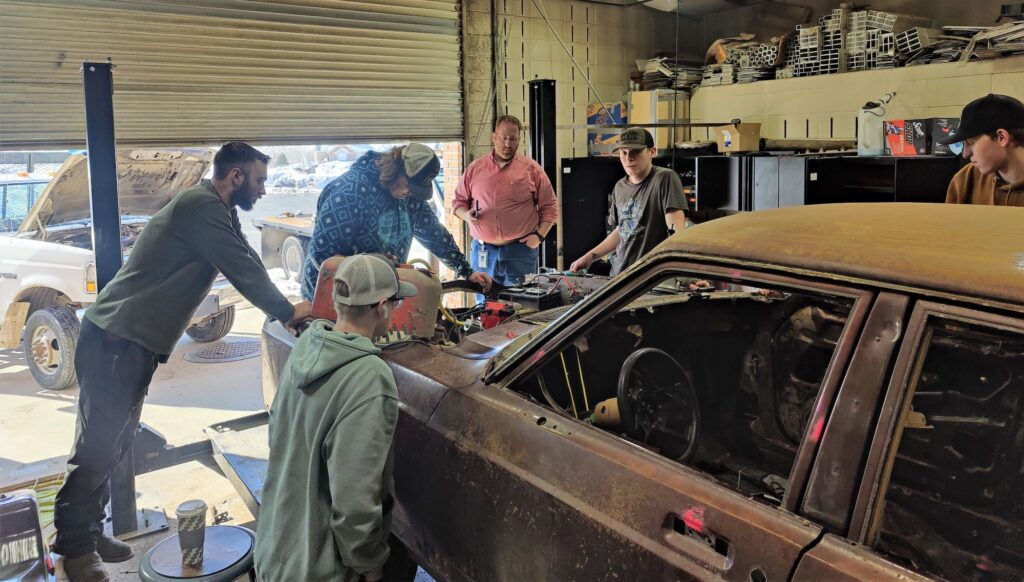 Student Benefits
Most participants are students in welding or automotive shop classes, so they are getting school credit for their efforts. Some trade classes require a final project. Building a demolition derby car, as part of a team, counts as that project.
Since prepping a car requires both automotive and welding skill sets, team members normally broaden beyond what their class offers. Also, instead of just checking off class assignments, students come together to make something actually function properly. In other words, WNR ignites creativity, teamwork, and problem-solving skills as students transform abandoned vehicles into instruments of destruction.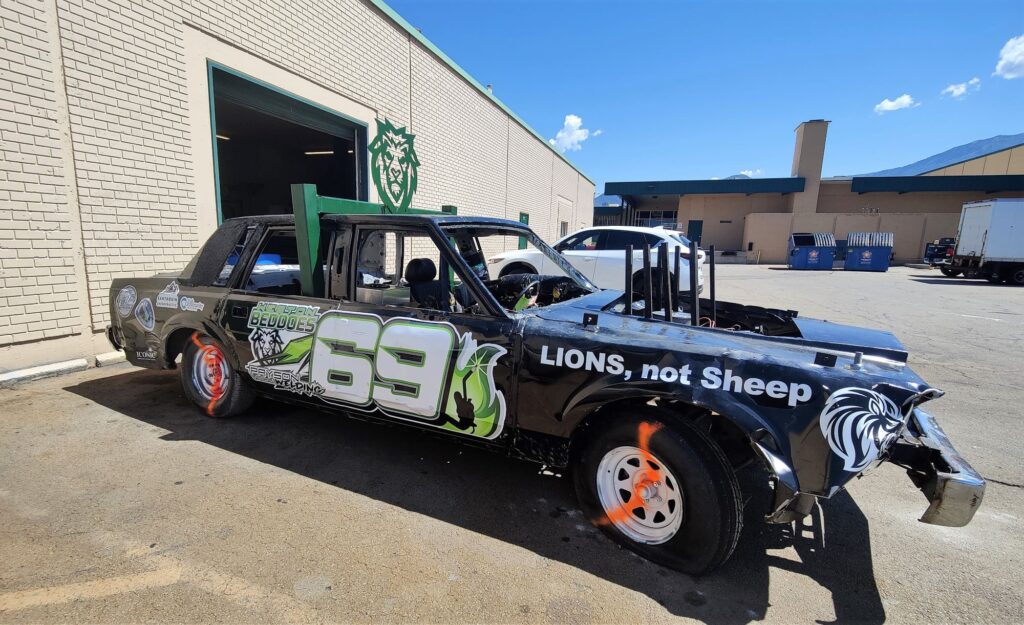 Teams must make sure their vehicle modifications hold together in a punishing environment, so they're even getting an introduction to automotive engineering. Of course their teachers and WNR volunteers provide guidance as the team works together to solve problems. 
Some students have also worked with outside sponsors, and have used that as a first step into a post-high-school career. One recent graduate is now working for Vanderhall—Utah's only car manufacturer—as a welder. Another welding student learned auto mechanics as part of a demolition derby team, and now has the skills to restore an older car he recently purchased. 

Demolition Derby Action! 
Of course, after a year of hard work, the real fun comes when teams get to run their cars in an actual demolition derby. Wrecked Neck Racing's very own "High School Crash N Bash" at the West Jordan Arena on August 19th, 2023 (see ad below) provides that opportunity. 
Beyond the high school competition that evening, there will be other demolition derby heats—like a minivan crash n bash for educators—races of various kinds, and other show events. There will even be some industry sponsors present to offer team members jobs on the spot.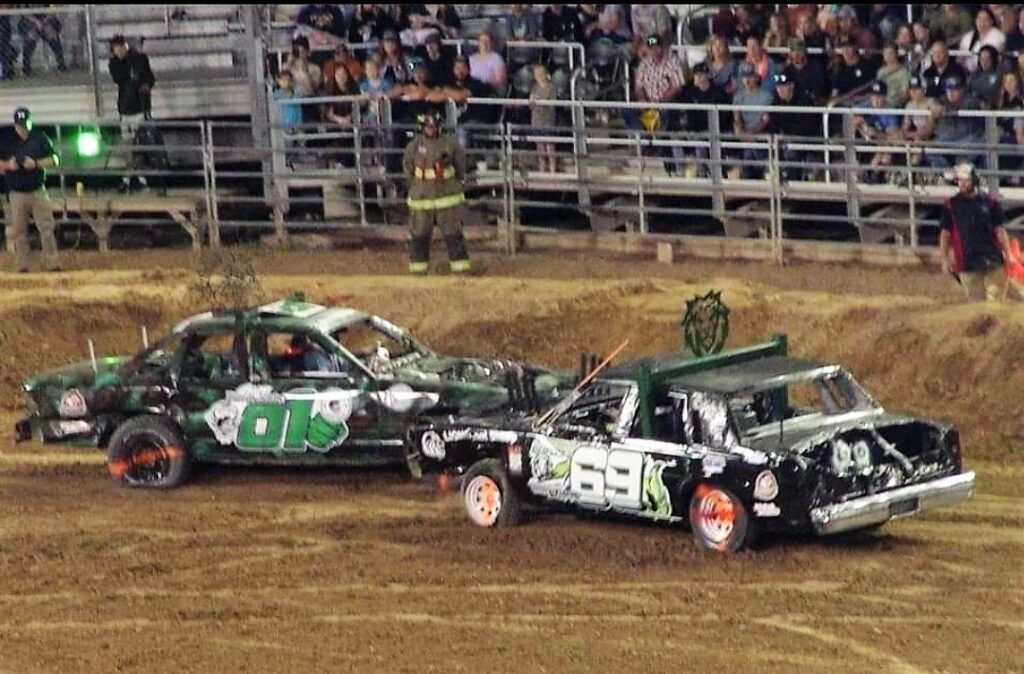 This is also the premier fundraiser for WNR's upcoming school year, so please buy tickets and come support these teams if you can. Any prizes the student teams win—for instance, Jones Paint & Glass is offering $500 for the best painted car—goes back to students' trade classrooms. 
Most student teams will compete in one to three derbies during the summer, if their car holds up. If teams want to compete in multiple events, it's on them to get their car back in competition shape after the Crash N Bash.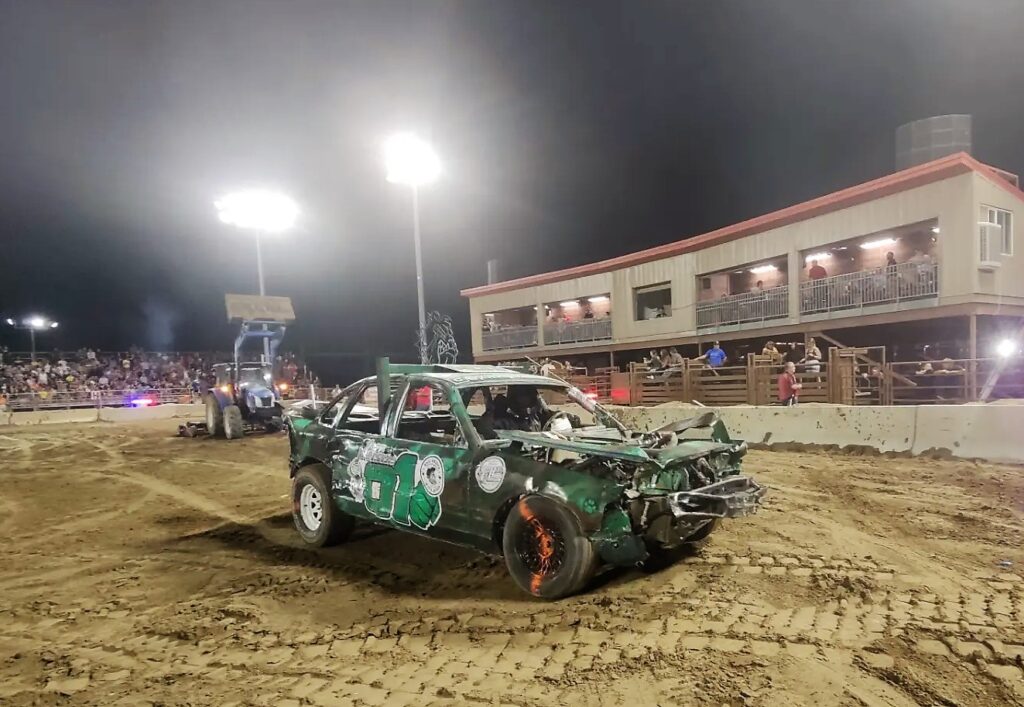 Other Fundraising
Of course all of this takes resources, so fundraising, beyond the Crash N Bash, is a key emphasis. Wrecked Neck Racing's other main fundraiser this year is raffling off car #01 (pictured below), which meets requirements to compete in Stirrin' Dirt Racing's "Wired Madness" demolition derby. That event takes place in West Jordan on August 26th, with an $8000 payout to the winner. See the Wrecked Neck Racing website soon to enter the raffle, since #01 will be awarded August 12th. 
Additional fundraising includes seeking sponsor donations for student derby projects, and for student Crash N Bash prizes. Such prizes include a tool box and a Lincoln Welder to be awarded to student winners on August 19th.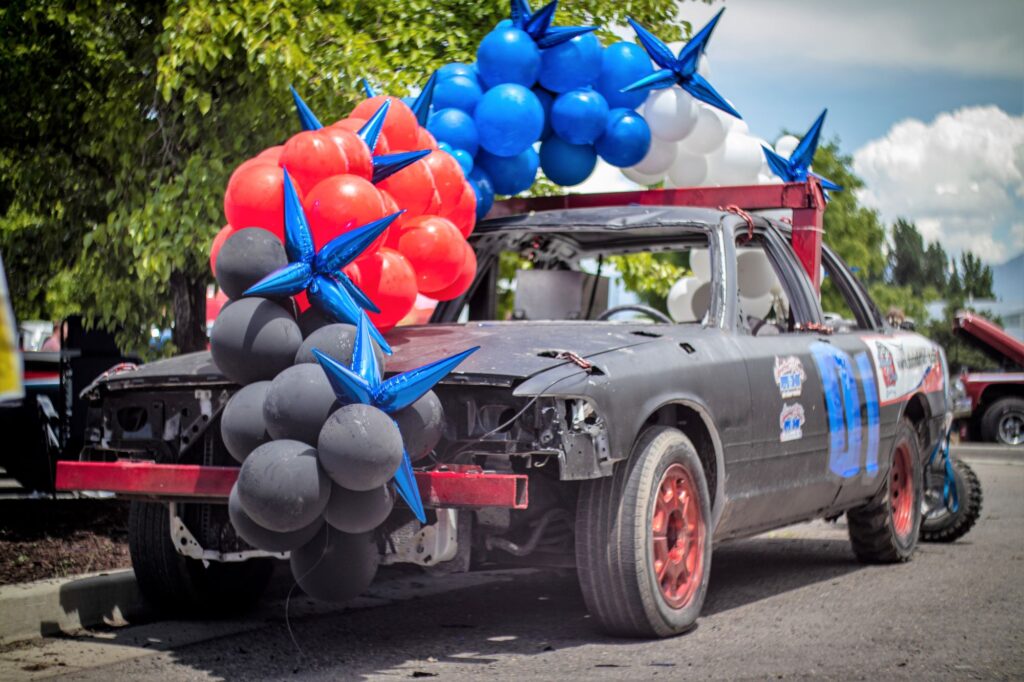 Next Steps
So whether you're a high school student with a knack for wrenching, or just an adrenaline junkie wanting a front-row seat, Wrecked Neck Racing offers an electrifying ride.
In the coming school year, WNR hopes to expand into at least one additional school district, probably in northern Utah. Longer term, the organization would like to make the Crash N Bash a statewide high school event. They also look forward to pulling in additional industry partners to create more job opportunities for team members.
See their website for more information on how to support the mission of Wrecked Neck Racing,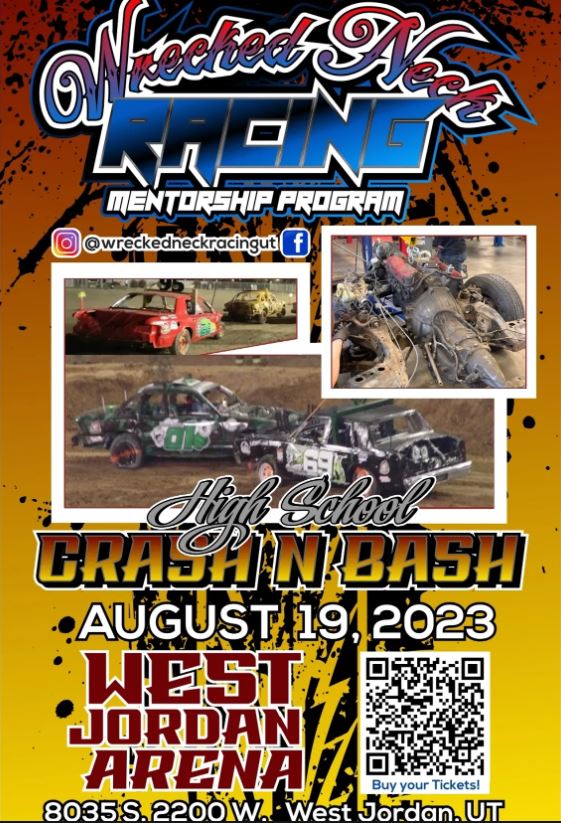 © 2023, R Bairett