By: Rick Bairett
What kind of road racing is won or lost as much in the pits and crew garages as it is on track? Correspondingly, what local race draws spectators away from the track to watch drama unfolding in the garages? The answer to both questions is endurance racing or "enduro."


The 2023 Tooele Storage Sunchaser six-hour endurance race was loads of fun for spectators and, of course, for race teams from across the western United States. The annual event counts toward championship points for the National Auto Sports Association's (NASA's) Western Endurance Points Championship (WERC). The race—held July 29th, from 6:00 PM to midnight—is organized and officiated by NASA Utah and run on the Utah Motorsports Campus (UMC) outer loop track.
A typical NASA Sprint race is up to 30 minutes long. But for this event a single car, with multiple drivers, must push the limits for 12 times that length. It's a true test of machines, drivers, and support crews, and victory is normally measured by laps completed rather than seconds. To be successful, an entire crew needs to coordinate their efforts effectively and make sure that all the vital components of their car can endure extended high speeds. Of course some racing luck is also helpful. 
All race classes run on the same track at the same time, which resulted in a somewhat crowded field of 28 starters. That reality equals plenty of excitement as cars of vastly different speeds and capabilities vie for limited track space.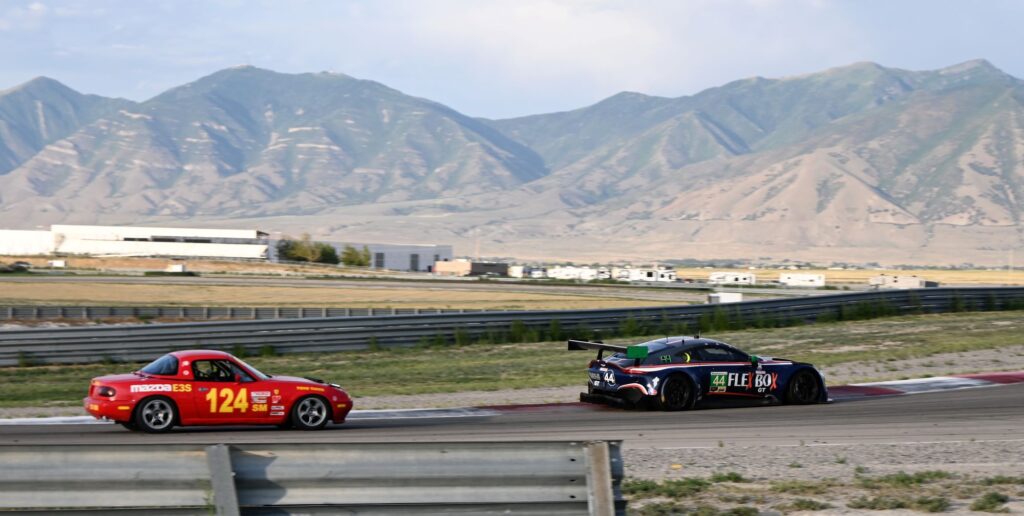 The Race
The drama started the moment the green flag signaled the start of the race after the formation lap. Lang Racing Development's orange #03—a low-slung Norma M20-FC sports prototype from southern California—failed to accelerate as the remainder of the field launched. Its Honda K-series engine has something of a reputation for throttle-position sensor failures under high-vibration racing conditions, which was the problem in this case. The driver had to reset the engine ECU (electronic control unit) while rolling slowly along UMC's 3-mile outer loop. After a successful reset the car really took off.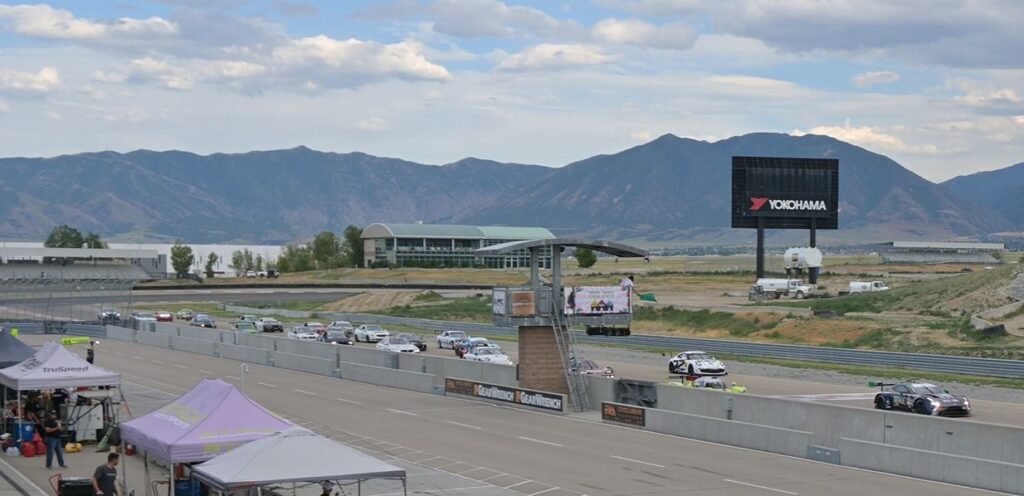 A couple of hours later, #03 again slowed to a crawl between Blackrock Hairpin and Right Hook—turns five and six. A less-experienced driver had to be talked through the ECU-reset process, while driving. In a few minutes the car was again crushing laps. However, an unrelated electrical failure sidelined the Lang entry later in the evening.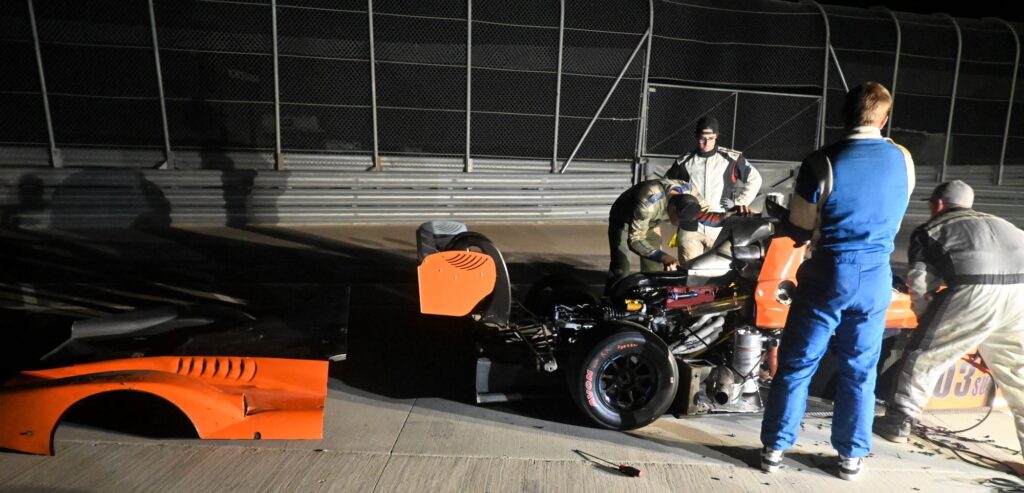 At the other end of the success spectrum, Magnus Racing's #44 GT-class (SU) racer was a real crowd favorite and the most dominant competitor of the night. Their Aston Martin Vantage GT3 is powered by a 4.8 liter V-8 with twin turbochargers. It sounds like it's not even straining as it lays down blistering speeds. Several spectators commented on its sonorous engine note—perhaps something like a radial-engine WWII fighter aircraft.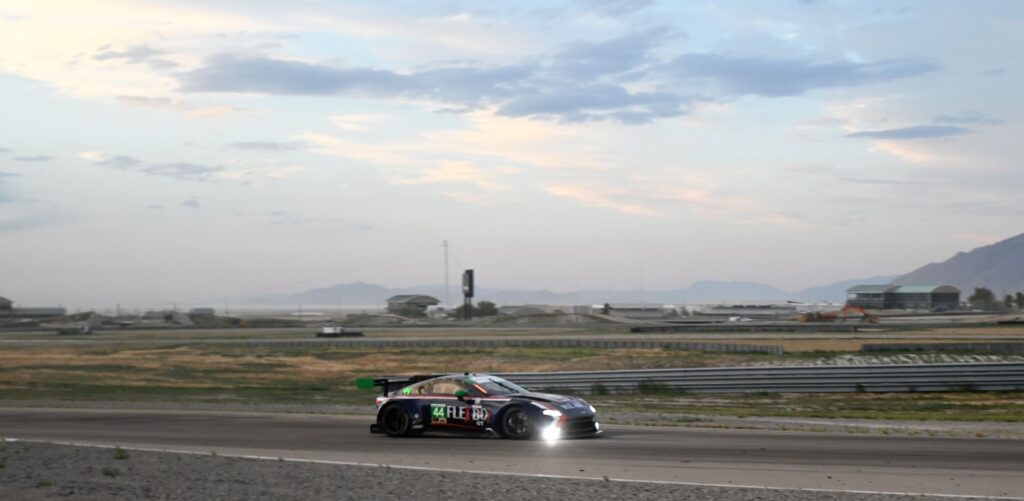 #44 finished four laps ahead of Sigier Motorsport's #43, out of Las Vegas—also a dominant competitor that took second place overall. Sigier's KTM GTX is powered by a much-smaller 2.5 liter Audi 5-cylinder, with a single turbocharger. How does the car manage to be fast enough to win second in class, and second overall with a 2.5L engine? The GTX only weighs 2300 pounds, so its 550 HP is plenty of output. Luck was also with both teams since they had no major incidents and all parts of the cars functioned well enough to run all six hours.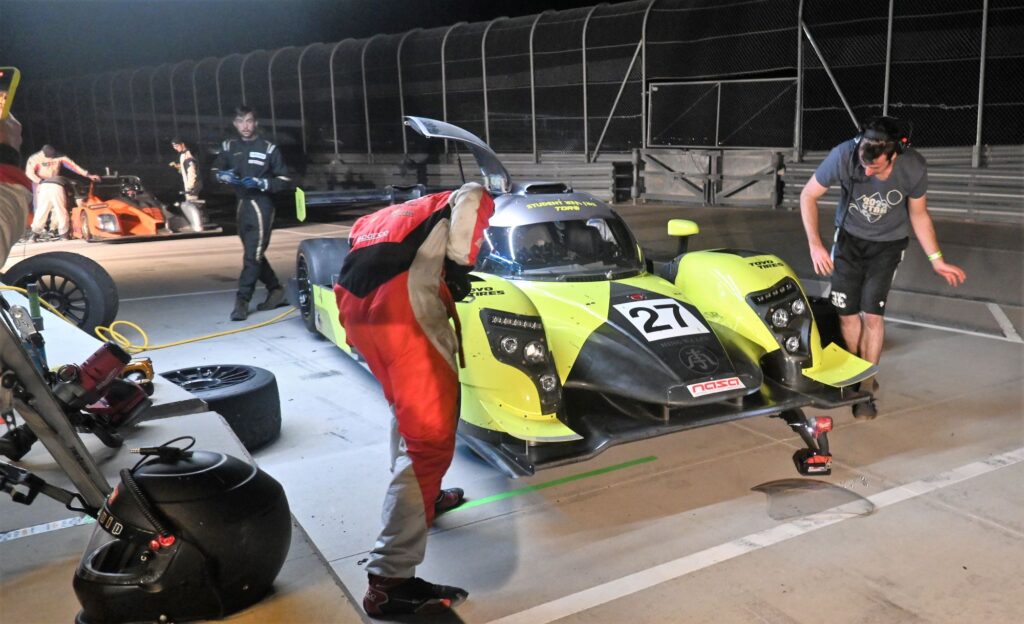 Tazio Ottis Racing, out of Berkeley, CA, swept the ESR (SU sport/prototype) class competition with their #27 Adess LMP3 (LeMans Prototype).
Local team Riot Motorsport and its #13 Porsche 911 Cup car also had an excellent night. In spite of fighting a few problems including being stuck in sixth gear for the last few laps, so having to take it slower, it easily took first place in the ES (ST1/ST2) class. It also earned third place overall, putting down several more laps than one of the GT-class podium winners and both ESR finishers.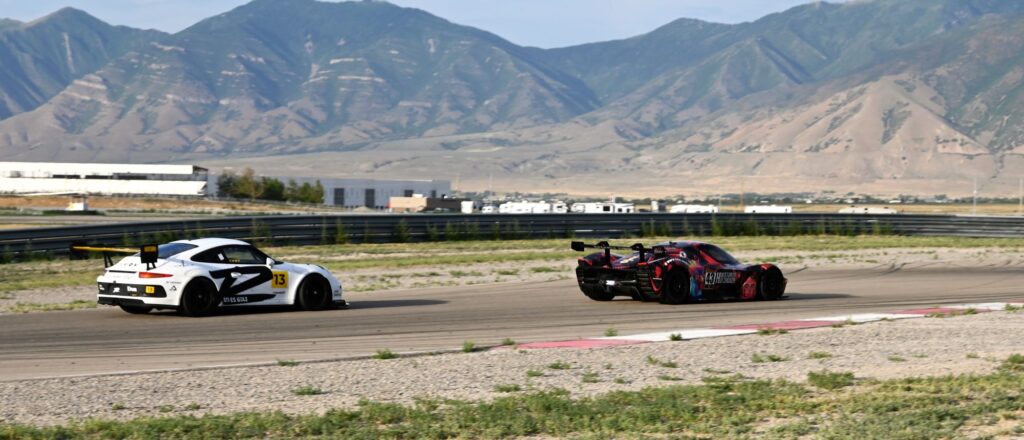 On the slower end of the spectrum, competition in the E3S class—essentially Spec Miata—was fierce and close. Once again, Riot Motorsport (team Lil' Riot) was victorious in #120, but with another local team, BTsquared, nipping at their heels in #81. Where the placement difference for most classes is measured in laps, the first- and second-place disparity in E3S was a mere 39 seconds over the six-hour event. Congrats to both competitors on putting together cars that could maintain that kind of pace for that long.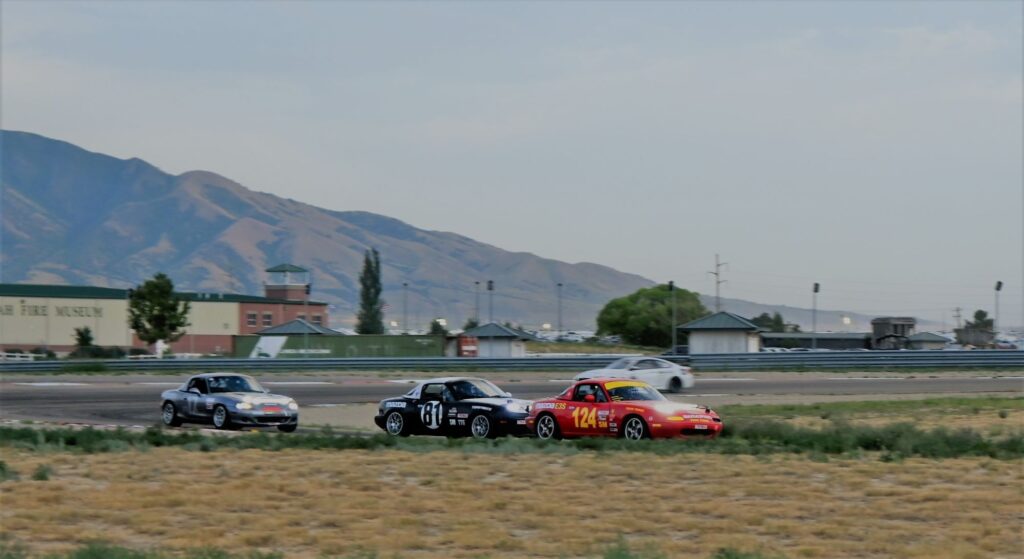 BMWs dominated the middle of the class spectrum. Team Zelus's #588 BMW M3 squeezed into first place for the E0 (ST3) race, less than a lap ahead of their competition. Meanwhile, Sacramento's Bay City Electric Works, running the #73 BMW E46, took command of the five-car E1 (ST4) class with seven laps over the next finisher. The E2 (ST5) race had the most entrants—six cars—and HQ Autosport's #187 BMW 330ci took the top of the podium with a relatively small 0:01:17 lead. Finally, the local Next Level Racing team's #17 modified Mazda Miata won the E3 (ST6) class.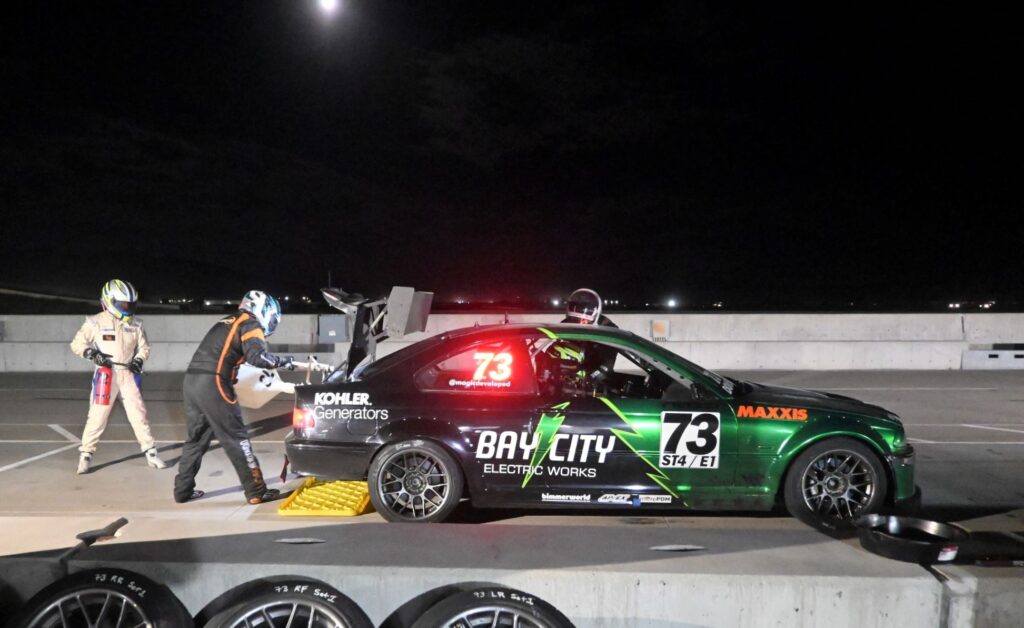 Race Support—The Pits
Beyond a three- to four-member driver corps, teams often had a range of mechanics, coordinators, and other support technicians making sure things came together and held together. Of course racing luck played a big part in the evening's successes and failures, and it was a pleasure to watch teams fight back when fortune wasn't favoring them.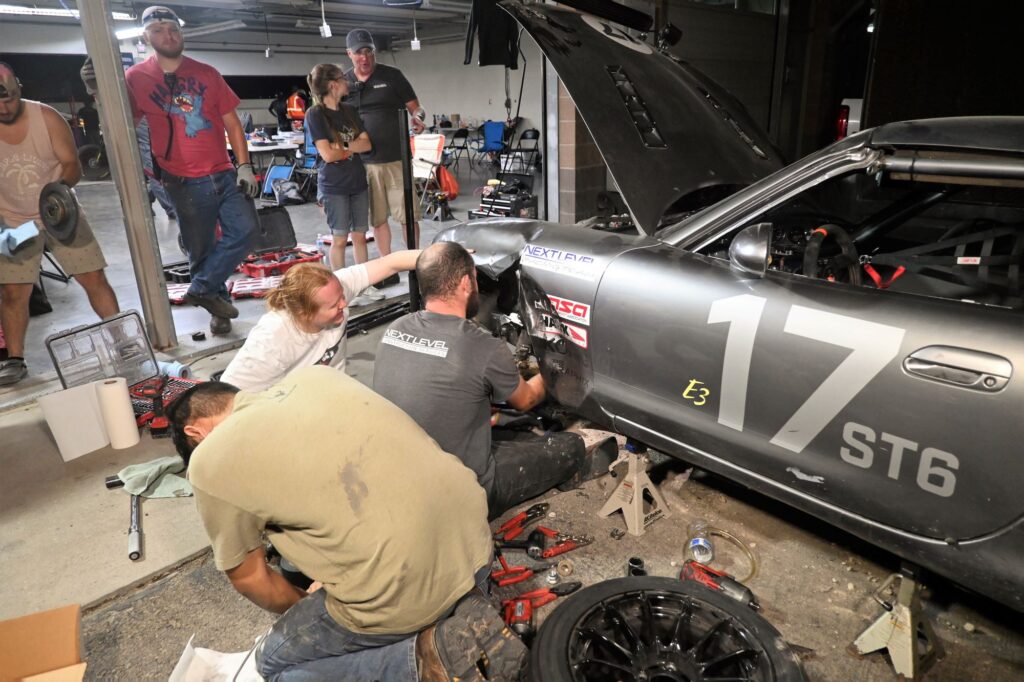 Next Level Racing's #17, a modified Miata, suffered a crippling hub failure. The left-front tire departed the car on turn one, tearing some sheet metal and resulting in a yellow flag for a handful of laps late in the race. The team, however, did not give up. A furious effort to replace the hub and front brake assembly had the car track-worthy again in just over an hour. A crowd had gathered to watch the repair, and they cheered as hard as the crew when the car motored away on four good wheels. Unfortunately, an unrelated electrical/ignition problem took #17 out again near the end of the night.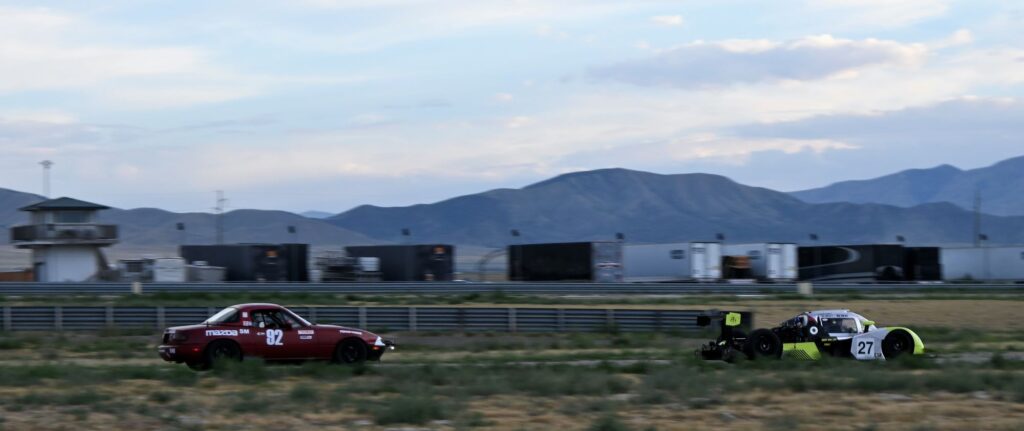 Local team Jirafa/Formation's #712 BMW M3 had the fastest lap time and a seven-lap lead in the E1 class. Then they lost a fuel pump with about 30 minutes to go. Still, the team completed enough laps to hold down second place.
The Perfect Storm's #92 Spec Miata suffered an engine failure on Friday, so the team leader scrambled to find and swap in a used engine and transmission. The barely-tested powertrain held together beautifully Saturday night and was enough to nail down third place for E3S.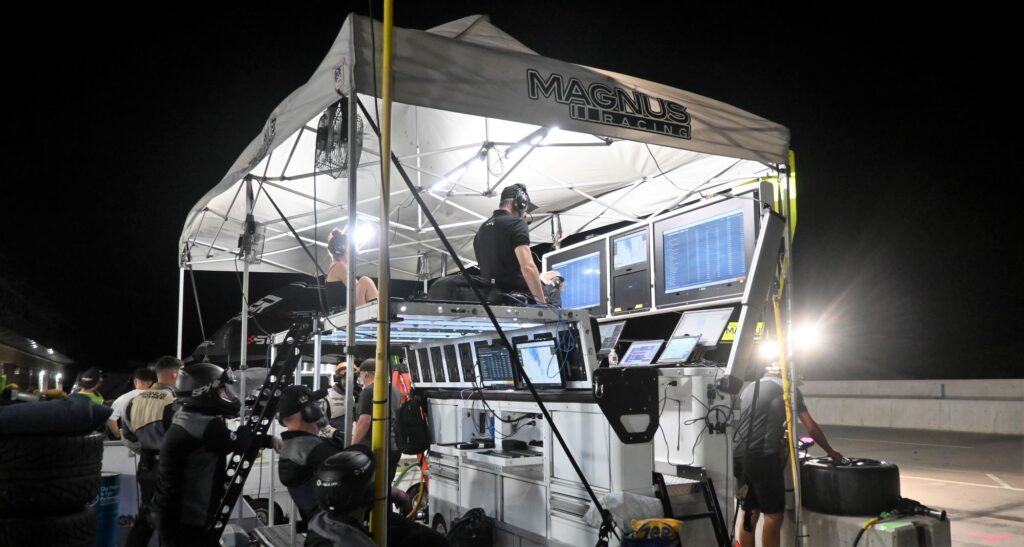 The Teams
Salt Lake City-based Magnus Racing, which conducts most of its operations out of Atlanta, is a pro-level organization. It definitely had the most sophisticated support setup in the pit area, and is obviously able to put a highly-competitive and thoroughly-tested car on track. As noted, it easily won first place overall with its #44 Aston Martin Vantage GT3
On the other end of the spectrum were small independent teams that consisted primarily of just the cars' owners and other drivers. Many such teams also finished well.
Of course out-of-town and local racing organizations, like Air Power Racing and Riot Motorsport, were also there in force with large and competent support crews.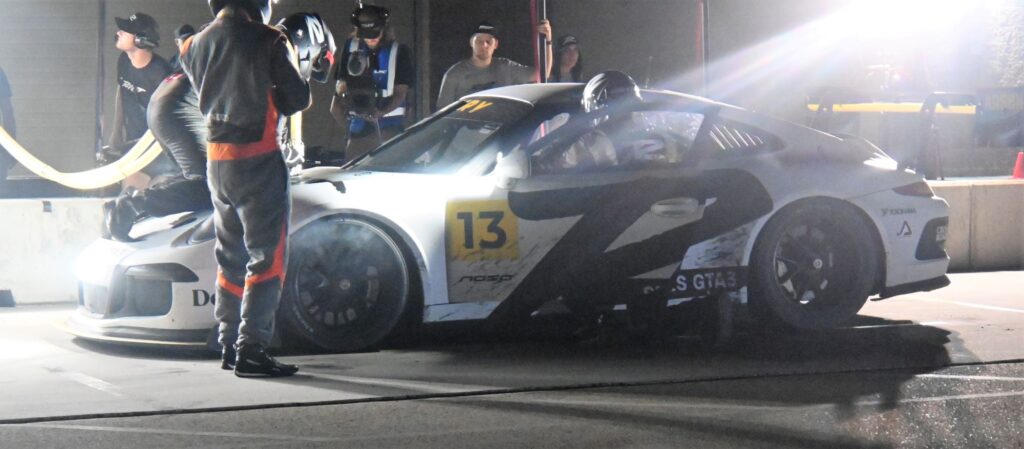 NASA Utah and Endurance Racing
The Sunchaser takes the most effort, but is also the most rewarding, of all the events put on by the NASA Utah staff and volunteers.
They accomplish everything they would during a normal race weekend and add the logistics of putting on a six-hour event. That includes recruiting and coordinating a team of volunteers to monitor pit lane and arranging additional UMC staff to help ensure safety during pit stops. Sprint races do not involve potentially dangerous hot refueling or much time in the pits at all—if you pit during a sprint you just lost. So endurance races require more pit rules and more checking for compliance.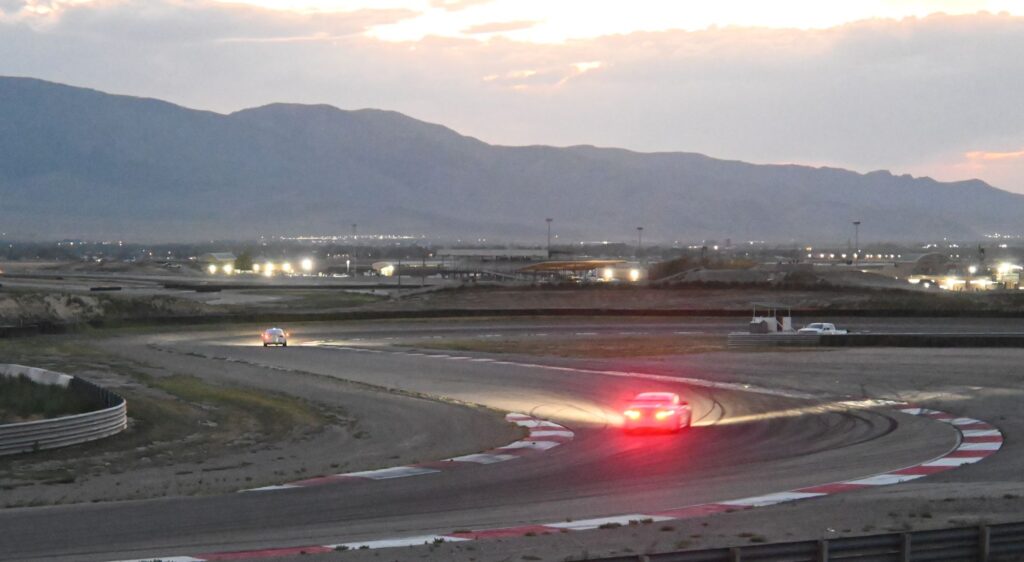 Leading up to the event, with every car having multiple drivers, NASA Utah has to make sure all are correctly registered and licensed for NASA races. On site, they have to make sure every driver is the same as those registered, that all team members are credentialed—the average team size was eight people—and that all teams attend the pre-race meeting.
Additional volunteers arrange a midnight award ceremony. Also, the normal corner and tower marshals (UMC staff) need replacements or have a much extended day.
So it takes a lot to make this enduro happen, but the results are more than worthwhile.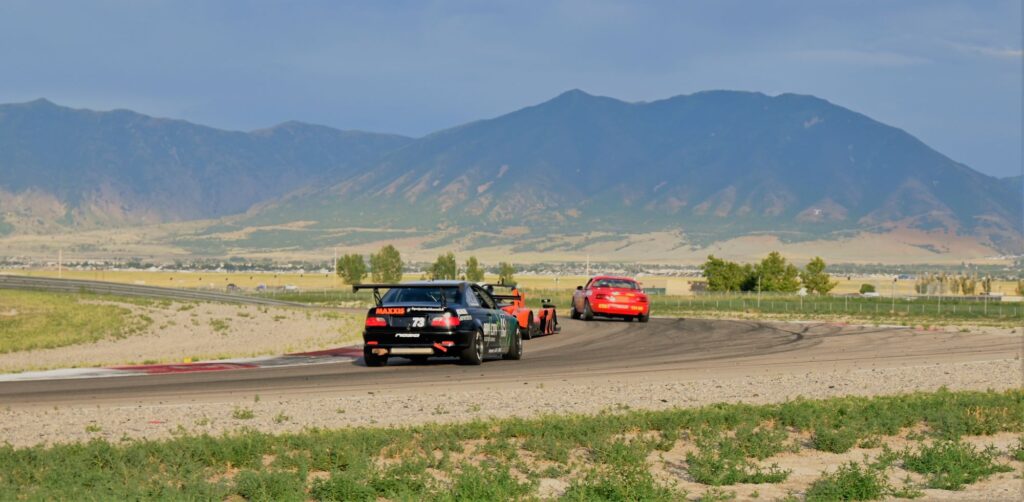 Looking Forward to 2024
The Sunchaser, which brings in a broad group of drivers and teams that aren't normally in Utah races, really is NASA Utah's big event. The word is spreading that it's one of the premier endurance races of the summer. It's enjoyable to host, participate in, and watch something at that level.
Being a large, long event, the Sunchaser presents a bigger set of challenges. As noted, teams don't just pack up and go home if they experience a malfunction like they do in a sprint race. The variety of cars and speed disparity is also greater. Finally, sprint racing is solo competition, while endurance racing is solidly team competition where coordination is key. Team camaraderie is obvious and is great to be around. During the post-race group photos, for instance, it was clear that nearly everyone was having fun and glad to be there.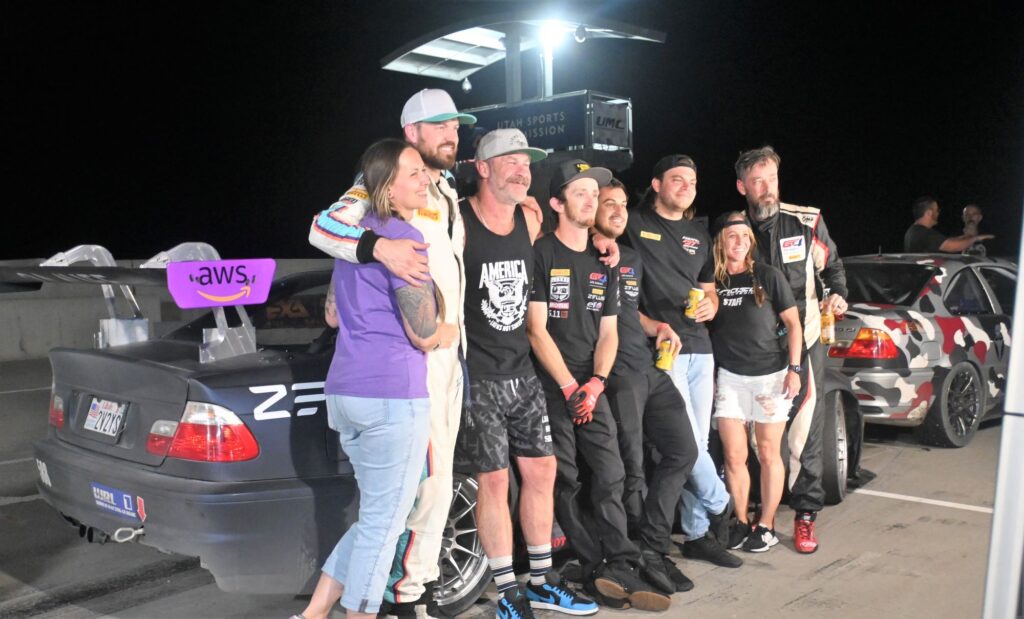 It is a unique and thoroughly enjoyable experience to watch fast cars of several types keep jetting around the track as it gets darker and darker. It's also nice to feel temperatures drop on a summer evening as the race matures.
NASA Utah doesn't have a date for the 2024 Sunchaser but anticipates hosting it in late July or early August. Spectators get in free, so if you don't get out to the track very often make sure you put this one on your radar.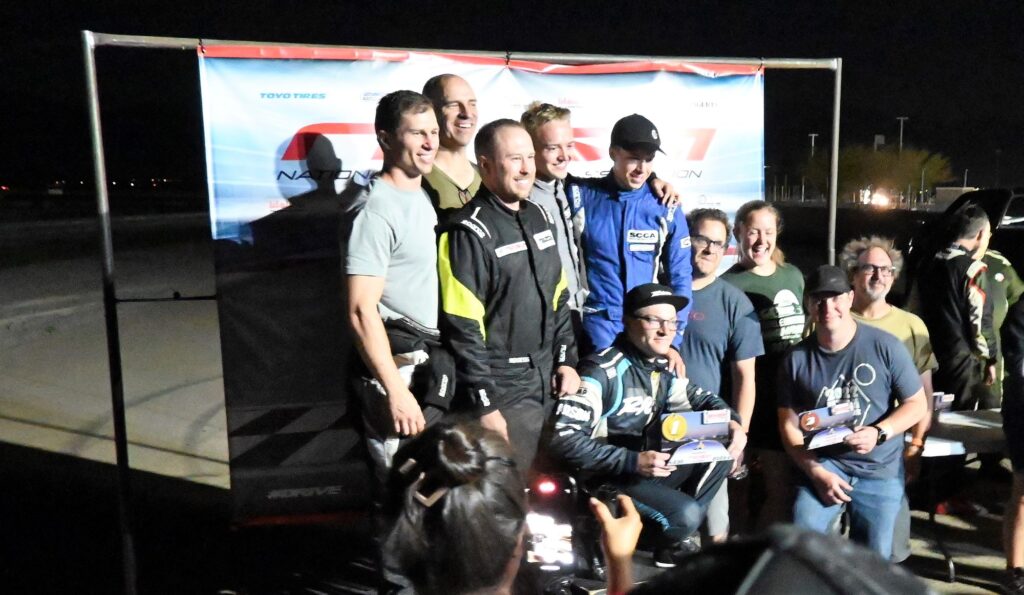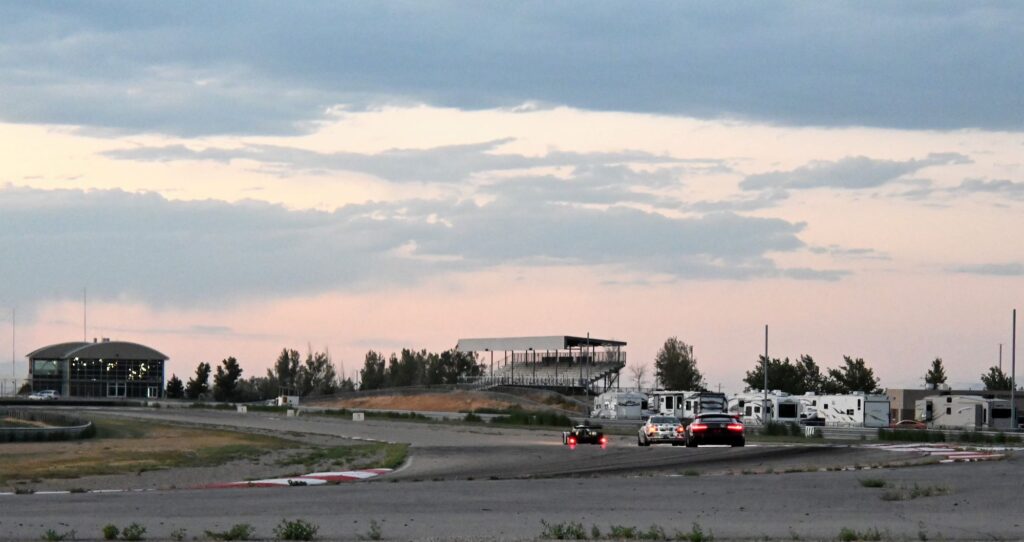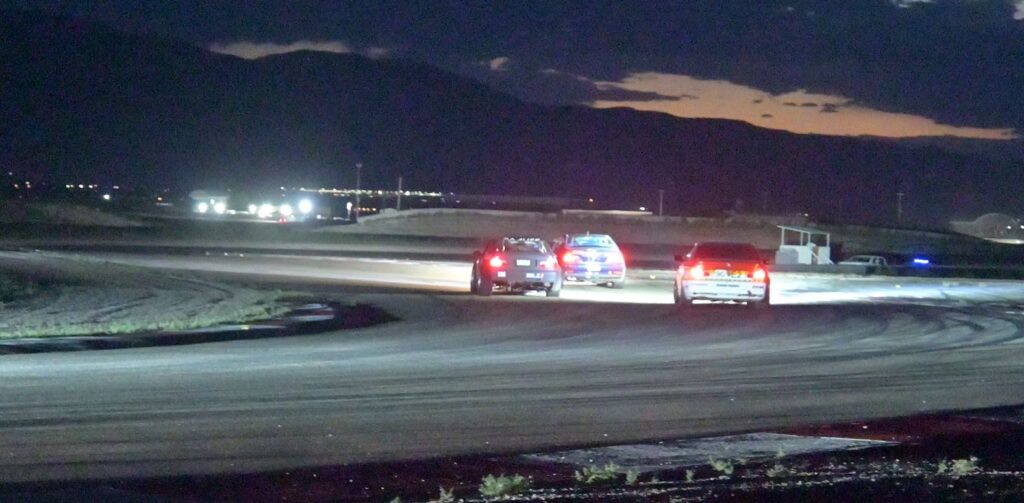 © 2023, R Bairett