By: Rick Bairett
Professional Photos: Cole Bryant of Bryant Media
What do you do when you just bought a car for the track and it came with an extra set of wheels and tires with only a little tread left? Obviously, you go drifting.
While I was thinking about developing this new skill, I learned about the relatively new Scoundrels Drift Clinic in St. George. Salt City Drift and the School of Opposite Lock provide regular drift opportunities in the northern half of the state. Now Scoundrels Drift Clinic does so in southern Utah.
They absolutely taught me a lot and made sure I had a great time. And make no mistake, getting a car sideways and keeping it under control—even learning to do so—is a lot of fun!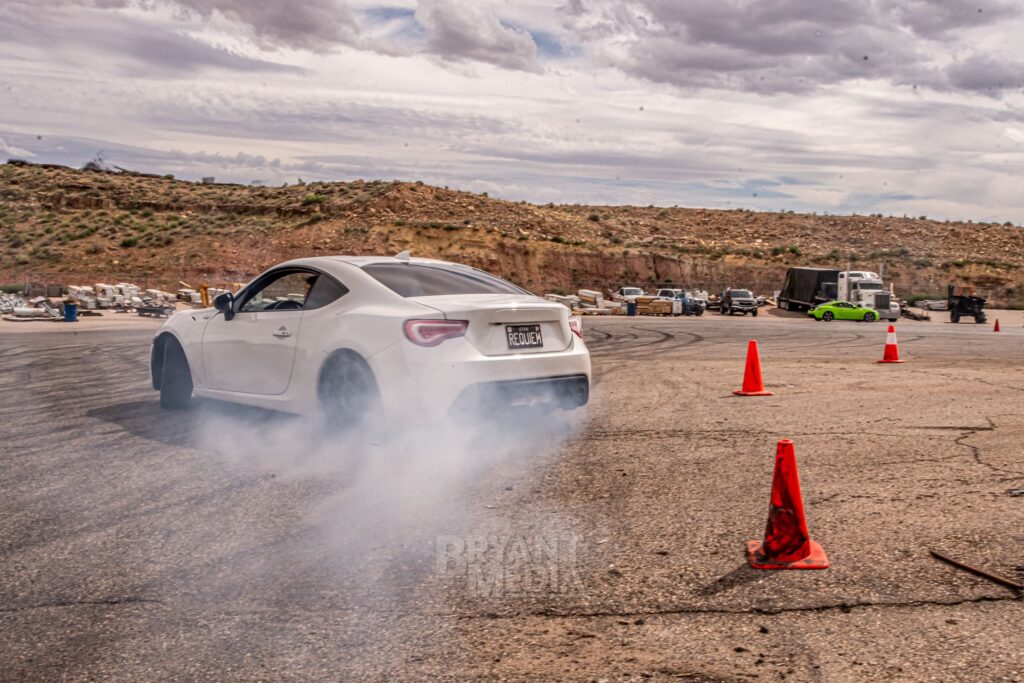 Scoundrels Drift Clinic
Scoundrels kicked off operations in October 2022 under owner Chase Garrett. He met Dominic Harness eight years ago at a Salt City Drift event. When Dom later moved to St. George, he wanted to help introduce people to the sport. So Chase was quick to invite him on board as an instructor. Both Chase and Dominic know their stuff, and how to teach it.
Scoundrels holds clinics two or more weekends per month, usually every other weekend, and all skill levels are welcome. Many are beginners, but more-experienced drivers also take advantage of extra practice time and additional coaching on maneuvers they're trying to improve.
Besides me there were two other newbies, although both were more experienced. They had been sideways off-road, and had some experience drifting on asphalt. Other than the occasional icy parking lot, I had never intentionally gotten a vehicle sideways, much less learned to control a drift, so I was starting from square one.
Scoundrels had a course set up on a large asphalt pad in an industrial area, with permission of course. The course included "clipping zones" that a competent drifter should get either the rear or front of the car nearly brushing. My job was initially much more simple: get the car to break loose and hold a semi-controlled "donut" around a cone in the center of the course.
Initiating a Drift
Other than a safety briefing, there wasn't much preamble—no classroom sitdown or anything. Scoundrels is all about getting seat time and learning by doing. Accordingly, Chase jumped into the right seat of my NB Miata and talked me through the process of revving the engine and dumping the clutch, while simultaneously turning the steering wheel hard. That part is easy enough, but you do need pretty high rev's in a low-powered car.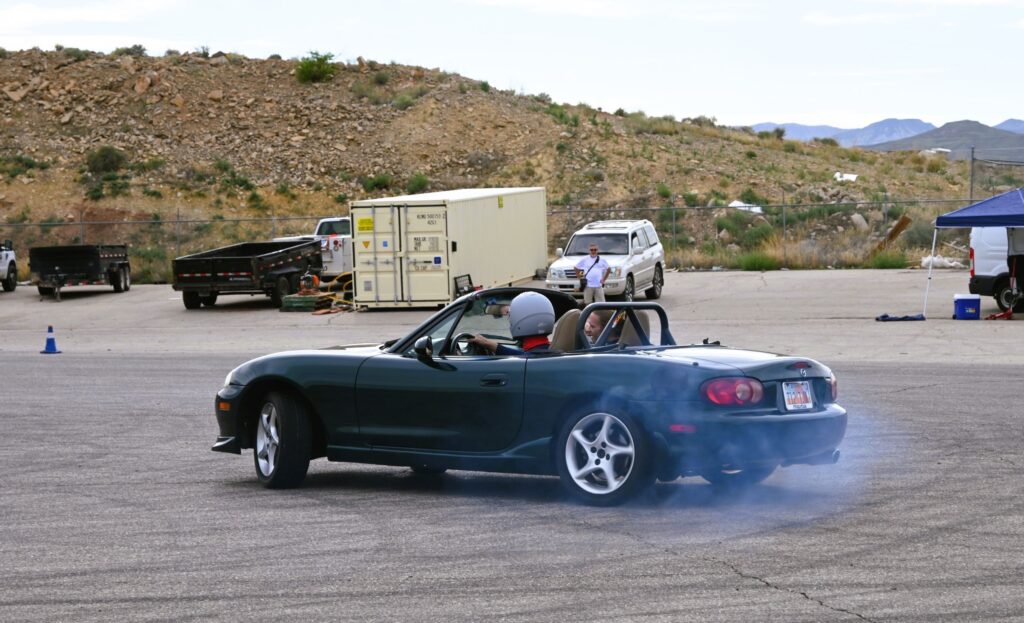 The next step is not so easy. You have to let the wheel slip through your hands as the rear end of the car steps out in the opposite direction of the turn. The need to do so is obvious if you think about it—I hadn't. You've initiated the skid by turning in one direction, but as the back end of the car swings out you need counter steer in the opposite direction to maintain the drift. Thus, the steering wheel needs to free spin to swap the steering angle.
For a track guy, who's used to a firm grip at 3 and 9 (o'clock), letting go of that wheel was easier said than done. So was figuring out when to retake control: somewhere between established drift and spinout. Finding that balance, even with Chase talking me through it, and demonstrating it, definitely took a few repetitions. Okay, maybe more than a few, but I got there.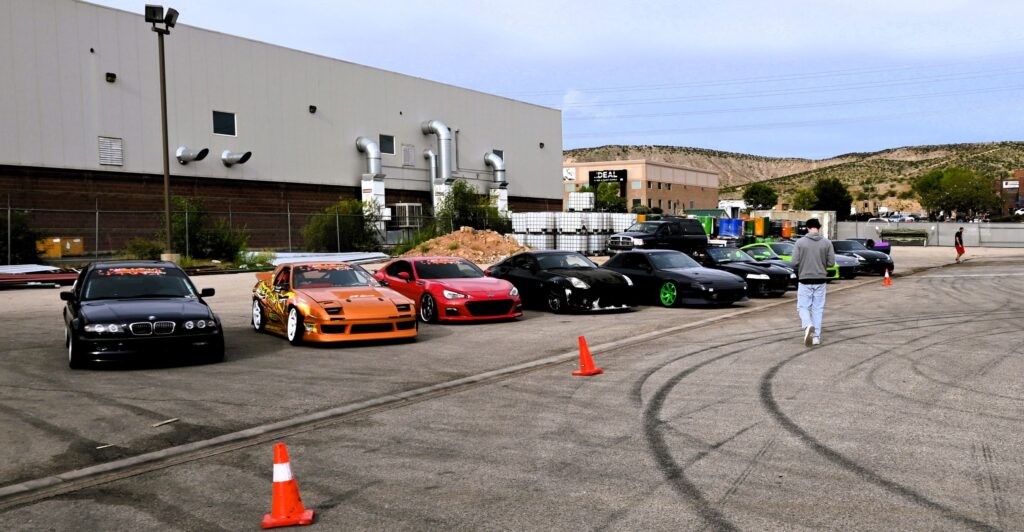 Seat Time
Fortunately, one of the great things about drifting with Scoundrels is great access to the course, so lots of seat time. Another great thing is easy access to the instructors, who were happy to jump in, or even demo, when they saw you struggling.
New students got priority and tended to be on the course longer at first. Mostly the advanced students and experts ran the short course once or twice and then cleared the track in less than a minute. So getting back on was just a matter of queuing up and waiting your turn.
As the morning went on, the line tended to get shorter and it felt like I was able to get on the course every five minutes or so. From what I'm told, that's a lot more seat time than is normally available when drifting at big-city events.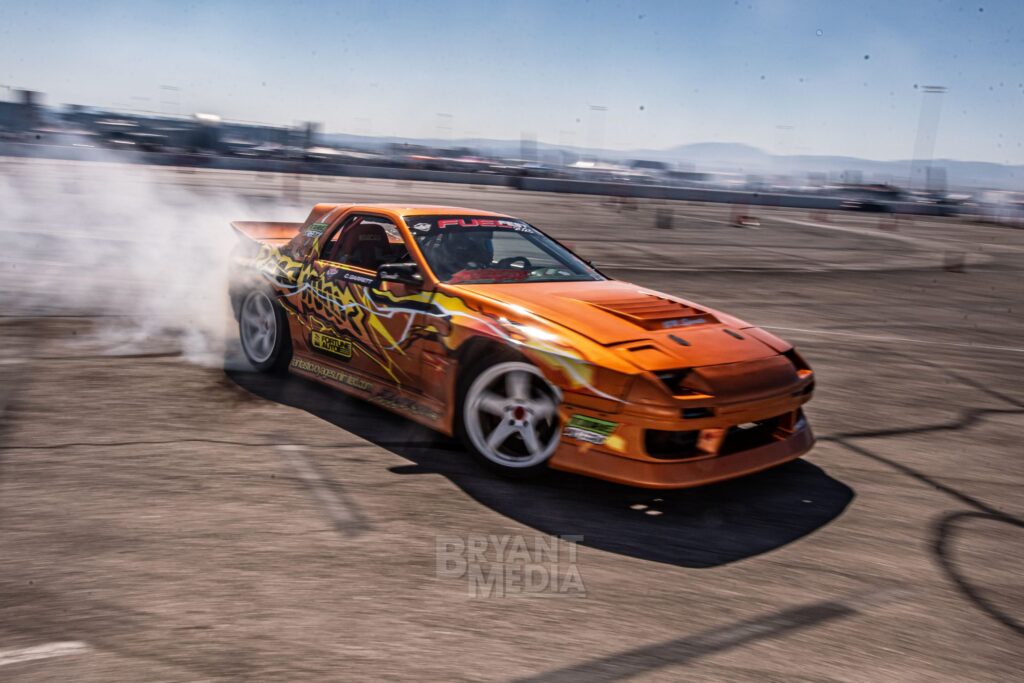 The Instructors
Between them, Chase and Dominic have over 20 years of drifting experience. Chase has drifted all over the country, with drivers from grassroots to pros. He always liked cars and when he downloaded videos of modified cars, many featured drifting. Playing video games that included drifting—Need for Speed Underground—fanned the flames. So his first car—a Nissan 240SX hatchback purchased at age 16—quickly found itself burning rubber in parking lots.
As drifting started growing as a sport, Chase found a place in Texas that sponsored drift events. He began attending regularly and found that other drivers were very willing to help, instruct, and advise. He loved the sense of community and things snowballed from there.
When he moved to St. George around 2009, Chase continued progressing at Las Vegas events. He started competing with his team in 2015, especially in team-tandem events, and got on the podium for the first time at Oregon's Affinity Motorsports Park. Another highlight was driving in tandem with pro Forrest Wang. While a lot of his drifting has been for fun, he has done so on tracks all over the country and was recently the featured driver at the "FuelFest" Advanced Invitational Drift in Las Vegas.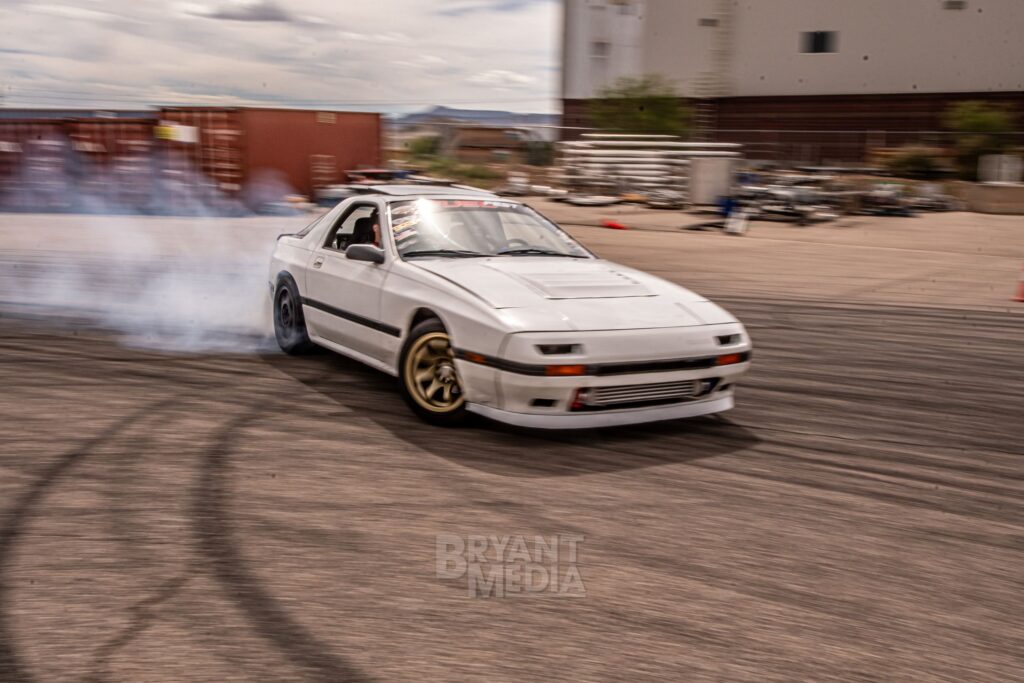 Dominic was always into motorsports and grew up racing dirt bikes. Like Chase, his first car was a 240SX. As he modified it and started getting to know drifters, he had to try it himself. In particular, Jordan Collier of Salt City Drift gave him a ride-along and Dom was hooked.
Dominic has been a sponsored driver, competing in pro-am events in Vegas. He also instructed for Salt City Drift and helped judge their events. St. George was a natural transition since there are lots of car fanatics that seemed to need a safe outlet to drive them. When Chase started Scoundrels Drift Clinic, Dominic was all in.
I've watched both instructors on the course, and they definitely have it down to a fine art. Chase also invited me to ride along in his RX-7 drift car with a Chevy LS1 V-8 engine. I'm no expert, but I was floored by the control he maintains while changing directions in a full drift, making it look as natural as breathing. Definitely something to aspire to.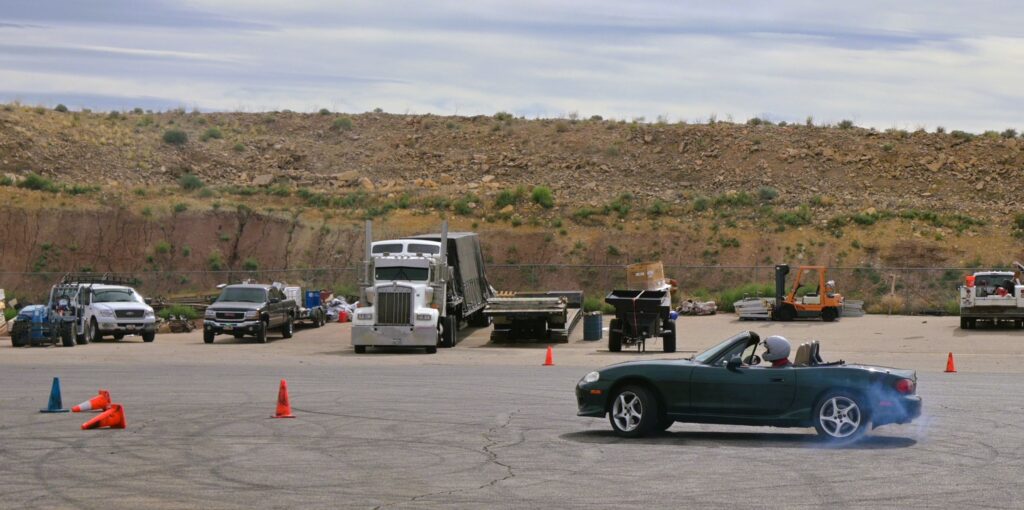 I know that I benefited by learning the basics from both Chase and Dom during the clinic. Even after starting to get comfortable with maintaining a drift, I found myself regressing. Most of my attempts ended with the back end passing the front end—a classic spin out—so I had started backing off the throttle somewhat. Chase waved me over, jumped in and explained why I needed more throttle, not less. Of course he was right and he had me going better than ever in no time.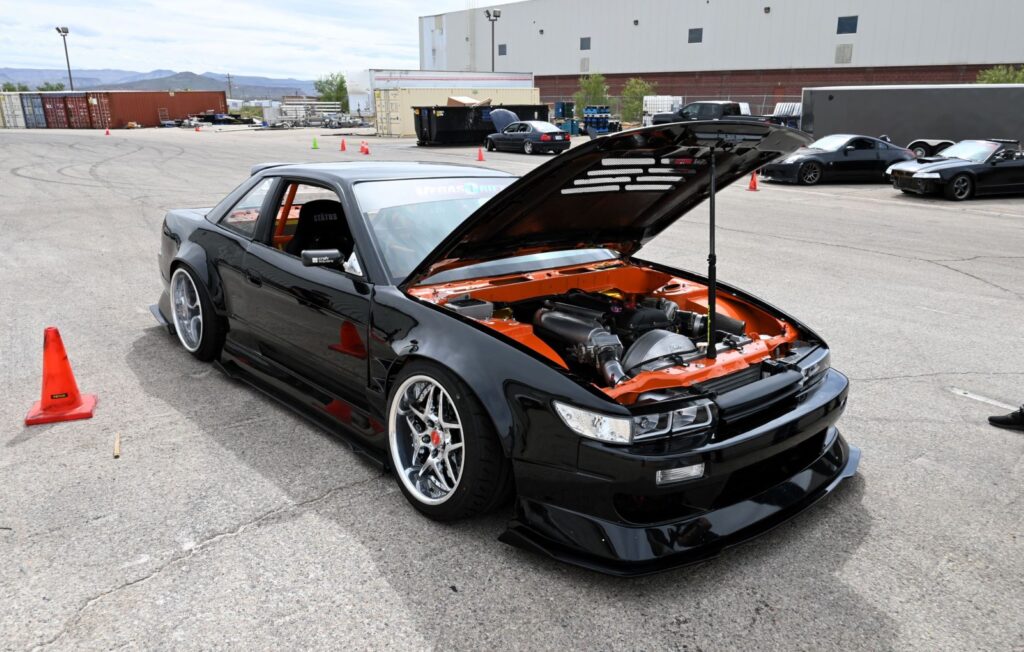 The Drivers
Drifters that I met ranged from fellow first-timers to seasoned veteran Nick Dizon—one of the key drivers who made drifting happen in Vegas. He ran the former Southwest Drift Pro-Am Series, which was a formula-drift type competition that could lead to a pro formula-drift license.
Nick's immaculately modified first-gen Nissan 240 SX looked too pretty to drift. That didn't seem to stop him though, and his car—pushing 20 psi of turbo boost—was absolutely raucous on the course. Nick founded Vegas Drift, but had brought his new car up to the Scoundrels drift weekend to do some cost-effective testing.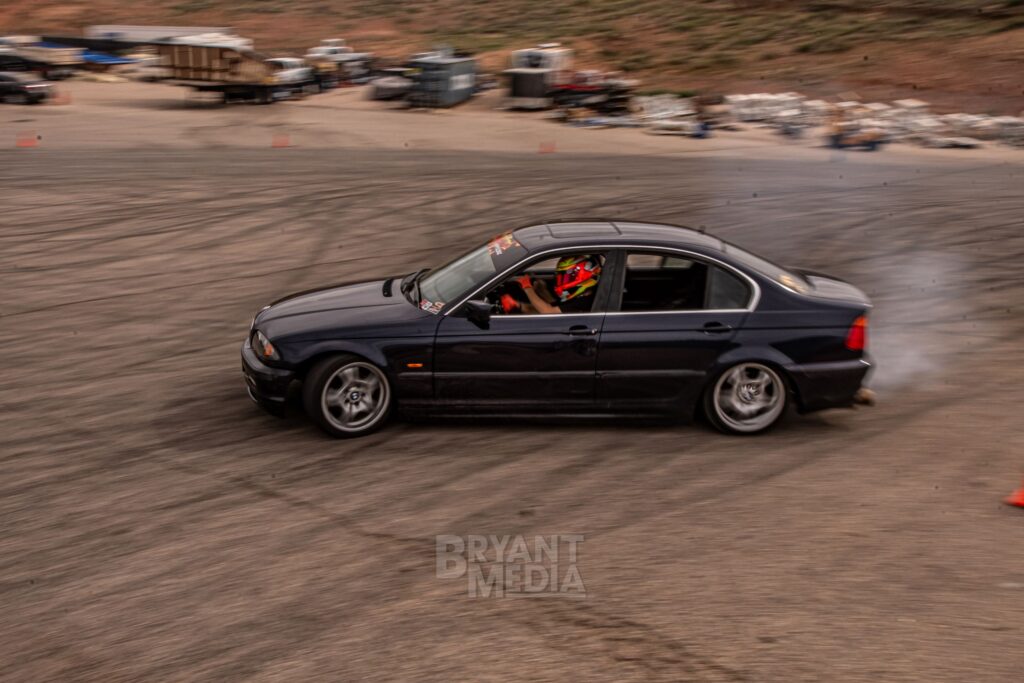 I also got to chat with advanced students Dylan Sayles (2013 Subaru BRZ) and Kyle Disney (1999 BMW 328i). Both of their cars had stock drive trains, but with some suspension modifications for better reliability and handling on a drift course. Both had great things to say about Scoundrels coaching and how much they improved by attending clinics regularly.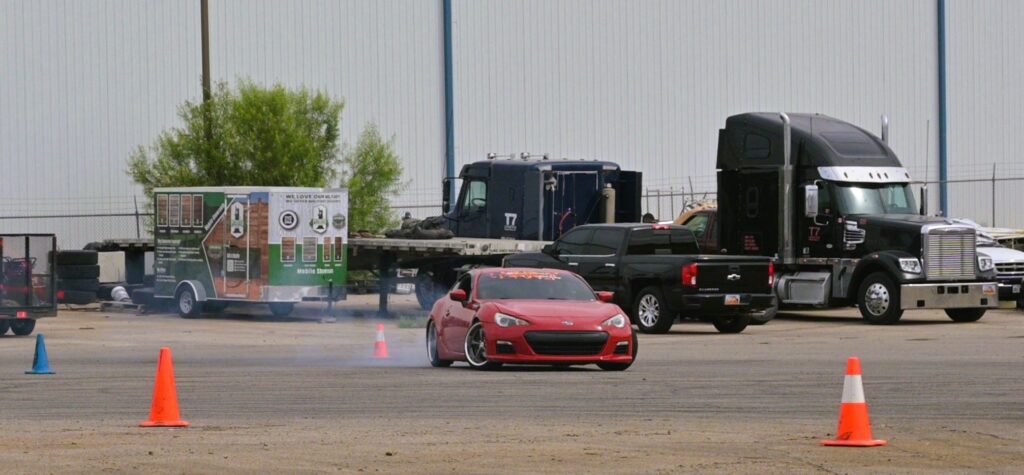 Kyle and Dylan also talked about how important seat time is, and praised Scoundrels for making sure they got plenty of it. Dylan estimated that he gets about quadruple the time on course compared to events in Las Vegas. Kyle agreed, saying he spends about 20 minutes waiting in line elsewhere, versus maybe five minutes to get back on course during a Scoundrels clinic.
My fellow first-timers, Casey Davis (2016 Scion FRS) and Haris Husetic (2002 Ford Mustang GT), agreed with me that both instructors were very helpful. In fact I jumped in with Casey and, while I was still working on the basics, he was able to run the full course. Haris also made excellent progress and was able to run much of the course.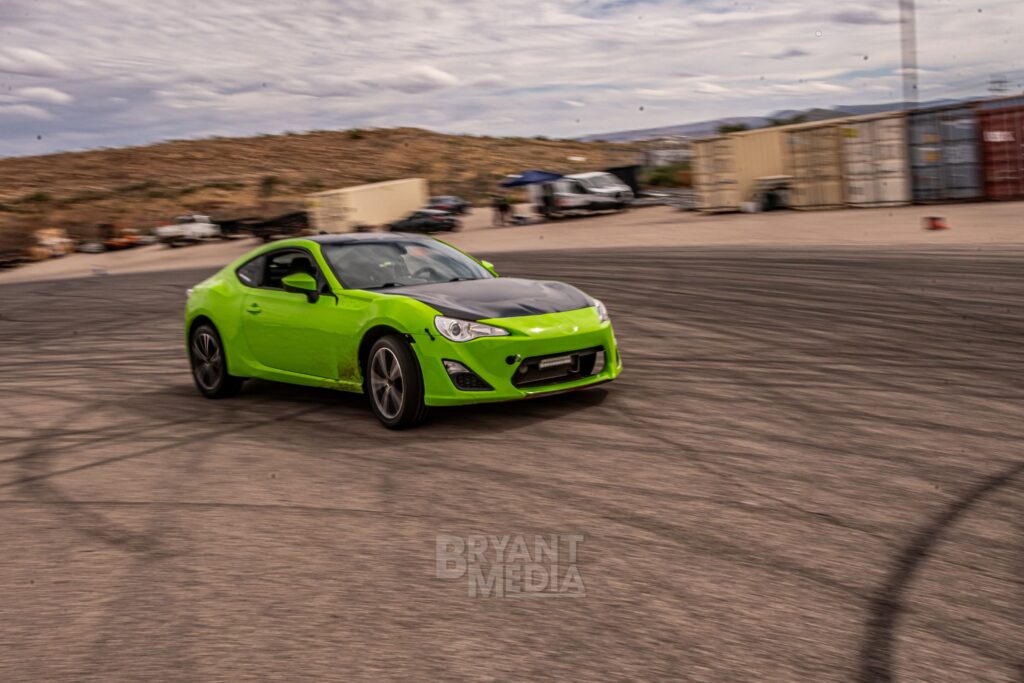 Getting Started
When asked what it takes to get into drifting, Chase emphasized that it does not need to cost a lot. Too many people watch pros with their immaculate, professionally-built cars and feel like they could never afford one. However, few of us are ready for a pro drift car.
Instead, Chase recommends starting with an older rear-wheel drive car with a manual transmission. Why a manual? A manual transmission makes it much easier to initiate a drift. Plus it will not try to upshift like an automatic. Finally, the ability to push a clutch in and re-energize the rear wheels can be super helpful at times.
An older Nissan 350Z, Mazda Miata, Scion FRS/Subaru BRZ, or BMW E36 or E46 are examples of good choices. Such cars are often less than $10,000, and all are capable drifters.
Some are not especially powerful, but power isn't that important. Miatas, for instance, are relatively low-powered, and mine was more than adequate to start and maintain a drift. Also, OEM cars are fine. Modifications are not necessary and may hurt reliability.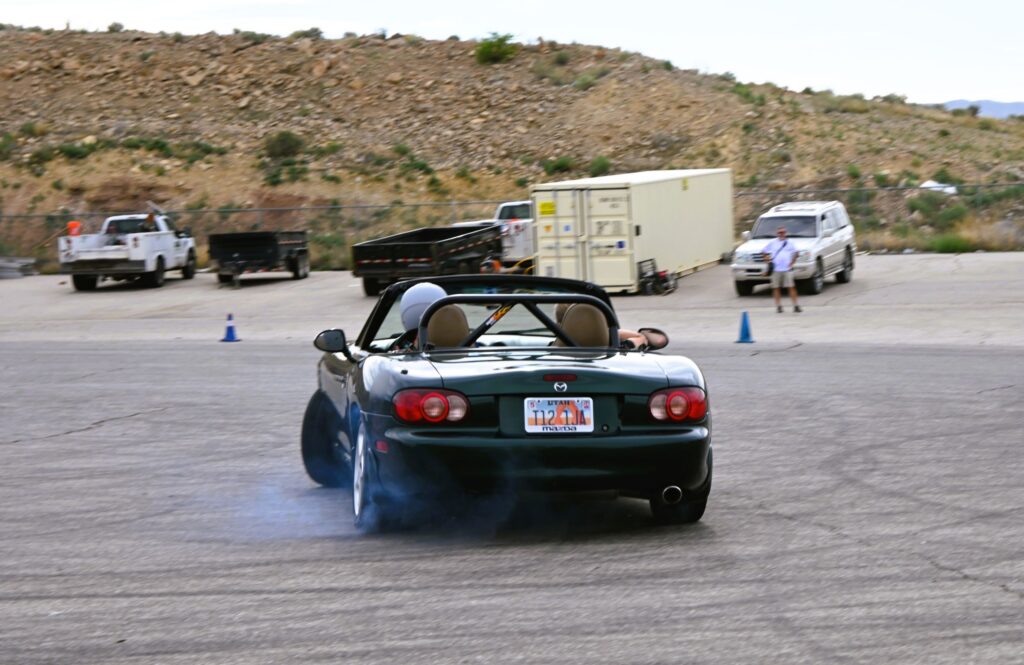 I should mention one of the things I learned about drifting my Miata: its short wheelbase means a rather narrow sweet spot between a controlled drift and a spin out. Even slightly longer wheelbase cars, like the FRS/GR86/BRZ, are more manageable.
Fuel and tires are the main ongoing expenses for drifting. Accordingly, Chase and other drivers I talked to recommend buying whatever tires are cheap. $50 – $80 tires are fine. In fact, less sticky tires are actually better with lower-powered vehicles.
Haris mentioned that he found 10 tires, for his Mustang, for a total of $260. Another driver said that he just buys whatever he can find cheapest on Amazon. Advanced drivers with powerful engines do run stickier tires—200 treadwear or less—which can cost around $135 each.
Drift clinic registration fees are $150 for a half day and $300 for a full day. The bottom line: cost doesn't have to be an entry barrier.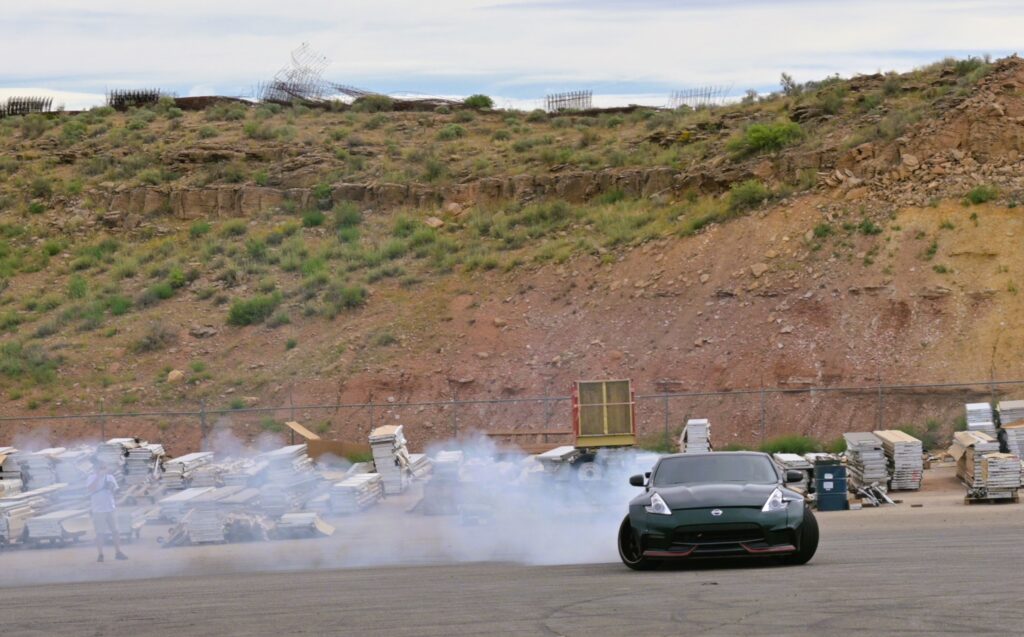 Go Drifting!
Northern Utah drift opportunities are about to dry up with cold weather approaching, Conversely, Scoundrels will be hosting drift clinics all winter in warmer and dryer St. George.
If you're a just beginner, or a more experienced drifter who wants to keep progressing year round, use the contact form on the Scoundrels Drift Clinic website to find out when the next drift weekend takes place. Chase is quick to reply and is happy to answer questions. Scoundrel's Instagram and Facebook pages also regularly announce upcoming clinics.
Beginners can expect to start mastering the five key fundamentals: consistent and controlled donuts, figure eights, J-turns, clutch kicks, and of course counter steering. New students definitely get priority and some additional course time.
Having said that, experienced drifters also get to cycle through the course regularly—as much as they want to from what I've seen. Again, all skill levels are welcome.
If you've considered learning to drift, Scoundrels Drift Clinic is a great way to get started. And they will make sure you have fun in the process!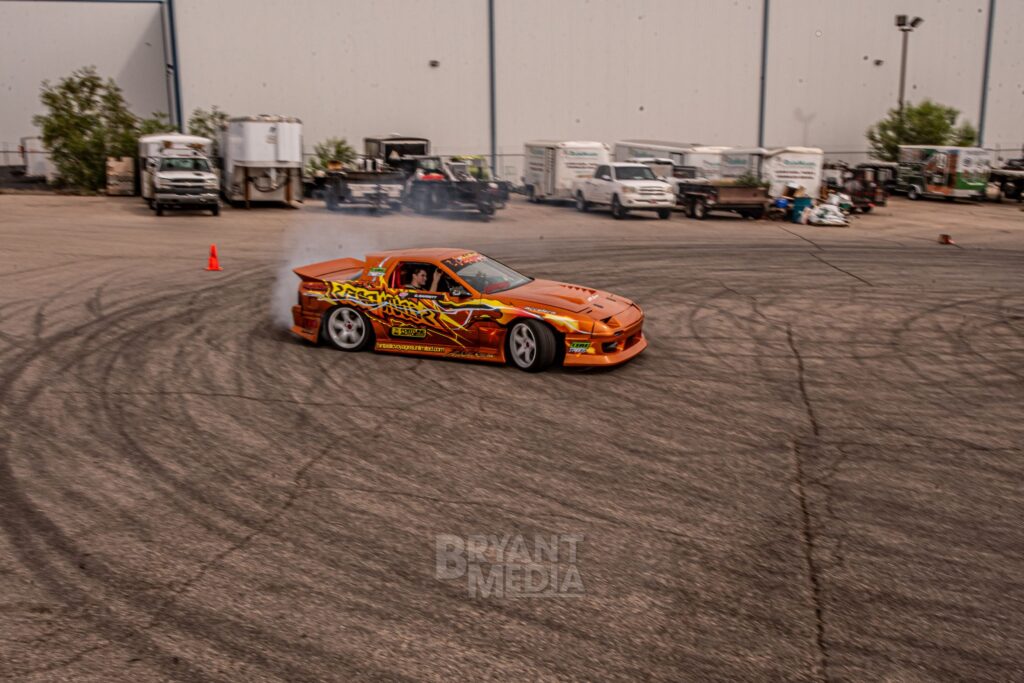 © 2023, R Bairett