The World Extreme Rock Crawling Championship (W.E. Rock) 2023 series concluded with the Grand Nationals at Chokecherry Canyon outside Farmington, New Mexico on September 9th and 10th. Utah Motor News is happy to report that Utah teams swept the top spots in all pro-level classes!



Chokecherry Canyon is known for rugged and exciting terrain, with elevation changes, crack lines, and formidable rock formations. All of which raises stress levels and makes it harder for teams—especially drivers—to keep their emotions in check. And staying cool is one key to success in these events. 
Each team consists of the car/buggy, with its driver and spotter. Their goal is to get the best (lowest) possible score by completing each fiendish course within the 10 minutes allotted, by driving bonus lines, and by avoiding penalties for hitting the cones marking each "gate." Having to back up and reattempt a segment also merits a penalty.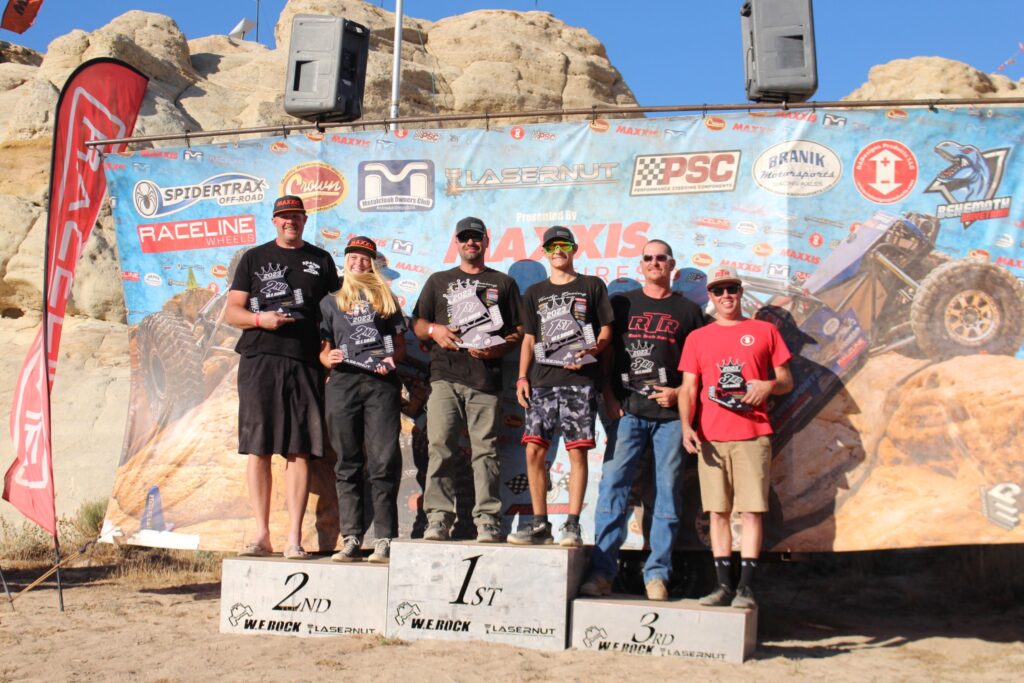 Professional Rock Crawling
Pro classes include Unlimited, Pro Trail, and Pro Mod. There are few restrictions on Unlimited machines. They typically have rear steering, front- and rear-drive lock/unlock capability, and the ability to bias power to one side or the other. Massive tires and independent, high-travel suspension, that can be adjusted on the fly, are also part of the package. Power trains can be front-, mid-, or rear-engine.
Pro Trail buggies have similar capabilities; however, they are wider front-engine two-seaters. Pro Mod cars are also front-engine. They cannot have rear steering and are limited to smaller tire sizes.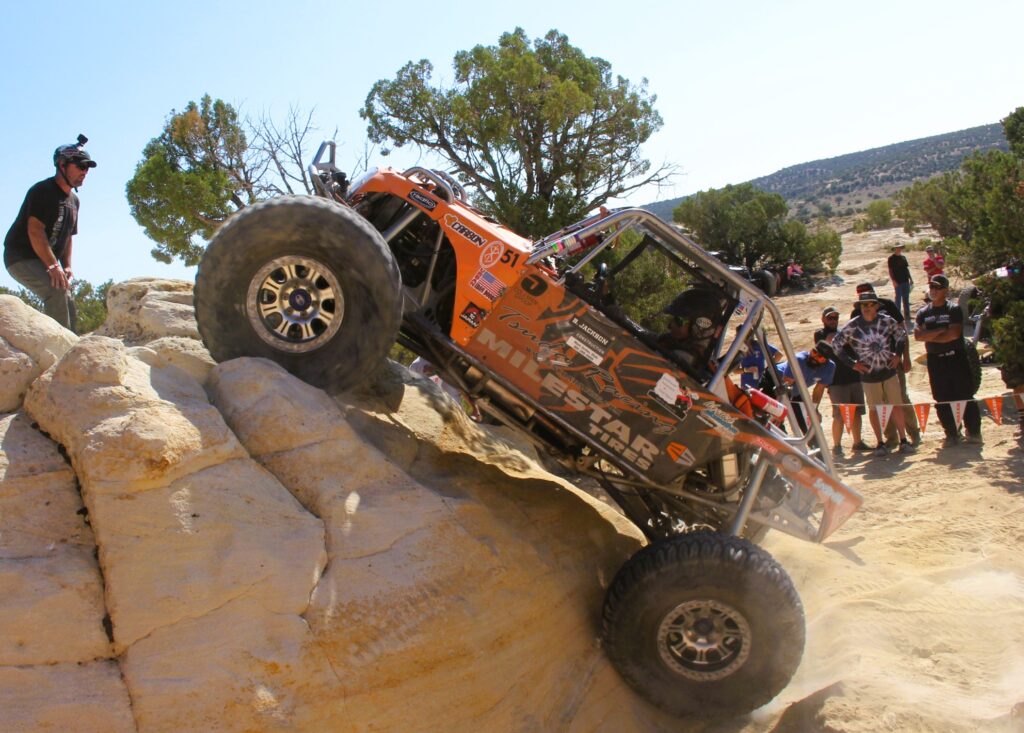 Pro Mod Competition
The Grand Nationals top driver for 2023, in the Pro Mod class, isn't even old enough to have a Utah driver's license. 15-year old Braxton Coleman, of Hurricane, with spotter Bret Robison of Kearns, easily won first place. After two days of normal course competition, their massive 72-point lead allowed them to relax and have some fun in the final, and especially difficult, shootout event. Braxton and Bret are also the Western Series points champions for 2023.  
Another teen-driver Utah team also found their way to the podium. Katelyn Boren and her spotter/dad Keven Boren, both from Hurricane, put in a solid performance at Farmington. Earning the lowest score on the final shootout assured them of a second-place Pro Mod finish.
There was some excitement in the competition. Third-place finisher Josh Patt (Denver, CO) almost rolled sideways down one bonus drop. Similarly, Braxton Coleman described some serious pucker factor when he had to drive sideways across a drop and the front end of his buggy started to slip. He had already rolled once this year, at the Vernal, UT competition, so he had to stop and regain his composure before completing another stellar run.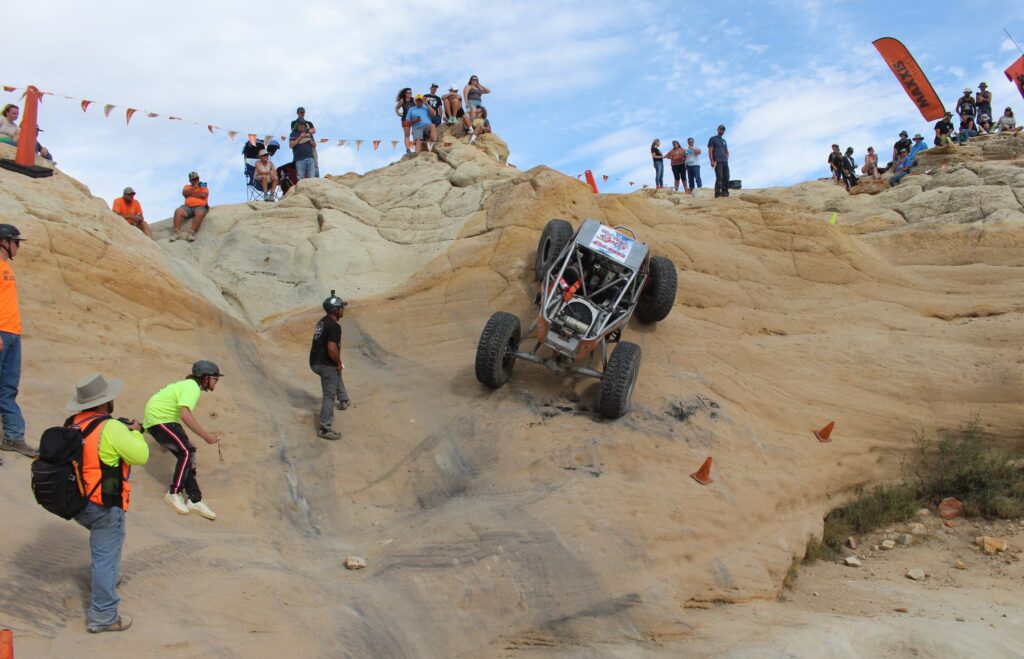 Pro Trail Competition
In Pro Trail, Utah teams similarly dominated, nailing down the top two podium spots. Driver Tyler Harper and spotter Holt Porter, from Hurricane, were running a brand new car this year. They were planning on just having fun at the Grand Nationals, but ended up in first place. They also earned the Pro Trail points championship for both the Western Series and National Series. 
Logan Backus and Collin Bruggeman, also from Hurricane, had a great weekend at Chokecherry Canyon and won second place by a large margin.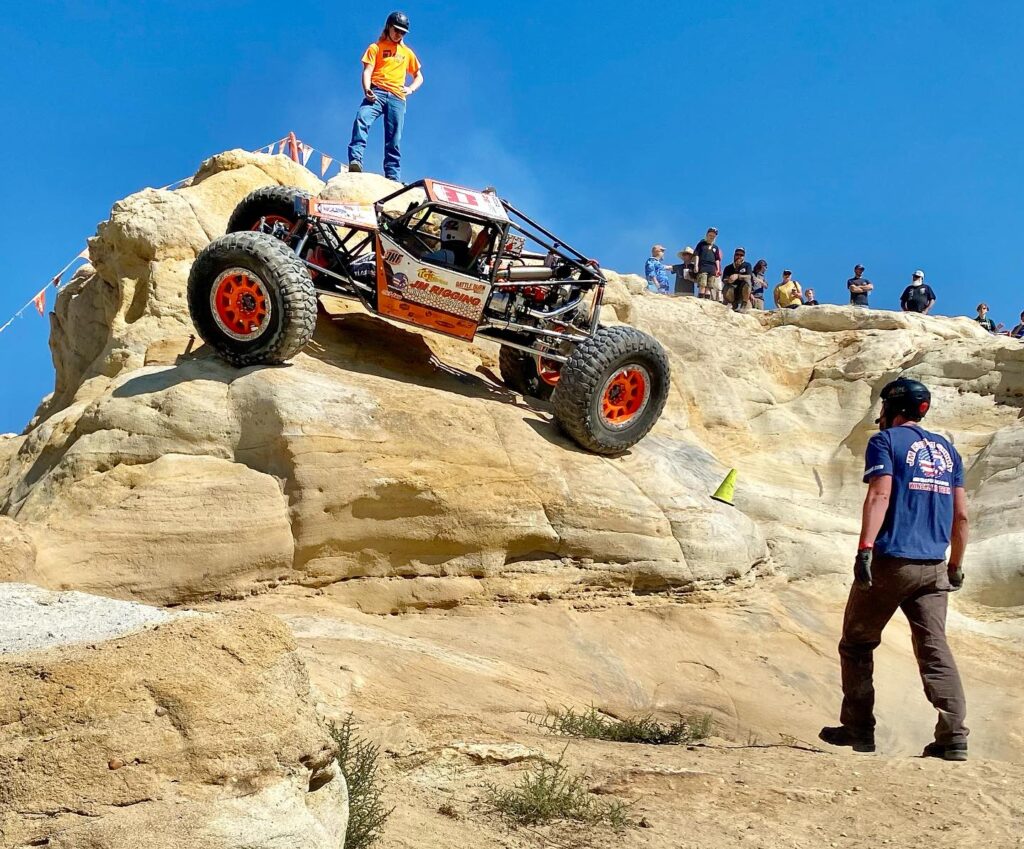 Unlimited Competition
After six years improving his skills in Unlimited cars, driver Dave Wong, of Hurricane, with spotter Nate Reed, from Washington state, handily won first place in the Unlimited class. The #42 JM Rigging car was ready to perform flawlessly, Dave trusted Nate-–his spotter for three years-–to see what he couldn't see and tell him what was going to work, and everything came together beautifully. 
The fact that everything worked out does not mean it was an easy weekend. Attrition was high, with four cars rolling down day-one obstacles in the Unlimited class alone. Even excellent drivers, such as Tooele's Ryan Maxfield and Hurricane's John Hembel, found themselves struggling in places, or even rolling over. If a buggy is inverted and requires outside help to get wheels down again, the penalty is huge and the team is unlikely to podium.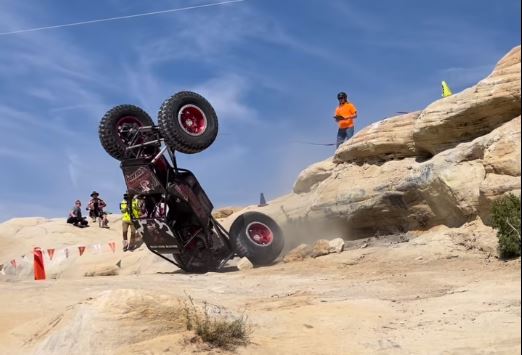 Dave Wong described his most sketchy moment. First, the stress level from being at the Grand Nationals, and watching others roll, was already high. Compounding that stress, one especially technical bonus gate required teams to cut across the side of an off-camber rock, near where he'd rolled two years ago. Their strategy to avoid the same result and put themselves out of the running was to pivot on the side of the rock face and back down the rest of the way. The one-point penalty for taking a reverse was more than offset by clearing the 10-point bonus gate. That kind of strategizing keeps things interesting for Dave and Nate and is part of what they love about the sport.
Nate had previously won the Grand Nationals as a Pro Mod spotter, and Dave was happy to see him finally top the Grand Nationals in the Unlimited class.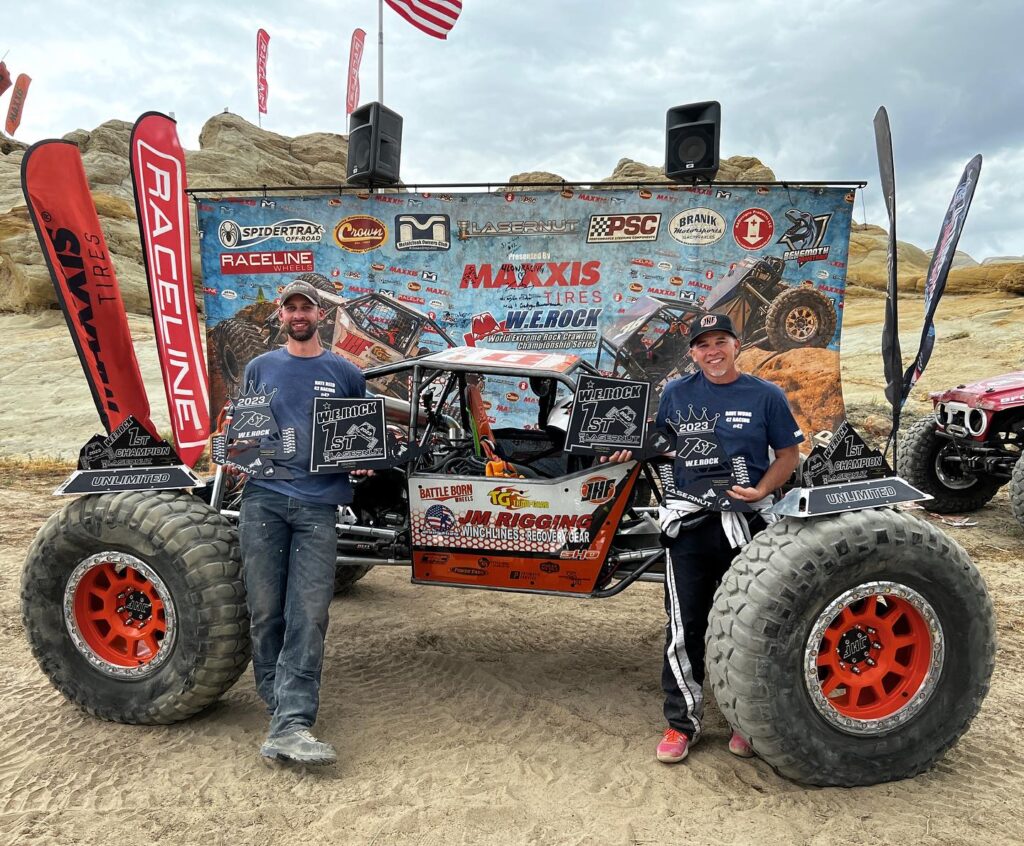 Other Recognitions
Excelling at Farmington was not a fluke. The Dave Wong/Nate Reed team has had an outstanding year and was also recognized as the Unlimited class point champions in both the Western Series and National Series for 2023.
Other Utah teams also landed near the top of the Unlimited-class series standings. John Hembel/David Brinkard took second place in the Western and Nationals Series championships, and Jacob Reeves/Jason Reeves took third in the Western Series.
Finally, Utah drivers Tyler Harper and Dave Wong were two of the three nominees for the 2023 Rock Sports Impact Award by the Off-Road Motorsports Hall of Fame. Although the award went to out-of-state nominee Raul Gomez, it's great to see how much Utahns are impacting the sport.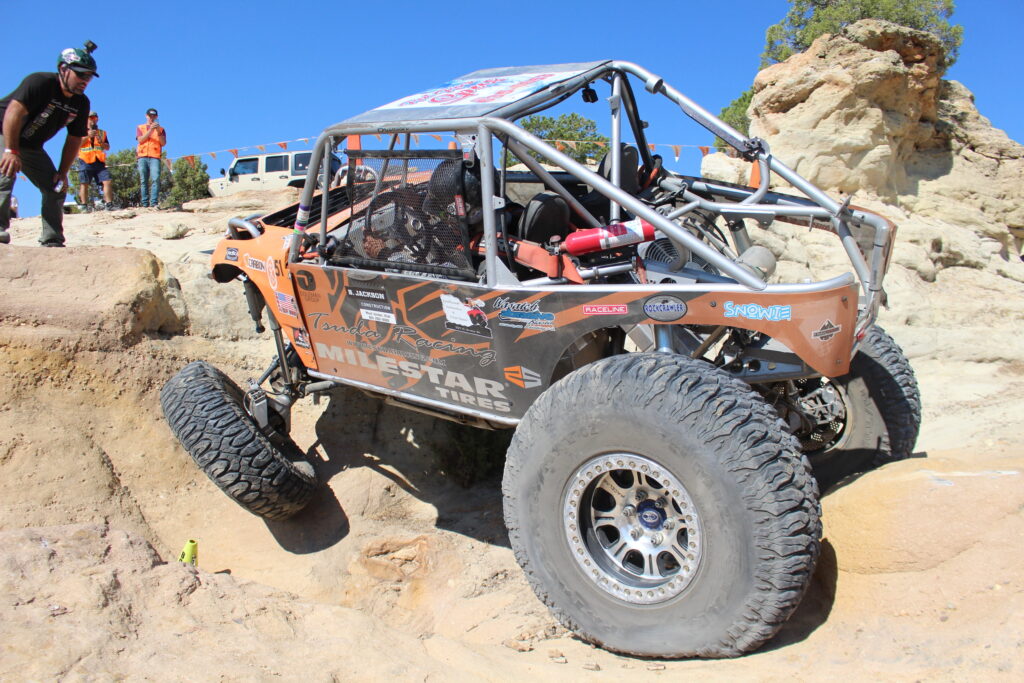 What's Next?
If you would like to see these and other outstanding Utah rock crawler teams in action—and you really should—there is another opportunity in 2023. The Trail Hero off-road event, Oct 1st – 7th at Sand Hollow State Park, will feature a (W.E. Rock) Rock Crawl competition on Friday, Oct 6th, beginning at 2:00 PM. The week-long event will also feature trail rides, Outlaw Sand Drag racing, and loads of other entertainment. 
Note: Thanks to Braxton Coleman and Dave Wong for sharing their images for this event.