Author: Rick Bairett
All photos by Jones Avenue Photography – https://www.jonesavephoto.com


Have you always wanted to get your car on a track? You want to see what it can really do but you know public roads aren't the place to test its limits, or yours. Some expert guidance your first time out might also help you push the performance envelope while keeping yourself and your pride and joy safe. Well, NASA Utah provides an excellent program to get nearly all street cars on the track.
No, the National Aeronautics and Space Administration has not broadened into motorsports. This NASA is the "National Auto Sport Association," and it has a significant presence in Utah. Whether you just want a little instruction to have fun on a road course or want to progress to competitive club racing, NASA Utah wants to help you along.

High Performance Driver Event
NASA Utah reserves a Utah Motorsports Campus road course one weekend per month for time trial and club racing competition. Each weekend also includes High Performance Driver Event (HPDE) training using drivers' personal cars. Most street cars easily pass tech/safety inspection, although some convertibles may need additional roll protection.
First-timers start with the entry-level HPDE1, which combines alternating classroom sessions with one-on-one coaching on the track. Classroom discussions progress from basic safety to speed secrets and car control. Four track sessions during the day let drivers apply those discussions to navigating turns effectively at speed, with an instructor in the passenger seat. Although for safety reasons passing is quite limited, HPDE1 still sounds like a blast!
According to NASA Co-Regional Director Dave Kizerian, drivers typically spend one to three days in HPDE1. Once an instructor determines they need less supervision, drivers advance to HPDE2 and get more practice on their own. HPDE2 and HPDE3 participants—newbies spend most of their time at these levels—normally drive on track together. HPDE3 drivers are considered reasonably competent at high-speed maneuvering and are learning to share the track with others. Passing rules become progressively less strict at higher levels.
More experienced drivers run with the HPDE4 group. Their judgment and abilities have progressed to where they need no formal restrictions on passing, although HPDE is never about competing with other drivers.
Competitive Driving
For drivers completing HPDE4, and who want to compete without having to jostle with other cars in their racing class, Time Trial (TT) is the way to go . TT drivers must "class" their cars—get them grouped with cars having similar performance—and receive a NASA TT license to contend for fastest lap times.
While TT involves racing against the clock, NASA Utah offers door-to-door racing as well. Drivers who've earned a NASA competition license can opt in to all-out competitive club racing. At this level, most drivers have a dedicated track car since safety modifications, including a fire-suppression system, are required for race events. Of course many racers modify their cars as much as they can and still stay within their class (or enough to compete in a higher class).
A dedicated race car does not have to be overly expensive. The wide variety of classes ranges from cost-effective spec Miatas, for instance, all the way up to pricey, but very high performance, Super Unlimited (SU) and German Touring Super Unlimited (GTSU).
Time trial drivers have similar classes, ranging up to Time Trial Unlimited (TTU). Fire-suppression systems and other safety mods are recommended, but not required, for TT.
NASA Utah fees for time trial or club races are similar to the HPDE fee structure: $289 per day or $519 for two days, assuming a short-track configuration. From starting in HPDE, progressing through time trial, and all the way into racing, participants should find NASA Utah events a fun and fast place to spend time with other welcoming car enthusiasts.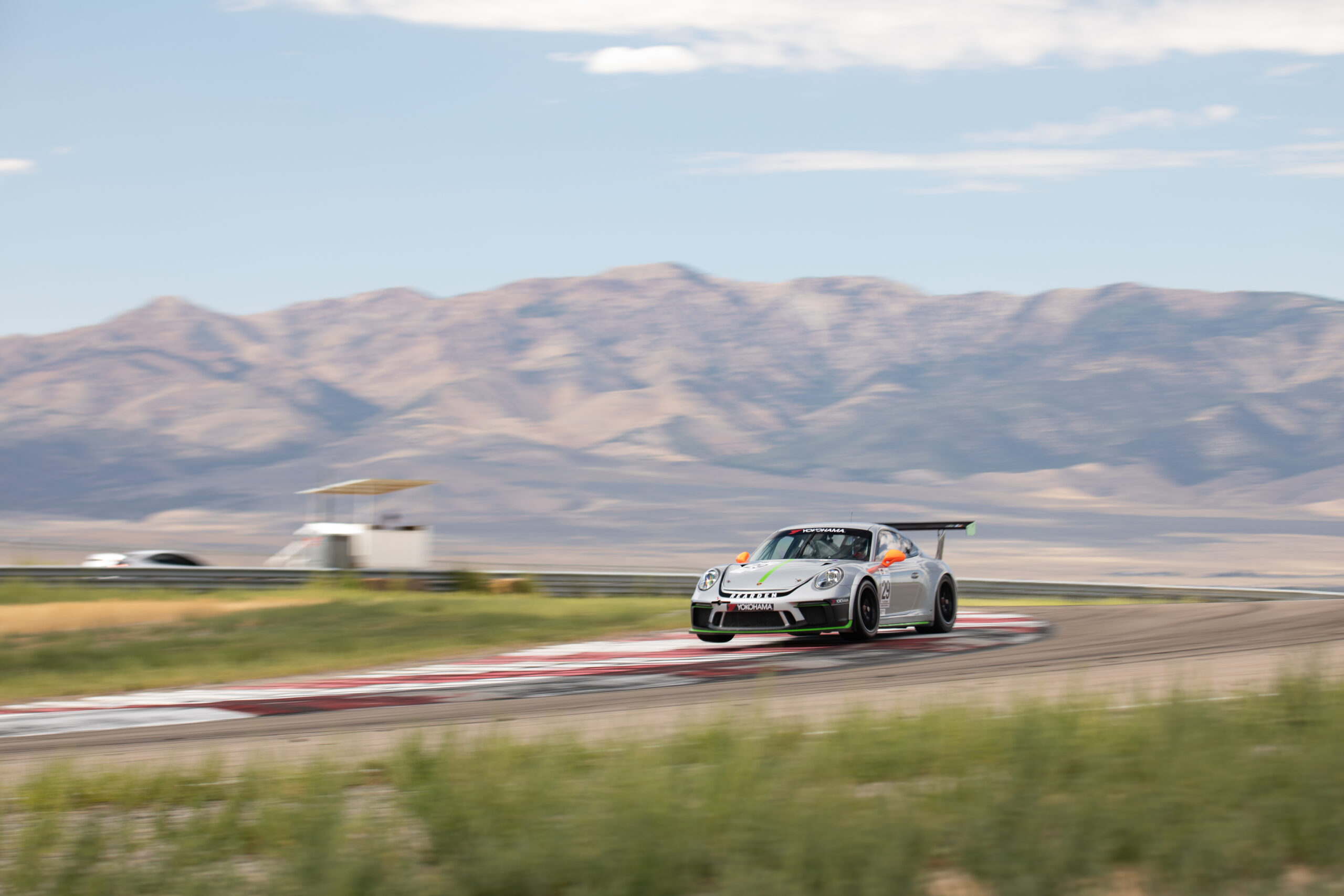 NASA Utah
The Utah chapter of the National Auto Sport Association was started by Matt Guiver, Roger Miller and Aaron Brown around 2012. When the Miller family stepped away from the Miller Motorsports Park (now the Utah Motorsports Campus) in 2015, Matt, Dave Kizerian, and Cheri Miller took charge and have had a great time running NASA Utah ever since.
Dave, a Utah native who provided much of the insight for this article, is one of two regional directors (with Matt), as well as media director and race director. In his race director role, he is in the tower monitoring races for incidents and rule violations.
He started competing in autocross (AutoX), which uses tracks set up with cones on flat, paved surfaces like parking lots. AutoX drivers navigate the tight courses individually, while nearly constantly turning and with little time to think between turns. For Dave, transitioning to road racing meant having a few more seconds to think about the next curve, but also having to navigate those turns alongside other drivers at considerably higher speeds.
Beyond the satisfaction of becoming a much better driver, one of Dave's favorite things about NASA Utah is the close, lifelong friendships he would have missed otherwise. Perhaps that's not surprising since great people seem inherent in motorsports communities.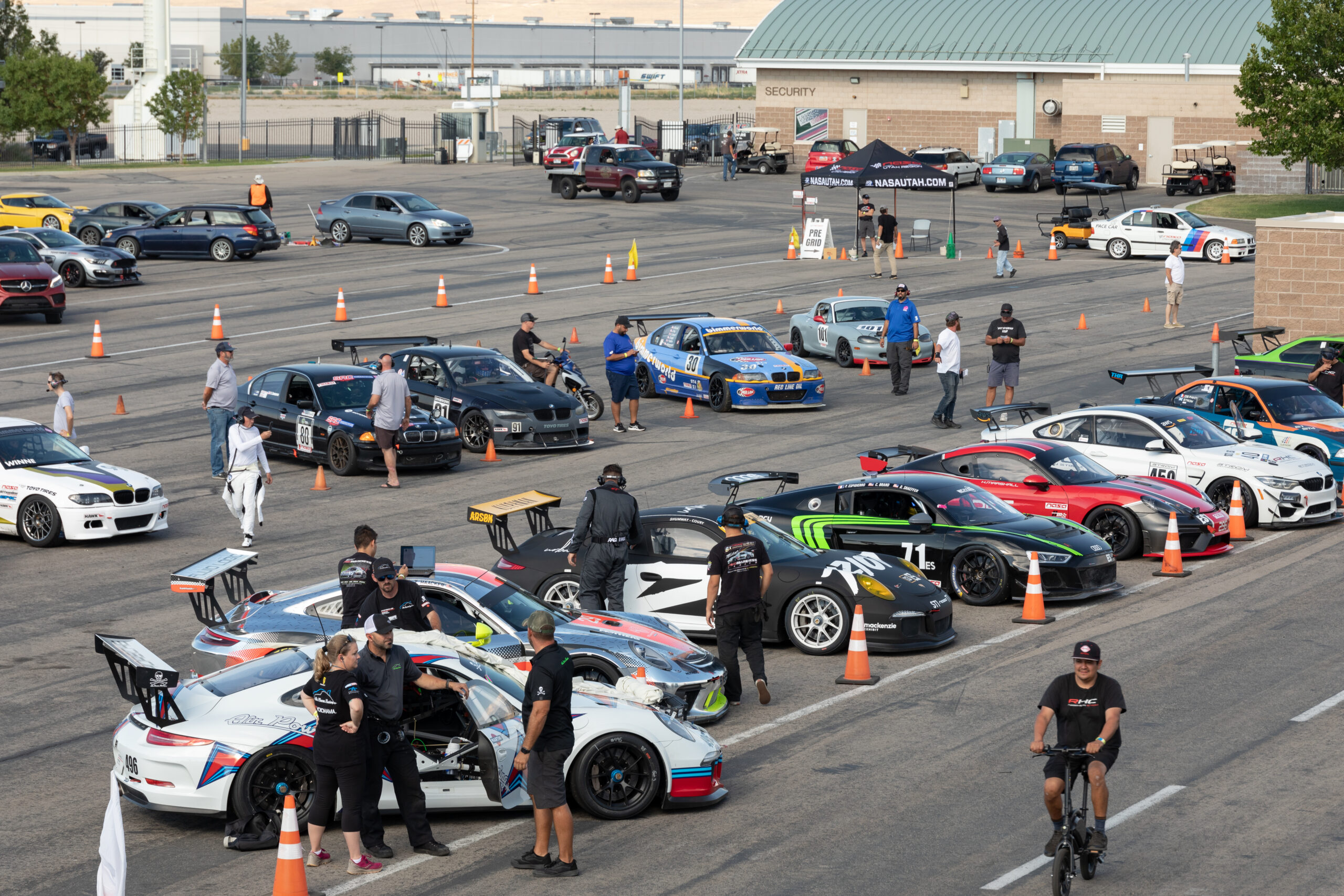 Taking That First Step
Since 2015, participation in NASA Utah events has been on a mostly positive trajectory. The pandemic didn't help, and economic downturns don't help since racing requires at least some discretionary income. Accordingly, NASA is all about getting new people out.
Josh Perkins dreamed for years of getting on track. During the pandemic he decided there was no way he would keep putting off what he loves. So in 2022, when some buddies recommended NASA Utah, he jumped into HPDE1 and never looked back. Josh plans to complete HPDE4 in April and start competing in time trial soon.
He had taken his BMW M3 out for a few amateur track days, so Josh wasn't completely new to that environment. Still, he "learned a ton" from competent NASA instructors. Josh can't say enough about how big a difference it made to be part of that learning community and what a blast it was to finally use all the power his M3 has on tap.
Yannick Doumbe also started HPDE1 in 2022 and is now in HPDE4. He is planning to take a little more time before competing in time trial, since the 760 hp his Mustang Shelby GT 500 dishes out demands a lot of respect.
When I asked what curious drivers should know about HPDE, Yannick praised the quality of instruction as well as the camaraderie among the Mustang owners and NASA drivers in general. For new drivers, he recommends that those planning to drive competitively have a well-considered budget plan. Tires, brakes, regular maintenance, and vehicle transportation (or track storage) all cost something.
Josh emphasized that there is really nothing to worry about. The process is simple, straightforward, and safe. The NASA community is amazing—they're there to help, not criticize—and he made great friends. He added that NASA instruction makes drivers much better, even if all they'll ever do afterward is drive on the street.
If you are ready to start living your dreams, or even to test the waters, go to the NASA Utah website (www.nasautah.com) and register for HPDE1 on a race weekend that is convenient for you. HPDE is offered both Saturdays and Sundays on those weekends.
Early registration fees for 2023 are a reasonable $289 – $319 per day, depending on longer or shorter track configuration, or around $519 for both days. NASA membership is $69/year. Helmet rental is available or you can bring your own Snell-approved helmet. Tech inspections are done on site, and are included in registration fees. Racing is never cheap, but these prices are quite reasonable for track time and expert instruction. As an added bonus, spectators attend NASA Utah events for free.
I know I'm excited to try HPDE, continue building my track skills, and get to hang out with other prospective track drivers and their amazing cars. I hope to see you there!
© 2023, R Bairett