Rick Bairett, 14 March 2023
Walking into Ian Lacy Racing (ILR), before the 2023 season began heating up, was for me like being the proverbial kid in a candy shop. I was immediately and totally absorbed by dedicated road racing machines ranging from open-wheel to 1960s-era Can-Am competitors to an expertly and heavily modified 2019 Mustang GT 350. The place is a monument to speed!



Ian Lacy
First, Ian himself has a fascinating background and has really done it all. Although his dad was a gearhead and sports car owner, his parents never encouraged him to go into motorsports. Once he got even a nibble of it, however, he felt that he'd found his calling in life.
Like many wannabes, he started small. In this case by competing in local (Eureka, CA) autocross meets. He actually began in his aunt's well-used, front-wheel-drive Mazda 626, since his parents felt like he couldn't get into too much trouble with it. Of course he upgraded, as soon as he could afford it, to a far more capable 1983 Mazda RX-7.
An amazing opportunity opened up for Ian in 1995 when he was able to attend the Jim Russell Race Driving School—which trained several top drivers including Emerson Fittipaldi—as a race mechanic. Since students in the program helped keep the racing fleet fully operational, tuition was quite low. Even better, the mechanic certification program also included full race driver training and certification. Ian stayed with Jim Russell for four great years as a driving instructor and mechanic before moving to the Derick Daly Race School in Las Vegas.
Although Ian's mechanical and race-engineering skills were constantly being refined, the track itself kept calling to him and he jumped at every opportunity to drive professionally. He loved, and still loves, open-wheel cars, and raced them and other types on and off from 1998 to 2007.
The topic of cars being destroyed on-track came up a couple of times, so I had to ask, "Have you ever destroyed a race car?" Ian explained that he'd been very fortunate, and that most damage to cars he drove was due to events occurring around him that were beyond his control; however, there was that one Mustang….
Ian's outstanding achievements as a driver include being the 1998 Star Mazda (later Pro Formula Mazda) Series points champion and earning the 2nd most overall season points in 2000 during the US F2000 National Championship Series. Ian also competed in IMSA (International Motor Sports Association) sports car racing as a driver, trackside engineer, and coach before moving to Utah in 2007.
Given his strong connection to open-wheel racing, it's no surprise that Ian was a founding partner in RaceCo, which focused on services for Utah's small open-wheel community—about 12 cars at the time. He also founded Ian Lacy Racing: originally with a driver-coaching emphasis, but drew on his race engineering and mechanical skills to add a shop in 2012.
Where ILR got its start supporting open-wheel racers at professional levels (US F2000 and Pro Formula Mazda), it has since become much more diverse. The shop is now the base for a variety of customer-owned vehicles, as well as racers that Ian has refurbished, and in some cases modernized, for resale to other race teams and drivers.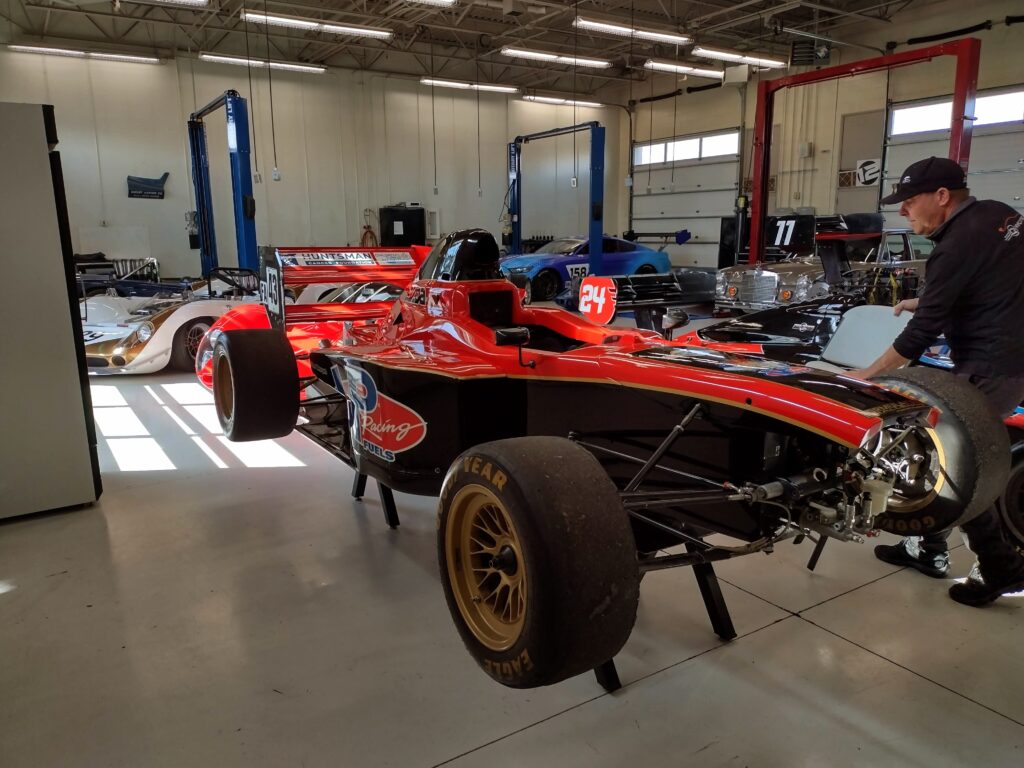 The Cars
Some people are drawn to sculptures, paintings and other traditional art forms. For me, beautifully integrated form and function in cars, trucks, motorcycles, and aircraft is real art, so I was entranced by every car in Ian's shop. Still, the open wheel racers were the first thing to grab my attention in the garage bay, perhaps because I've had so little exposure to them.
As a professional pilot I'm pretty familiar with wings, aerodynamics, Bernoulli's principle, and how venturis work. So flipping a wing over to generate downforce—negative lift—on the front and rear of a car wasn't a new concept for me. However, as we inspected every square inch of the open wheel racers, Ian patiently showed me how the underside of the cars are engineered to create a venturi, or suction effect, so they also generate downforce at their center of gravity.
We also went over the suspension and powertrains of a Pro Formula Mazda (#6) and two Indy Light/NXT racers (#11 and #24) in considerable detail. Pro Formula Mazdas have two-rotor rotary (Wankel) engines that generate 270 horsepower (hp)—plenty of thrust for a 1200 pound car—and that are tiny compared to reciprocating power plants.
I squeezed into the cockpit of an Indy Light—a piston-engine open-wheeler weighing 1600 pounds—so I could learn about every control and indicator, including all those buttons on the removable steering wheel. Gear changes use a simple lever—push forward to downshift, pull back to upshift—and the only time you need the clutch is to get moving in first gear. Sitting there, I could almost feel the wind flowing over my hypothetical helmet at 200 mph.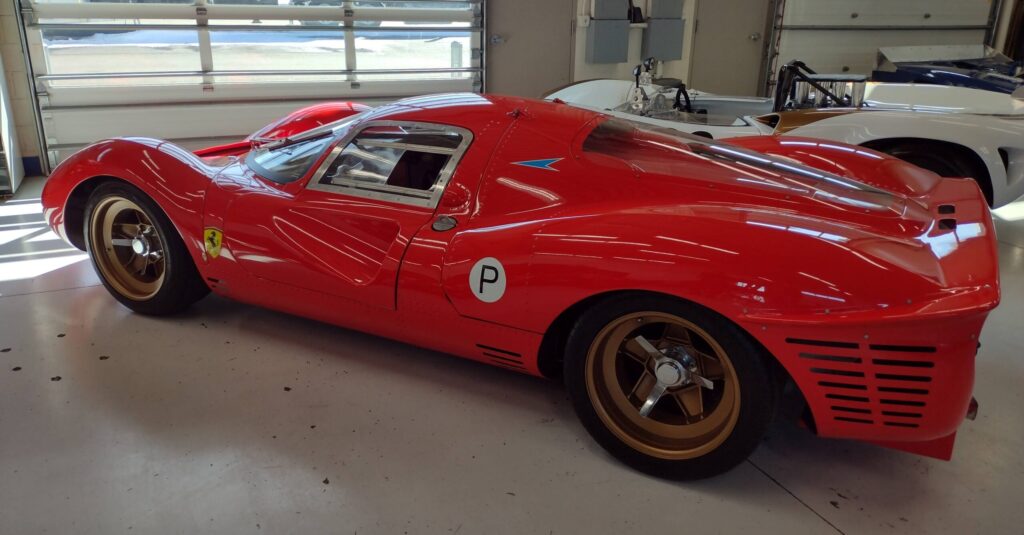 From open-wheel machines we moved on to historic racers, beginning with a gorgeous replica—meticulously built by New Zealand's Rod Tempero—of a 1968 Ferrari 330-P4, complete with a Ferrari V-12 motor. The 330-P4 was Ferrari's attempt to come back after Shelby-American's Ford GT40s began dominating Le Mans and other endurance races (see the movie Ford v Ferrari for some rip-roaring insight into that era).
Former Can-Am cars included a white 1966 Lola T70 (#29) with a small-block Chevy engine producing around 550 hp, and a 1969 Lola T163 (#6) powered by an 8.0L big-block Chevy pushing 805 hp, like the original engine setup. This T163 was driven by Mark Donohue for Roger Penske but only ran one pro race, which it did not finish due to drive shaft failure. It then sat outside until Zach Brown purchased it to compete as a vintage racer.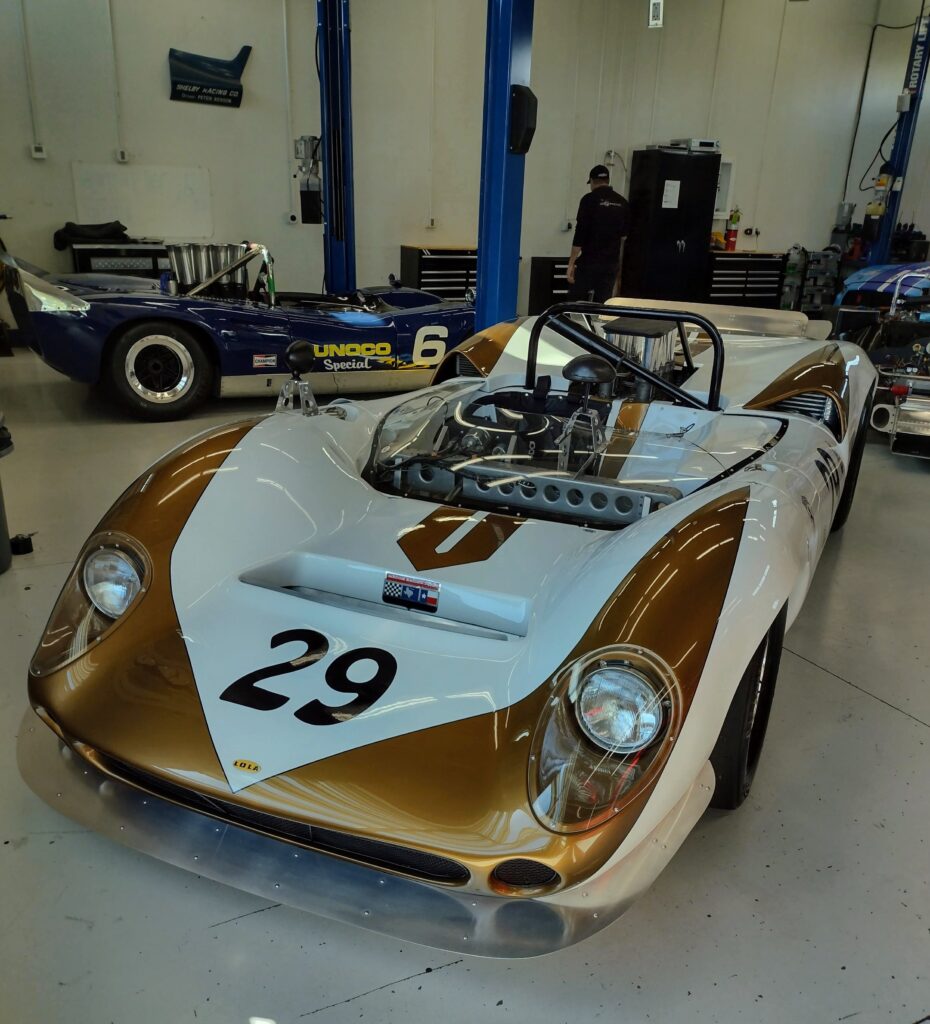 This particular T163 is also unique in that it was ordered with extra-thin sheet metal to compete more effectively against the McLaren M8s that were dominating Can-Am. Lola pushed back, saying that with monocoque construction—the skin is essentially the frame—thinner metal was a bad idea, and Penske's attempt to beat McLarens still fell short. Although the team still has to be careful not to push too hard on the skin, #6 is beautifully restored and ready to race.
I'm a fan of anything touched by Shelby-American, so one of my favorite cars at Ian Lacy Racing is #52, a 1968 McLaren M6-B, prepped and maintained by Carroll Shelby for driver Peter Revson. With the body off, I saw where Shelby and his chief engineer, Phil Remington, had autographed it. Its Ford 427 motor is bored out to 526 cubic inches—leaving little cylinder wall—and produces 660 hp and 700 lb-ft of torque. The car is also in the history books since Revson won Can-Am's 1968 Mt. Fuji Invitational, driving #52.

We finished the tour by poring over the most modern vehicle in the shop that day: Stu Frederick's heavily modified Mustang GT 350. While keeping the Ford 5.2L engine, little else about the car is stock. #158 has a large front splitter and wing spoiler, a lightweight body and frame with double A-arm front suspension, pneumatic (air driven) paddle-shift linkage, and a huge turbocharger mounted near the rear axle. The turbo configuration surprised me, but it keeps the engine cooler when it's pushed hard on the track. #158 competes in NASA (National Auto Sport Association) Super Unlimited club racing.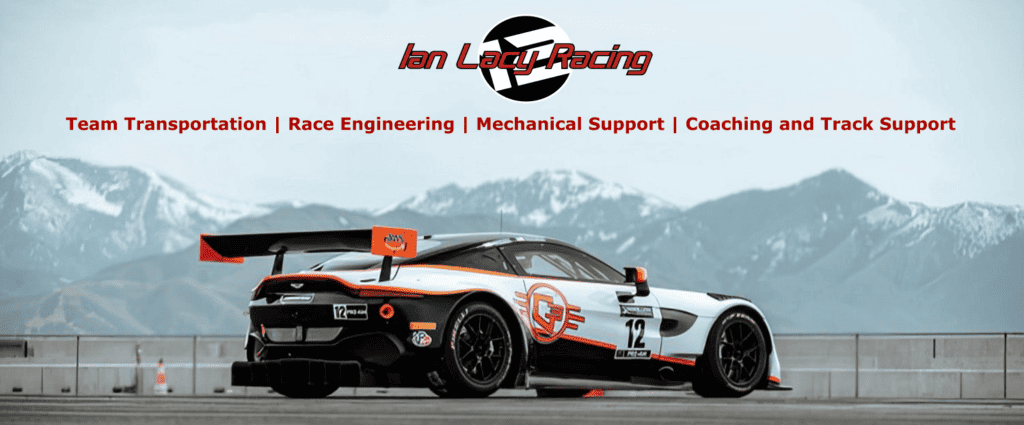 ILR Support
When I asked Ian what sets his business apart from other racing support/service teams, he pointed out that with experience as a professional driver, engineer, and mechanic, he doesn't just provide effective coaching. He sees all aspects of a race and offers perspective to each team element to integrate it smoothly with other elements.
What started as an open-wheel shop has expanded into support for multiple types of pro racing, competing effectively at the highest professional levels (F2000; Pro Formula Mazda; SRO GT3, GT4 and TCX; etc.), as well as historical racing and club racing. Buying a racer is a significant investment, and employing a team and paying over $100,000 just for the equipment needed in the pits is too much for many aspiring drivers. That's where Ian Lacy Racing steps in. ILR provides the shop and transport infrastructure, equipment, repairs and maintenance, pit crew, and all other support elements needed to be ready to win on race day.
For 2023, Ian Lacy Racing is contracting with Racer's Edge Motorsports to run a full support program for their Honda TCX car. Ian anticipates taking a new driver—a Florida doctor—from rookie status to skilled professional. They will also support DXDT's efforts to bring a Mercedes AMG GT3 and a BMW M2 to Utah Motorsports Campus for driver proficiency training.
Here's wishing them all a great 2023 racing season!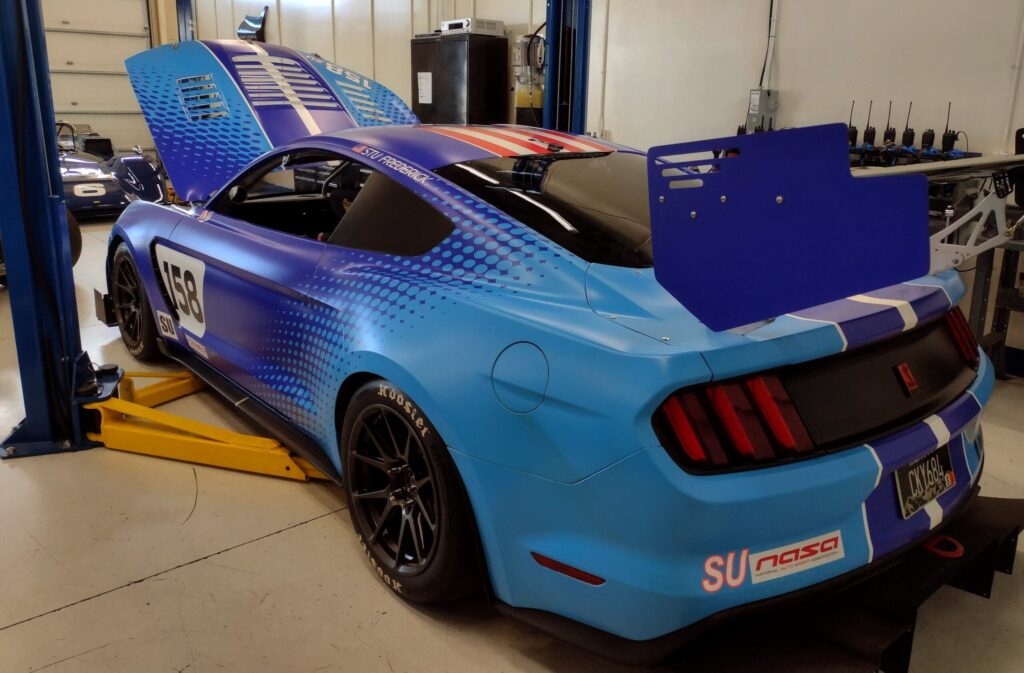 Note: For a video tour of Ian Lacy Racing, see Auto Afflicted's "Ultimate Garage: Ian Lacy Racing" (March 2023): https://www.youtube.com/watch?v=IbWuRAS63tk .
© 2023, R Bairett