The Tuachan Center for the Arts is tucked into a beautiful red-rock amphitheater just outside of St. George, Utah. On Saturday, April 22nd, that beauty was further enhanced by 40 or 50 amazing vintage and late-model Porsches.


The Intermountain Region Porsche Club of America (IRPCA) is possibly the largest car club in Utah, with over 1000 members. They are quite active and maintain a full calendar of events, mostly centered in northern Utah. However, there are plenty of Porsche owners in southern Utah and IRPCA executive board member Craig Shanklin makes sure the southern part of the state isn't left out of the action. 
Accordingly, the Southern Utah Show & Shine was a real success. It was also something of a Porsche history lesson, with cars ranging from '50s-era Porsche 356s through the air-cooled engine era and beyond.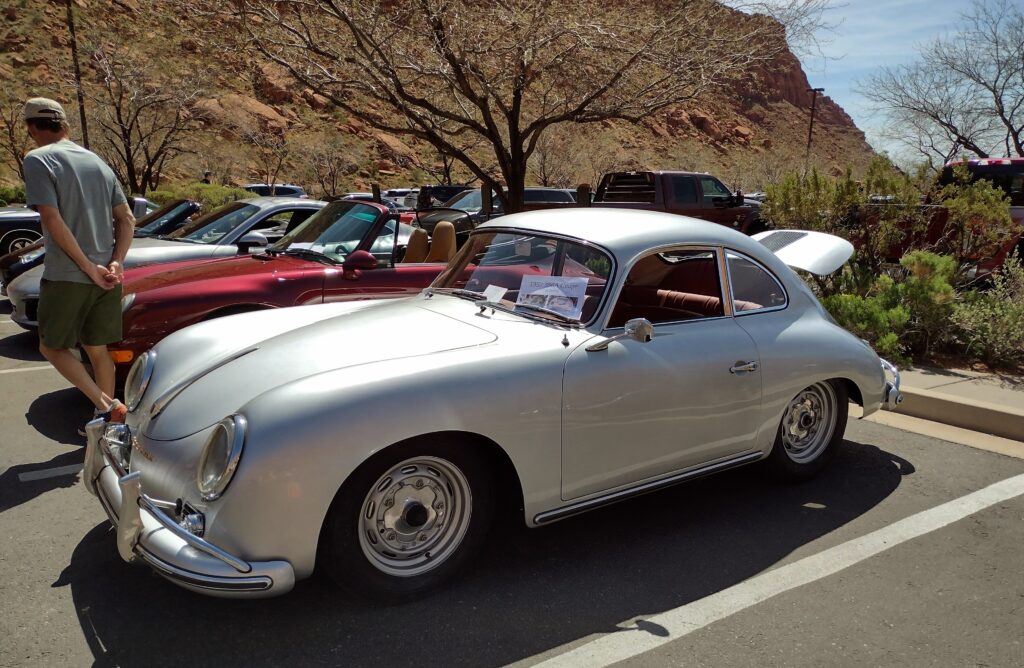 Craig's brand new—he's had it just a few weeks—Shark Blue Boxster Spyder was on the newest end of the spectrum. The Spyder, like its Cayman GT4 cousin, is a serious track weapon. Chef Williams's red Porsche 911 GT3—also specially designed to dissect road courses—was on display as well. 
Cayennes and Macans were present, including Diane Shanklin's lifted "Transsyberia" Cayenne S that looked like it was ready for some serious off-road adventures. Gaudin Porsche of Las Vegas, one of the event sponsors along with Renu Auto, also brought several new and classic vehicles.
John Sundloff, who recently retired from Porsche Salt Lake, drove down from northern Utah with his impressive Guards Red, with gold trim, 2021 911 Targa 4S. He had owned a red and gold 911 years earlier, and special ordered this one to be reminiscent of that car. The new 911 strikes one as more than two years old, so he succeeded with the retro look.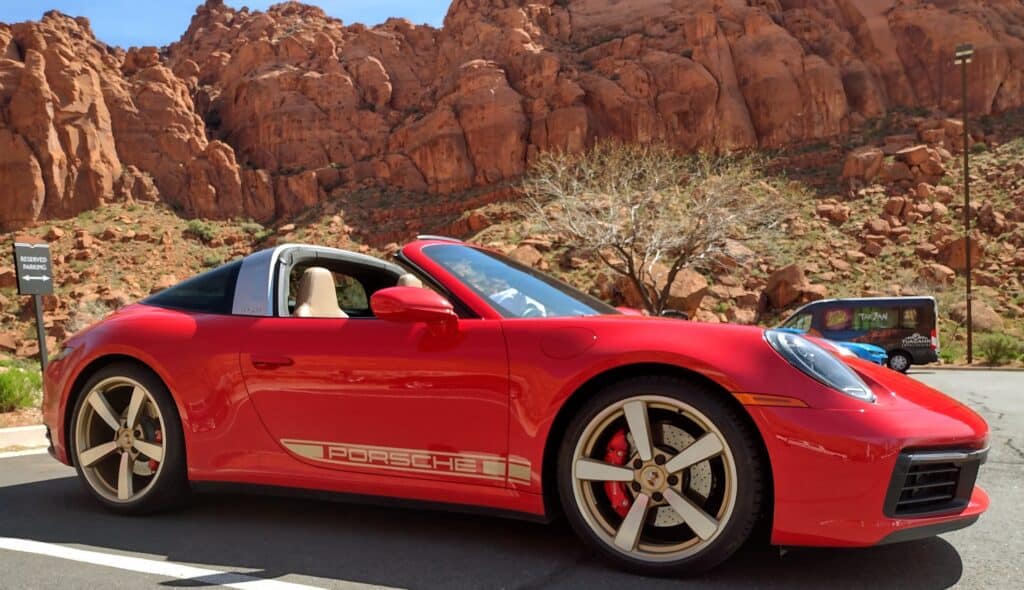 John's special order includes all-wheel drive, the Sport Chrono package, a sport exhaust, and a 7-speed manual transmission. Only ten percent of 911s are built with manual transmissions, so a special order is almost required to get one. Needless to say, the car performs and handles like a dream and is all about driver engagement. 
Another eye-catching machine was Mark Daams's 1999 996 Carerra, which looks nothing like it did when he got it. The formerly silver 911 is now bright yellow, with race accents, and a Miles Works Automotive wide-body kit. It also sports a custom exhaust, front splitter with strakes and a large wing spoiler.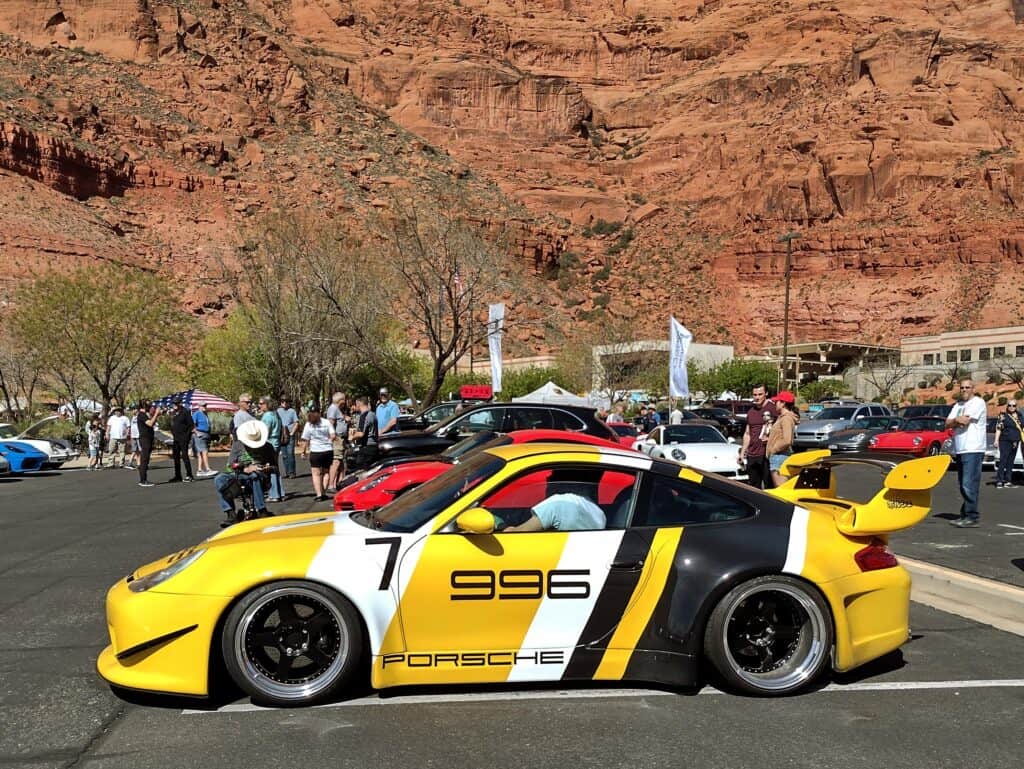 Leslie and Eric Wickfield's Arena Red Metallic 1997 911 Carrera Cabriolet convertible—the show's second place award winner—is one of several clean air-cooled (pre-1999) Porsches that were present. They ranged in condition from good to downright impressive and are valued accordingly. 
Speaking of valuations, some classic Porsches have really appreciated. For instance, Gaudin Porsche, which specializes in refurbishing classics, brought a 1996 911 Turbo with all-wheel drive and a louvered whale-tail spoiler. The asking price for that relatively rare machine is $225,000. Some owners told stories of Porsches they used to own, and sold for nice profits, only to wish they still had their cars given still-higher current market values.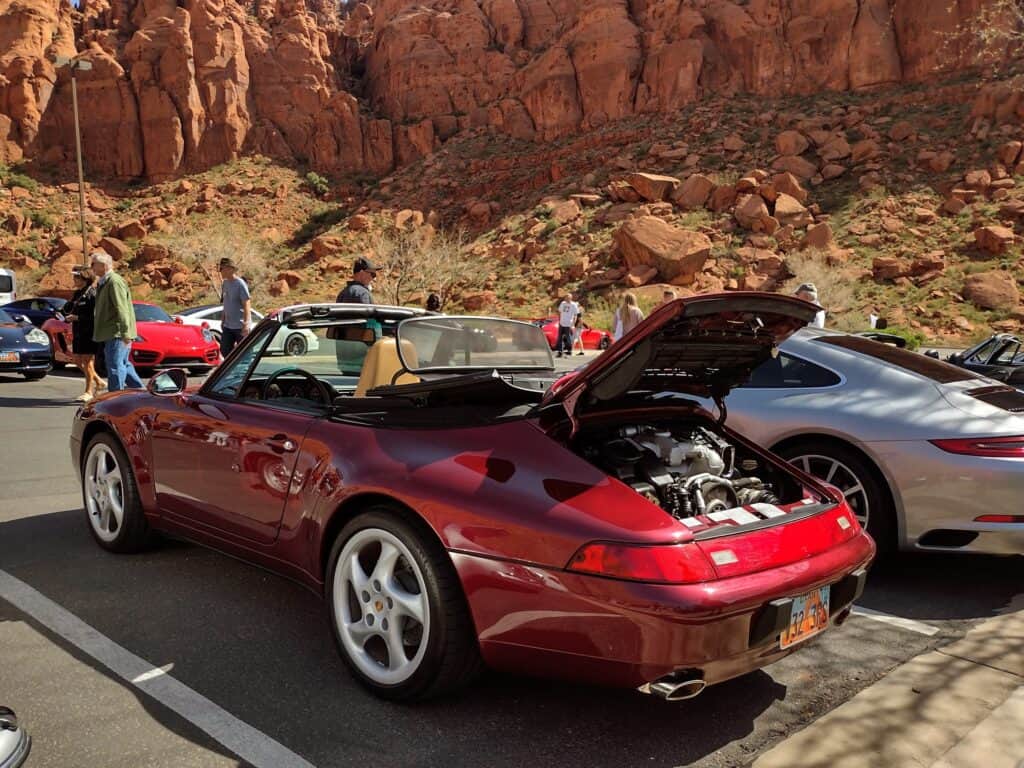 Still, driving a Porsche doesn't have to break the bank. For instance, a red 2014 Boxster, with 90K miles on the odometer, was being offered at the show for $35,000 (private-party). Correspondingly, Duane Wik bought a garage-stored 1975 911, and just keeps making it better and better as opportunity allows.
Congratulations to the Show & Shine award-winners, including:
Best of Show, Paul Scheffel (1973 Black Targa)
1st Place, Steve Masefield (1957 Silver 356)
2nd Place, Leslie & Eric Wickfield (1997 Arena Red 911)
3rd Place Sue Lipsman (2019 Chalk 911)
People's Choice, Jim Crawford (356)
Thank you to all of the owners who attended with their impressive cars. If you missed this one, IRPCA will host another Porsche-only Show & Shine at the Salt Lake City Community College on June 24th.