By: Rick Bairett
The final race of the year at Vernal's Diamond Mountain Speedway took place on Saturday, September 23rd. It was my first exposure to dirt-track stock car racing, and I wasn't disappointed. 


The racing was fun to watch and highly competitive, the drivers were great to interact with, and there was plenty of high-octane noise and power! And if you're okay with seeing cars occasionally spin out, tangle with each other, or even take on the outer wall, there was some of that too. In short, it's a high-energy experience.
The International Motor Contest Association is the sanctioning body for several classes of dirt-track racing. And this event was the last Utah IMCA points race of the season. So while Vernal drivers were heavily represented on their home track, plenty of other drivers showed up from northern Utah and the surrounding area. 

Arrival
The first thing to know about dirt-track racing is that there's dirt. Lots and lots of dirt. I haven't visited Utah's other active dirt ovals—Price's Desert Thunder or Delta's Millard County Raceway. However, Diamond Mountain Speedway features a dirt road entrance, a dirt parking lot, and stands that sit on—you guessed it—dirt. There's also a mound of dirt along the back straightaway for spectators to watch the fun while tailgating. 
Having said that, the races don't usually generate too much dust. The track is pretty well packed, especially along the center racing lines, and gets regular treatment from a water truck throughout the night. The combination of water on top of hard packed clay and dirt does make the track slick. So slick that I had to be careful not to fall on my rear while crossing to the infield. 
Of course driving in slick conditions makes the margin between speed and spin pretty narrow.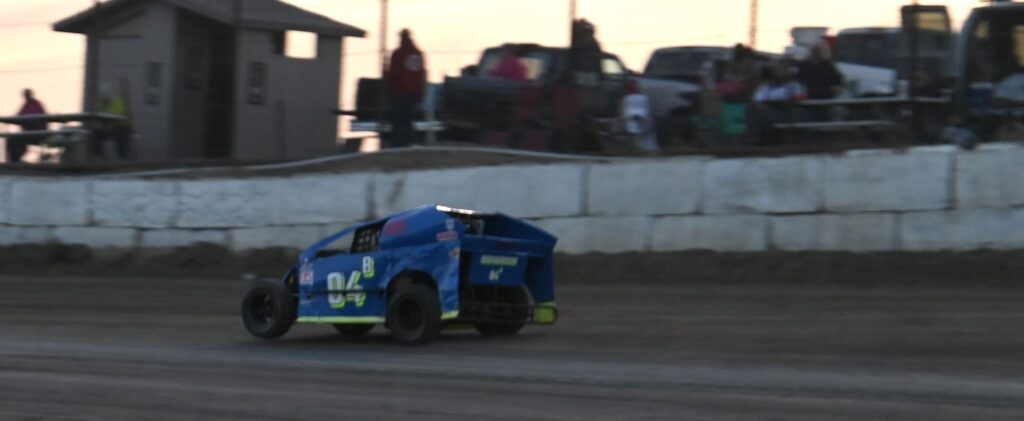 Heat Competition
Racing classes start with race-prepped stock cars—usually older V-8s—in the Hobby Stock and Pure Stock groups. The fastest classes are usually Sport Mods and then Modified racers that barely resemble any production car. On the smaller end of the spectrum, the Mod Lites and Dwarf Cars—with 1000cc motorcycle powerplants driving the rear wheels—are light and almost as fast as their full size cousins.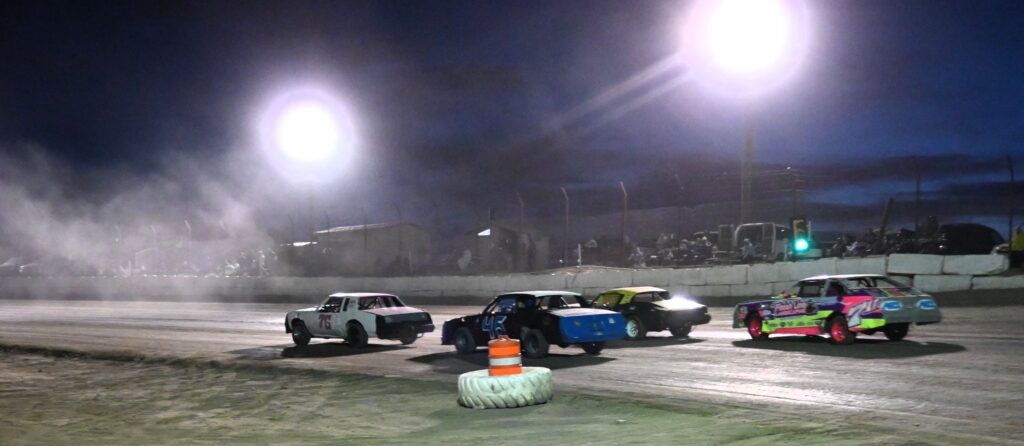 Heat races on the "D-shaped" track often settled into a pecking order: the dominant car and driver out front and the distance increasing between cars. Still, nothing was certain. More than one driver said that if you feel like your car is completely controlled you're not going fast enough. Combining that reality with proximity to competitors—they weren't always spread out—made for exciting racing. 
Accordingly, spin outs, and even drivers accidentally tagging others as they tried to squeeze under their racing line, were semi-regular events. Sometimes incidents were severe enough for an extended yellow (caution) flag, allowing drivers to bunch up again. So, as with most forms of racing, the outcome was never certain until the checkered flag came out.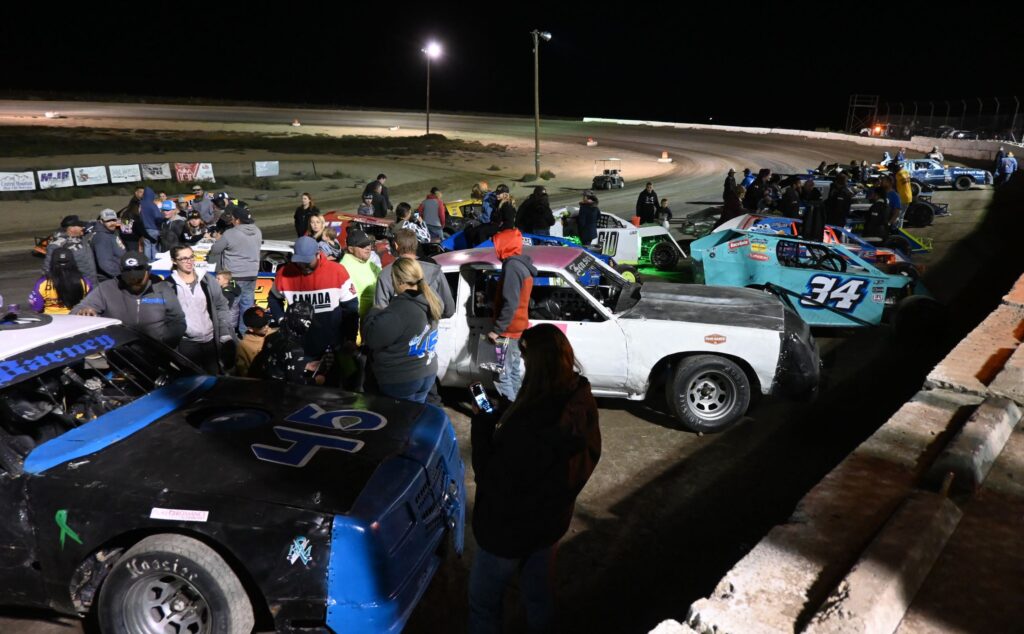 Intermission
During the intermission between heat and feature races, drivers were encouraged to park on the front straight—really a long sweeping curve—to interact with fans. Spectators got to walk onto the track, talk with drivers, and get an up-close look at their machines. Drivers were happy to show off their cars, discuss race strategy, and explain what it was like to drive on a surface where the back end of the car is almost constantly trying to pass the front end. 
During intermission, I spoke with Dwarf-class driver Terryn Emmett who had t-boned another car that spun out in front of her during her heat race. Fortunately she managed to bleed off most of her speed before making contact. It was especially fortunate since the driver of the other car was her boyfriend's son!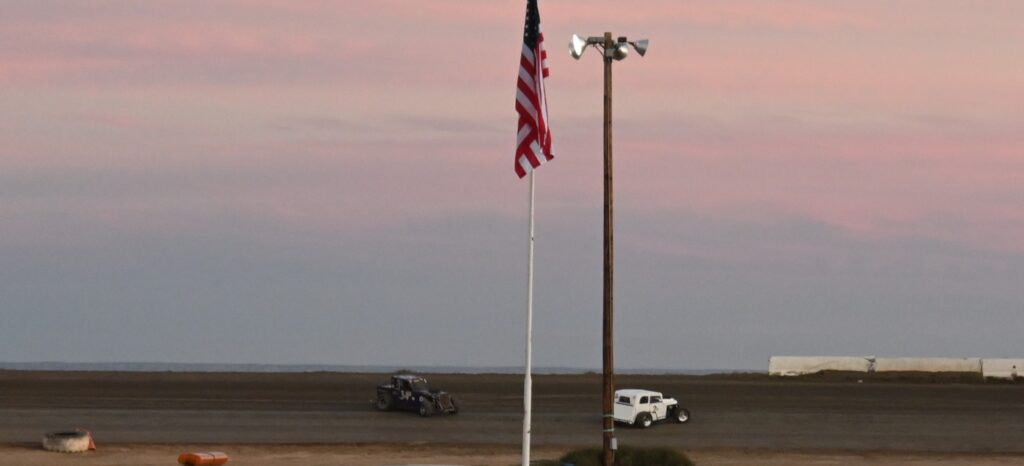 Other drivers explained to me the difference between Modified and SportMods—different rear aero and bigger engines in the Modifieds—and between Hobby Stocks and Pure Stocks. The Hobby Stocks are limited to smaller engines.  
After cars and drivers returned to the pits, the crowd was treated to a lawnmower race, on a smaller oval, and to a pretty decent fireworks display.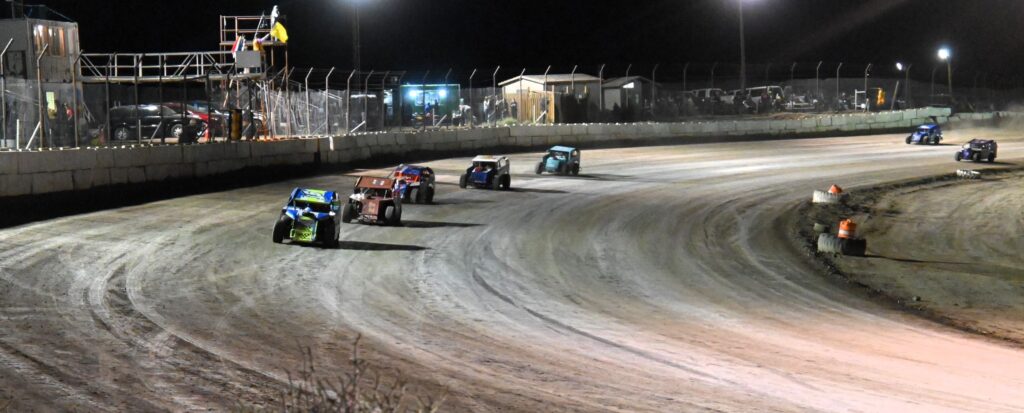 Feature Racing
Being the Championship Night finale, the feature events went a little longer. So racing, which started around 7 PM, continued until after 11 PM. 
Class racing continued to be fierce. The most excitement was when Dallen Wilson slid into the wall and flipped over on turn one during the Mod Lite feature race, bringing out the red flag. He left a puddle of oil on the ground. However, #610 started right back up and Dallen's oil pressure and steering seemed to be fine so he finished the race pushing hard.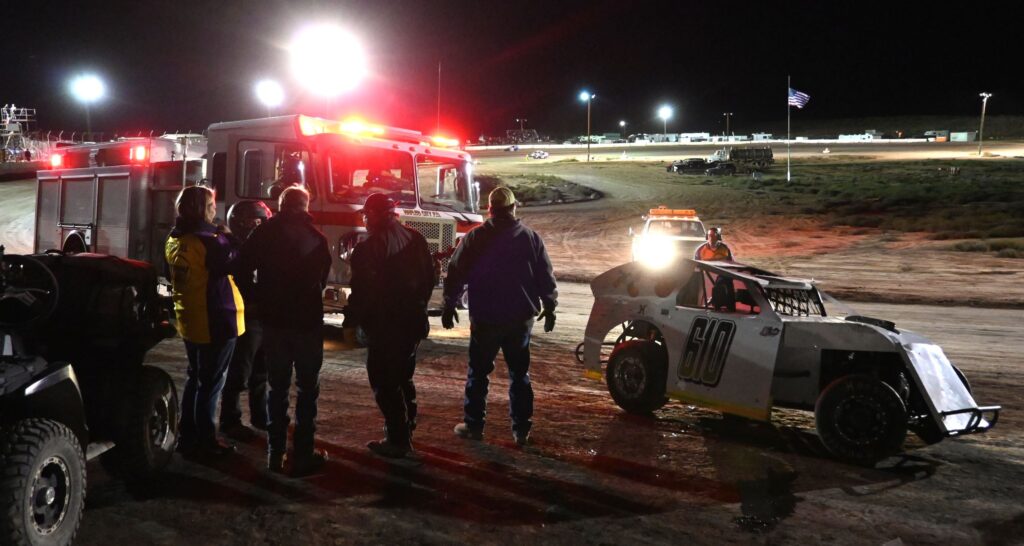 Congratulations to the overall winners:
Young Guns Pure Stocks: Yaiger Obermueller of Vernal
Pure Stocks: Hayden Barney of Orangeville
Hobby Stock: Jeramy Johnson of Fairview
IMCA Mod Lite: Jordan Lake of Emery
Dwarf Cars: Wyatt Simper of Vernal
IMCA Northern SportMod: Kyle Menlove of Salt Lake City
IMCA Modified: Bryson Yeager of Green River, WY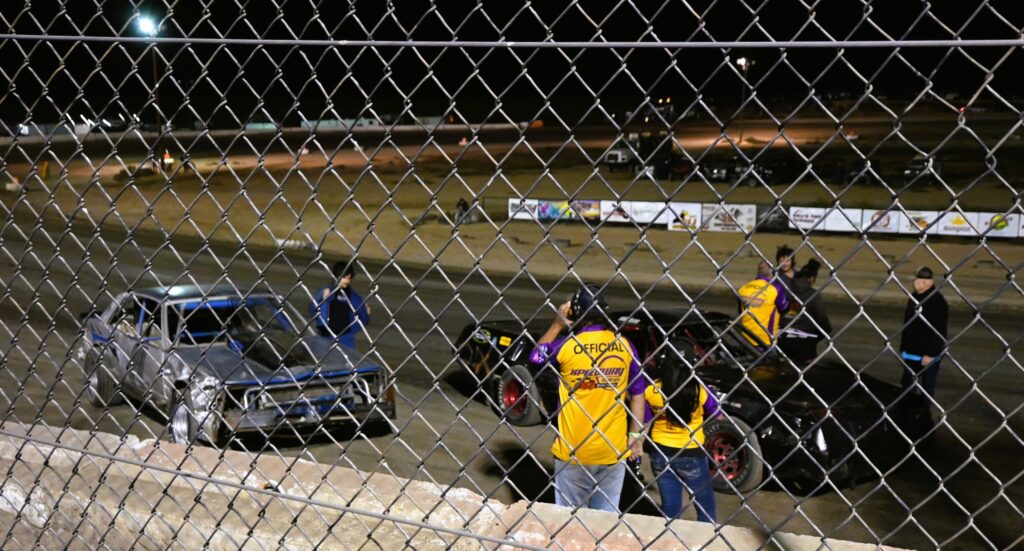 Mod Lite Setup
Maybe I'm biased by running a little Miata on track myself, but I especially enjoyed watching the 5/8-scale Mod Lites charging as hard, and nearly as fast, as the full size Modifieds. Since Jordan Lake clearly dominated, I made it a point to find out why he was so fast.
Jordan—a former motocross racer and repeat podium winner in MX and dirt-track racing—said he hates to lose. However, he admitted that it's probably even more important that he has five years of class experience both driving and setting up Mod Lites. He emphasized that dirt-track racing is won in the garage, and that watching his dad set up dirt-track cars, while growing up, taught him a lot.

Another Mod Lite driver, Glen Johansen, explained that Mod Lites, like the bigger Modified and SportMod classes, are designed so that the rear axle changes angles and provides some rear steering in hard turns. Getting that setup correct, so the rear axle turns in at the right time, rate, and amount, is key to laying down blistering lap times. 
Other classes have more conventional axle setups, so either have to corner slower or, as is typical of Dwarf cars, the drivers have to pitch their machines into a bit of slide just before they enter a turn.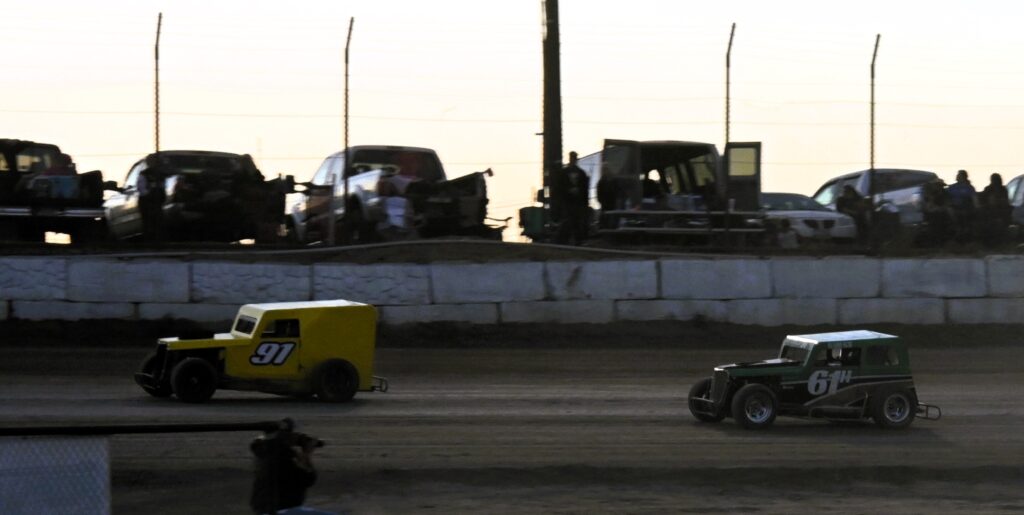 Glen also explained that Mod Lites have 1000cc engines, from one of the big-four Japanese motorcycle builders, and that a competitive car will typically range in cost from $5000 – $18,000. He and his wife Cassie both run Mod Lites, and he estimates that they have spent about $22,000 keeping them both on track throughout the 2023 season. 
Glen also managed to podium, in third place, in spite of his water pump going out toward the end of his feature race.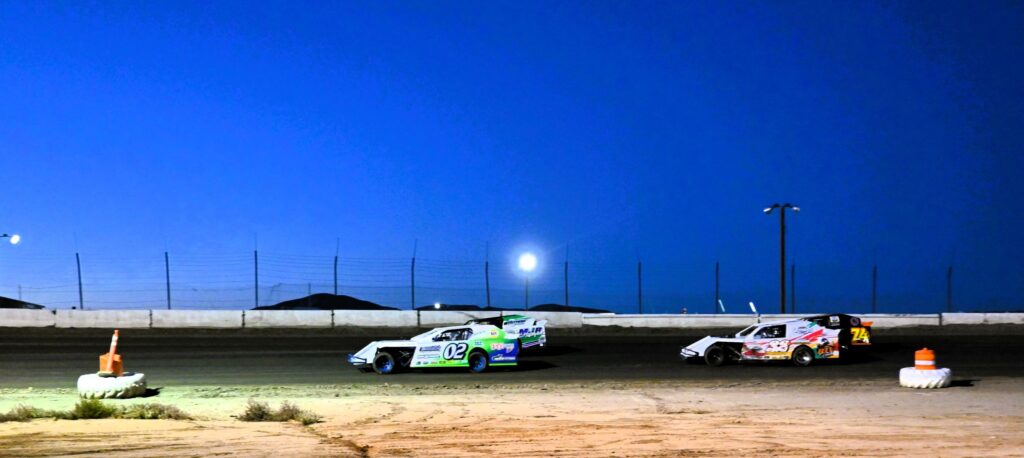 Lots of Fun and Easy on the Wallet
This season has pretty much wound down, but a night watching dirt-track racing is exactly the kind of adrenaline-filled, high-octane powered experience many of us need once in a while.
There is a great sense of community among competitors—I saw them helping each other more than once—and the price is right. Adult admission to Diamond Mountain was only $10. Senior, military, and youth admissions are even less. If you haven't had the experience, I recommend it. I know I'm looking forward to the 2024 season.
© 2023, R Bairett